Kobe and Vanessa Bryant to Reconcile?
David AstramskasAbout the Author
David AstramskasAka VincentDa & RedApples fka Expiredpineapples. My alter-ego is a digital-marketing guy in Houston. Won editing awards & created obsolete flash websites that have been featured in mags like Sports Illustrated. Studied film & women at FSU during the golden age of hip-hop. Collects records, laserdiscs, sports memorabilia & toys. Father of 2 daughters that are more athletic and popular on YouTube.

Follow @David Astramskas | April 16th, 2012 | 2,097 Views
She might not have been in the gym with him but she's at the Kings game with him. Take that Drake!
Is a reconciliation between Los Angeles Lakers all-star Kobe Bryant and his estranged wife Vanessa Bryant imminent? Recent photos sure suggest it's far from unlikely.
For the second time in two months, Kobe and Vanessa Bryant, who filed for divorce in December, were photographed together with their two daughters.
On Sunday, Kobe stuck around Staples Center to watch Game 3 of the Kings-Canucks NHL playoff series. He and his family sat a few rows above the glass: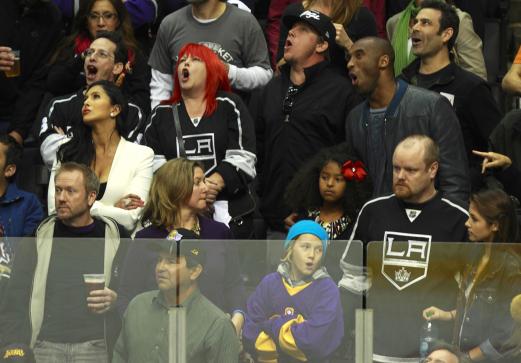 Kobe and Vanessa Bryant, who have been rumored to be getting back together ever since they split, sat apart from each other with their girls in between.
In February, Vanessa attended the Lakers-Hawks game on Valentine's Day and the two were pictured kissing in a tunnel. That will start rumors, for sure.
Kobe has reportedly promised not to cheat again and begged for another chance, but it doesn't appear he's officially gotten it from Vanessa … yet.
Read more at: http://www.thehollywoodgossip.com/2012/04/kobe-and-vanessa-bryant-to-reconcile/#ixzz1sDMN24PN