Lance Stephenson Had The Most Entertaining Two Assists Game You Will Ever See
Lance Stephenson only had two assists in his 22 minutes against the Bucks on Monday night but it felt like he was putting on a passing clinic. I'm exaggerating but Lance did make two of the most amusing passes of the night.
THE FIRST PASS
The first came near the end of the opening quarter, when Lance stripped the ball from Tony Snell then threw a behind the back pass to TJ Leaf. Here's the things that made this assist so awesome:
It was a no-look pass
He hopped in the air to make the pass
He mimicked a layup before Leaf scored and Leaf had to score over Giannis Antetokounmpo
The "Lance Dance" tongue-out celebration which was followed by three dangerous looking chest bumps
One of his teammates celebrating by jumping higher than I've ever seen a player jump on a celebration (seriously).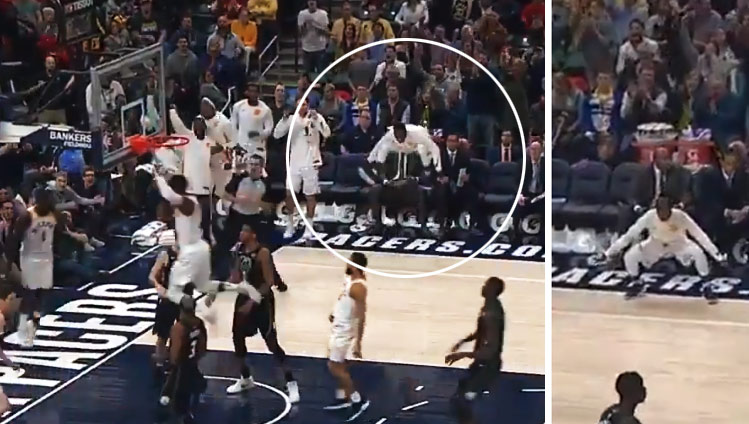 THE SECOND PASS
Early in the second quarter, Lance picked up his second assist with an inbound alley-oop to Sabonis that gave the Pacers a 25-point lead!
Nice, but it's not one of the two amusing passes I mentioned.
The other amusing pass came less than a minute later, when Lance threw a bullet pass before getting shot by a bullet and falling to the floor. It should have been a third assist but Sabonis missed the shot.
Security didn't find the shooter but i'm sure his self-flop will find it's way to the next episode of Shaqtin' a Fool.
And here's Lance showing off his new glasses (I'm trying to look like Myles) while talking about the assist to Leaf and his Lance Dance.
Speaking of the Lance Dance, this gives me an excuse to repost this awesome play against rookie Frank Ntilikina.
BONUS HANDLES