Back in 2008, right after transferring to St. Patrick High School, a youngblood named Kyrie Irving wrote this in his journal: "The lights are on, baby. Time to show the world what you're really about and who the best is in the country."
Then in the summer of 2009, the 17-year-old high-school star nicknamed "Smooth Criminal" wrote this: "I'm going to make it, even if I have to run through a ton of walls … Fuck being friends. I'm going to destroy these dudes."
Well, you could say he "made it." He played at Duke (for a few games), was drafted to the Cleveland Cavs with the No. 1 pick (NBA conspiracy), won NBA Rookie of the Year (117 first place votes out of 120), made All-Star teams (won MVP in the 2014 All-Star game), won a NBA Championship (with LeBron James and against Steph Curry) and is hoping to do it again…but without his friend LeBron. He's also destroyed plenty of dudes and more ankles than any other player in the past decade.
So in honor of what Kyrie has done since the day he wrote those words in the summer of 2009, let's flashback to the summer of 2009 and check out some rare footage of him playing against players like Harrison Barnes, Austin Rivers, Dion Waiters, Terrence Ross and Cory Joseph at the Elite 24 scrimmage and game, which took place at Gauchos Gym (rain prevented the game from being played at Rucker Park). He finished with 16 points, 3 assists and 3 steals.
WHEN KYRIE MET LEBRON
2009 is also the year a young Kyrie Irving met LeBron James.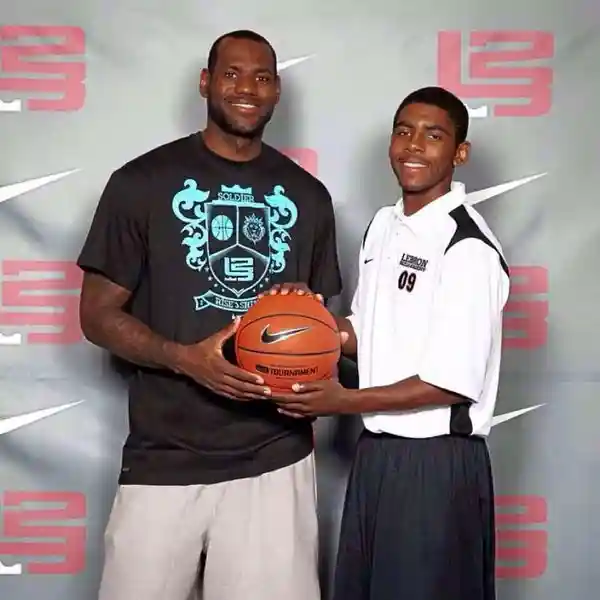 BONUS: KYRIE HIGH SCHOOL MIXTAPES