Ballislife Presents: 2HYPE + Bay vs. LA Showcase Basketball Games
Some of the world's most popular Youtube influencers are set to participate in a celebrity basketball game at the historic Kezar Pavilion in San Francisco. Preceding the 2HYPE Celebrity YT Influencer game will be The Bay vs. LA featuring the best high school players from each region. Visit bayvsla.com for more info.
Building off the excitement of the Ballislife All-American Game and its other popular basketball franchises, Ballislife announces the rosters for the first annual 2HYPE + The Bay vs. LA showcase basketball games. The first annual event will be held at Kezar Pavilion in San Francisco's historic Golden Gate Park on August 18 at 3 pm PT (6 pm ET).
The double header will begin with The Bay vs. LA Showcase featuring many of each region's top high school basketball players. The two regions have a long-standing rivalry and each has produced some of the most legendary figures in basketball, including Naismith Hall of Famers Bill Russell, Gary Payton, Jason Kidd, and Reggie Miller and the last two NBA MVPs: Russell Westbrook and James Harden.
Current standouts slated to play include Team L.A.'s Isaiah and Evan Mobley of Rancho Christian (Temecula, Calif.). Isaiah is one of the nation's top Class of 2019 recruits and is headed to USC. His younger brother Evan is ranked No. 1 in the 2020 class by more than one respected scouting service and is arguably the best prospect in the country. Also slated to attend USC is Team L.A's Max Agbonkpolo of Santa Margarita (Calif.). Agbonkpolo's high school teammate Jake Kyman is part of Team L.A. and is headed to UCLA. Headed to Oregon State is Team L.A's Gianni Hunt of Bishop Montgomery (Torrance, Calif.) and Jarod Lucas of Los Altos (Hacienda Heights, Calif.).
Team Bay is led by Grand Canyon-bound guard and Oakland native Jovan Blacksher of FAB 50-ranked Shadow Mountain (Phoenix, Ariz.). Team Bay also includes seven juniors-to-be, led by shooting guard Nimari Burnett of Prolific Prep (Napa, Calif.) and fast-rising Xavion Brown of Sheldon (Sacramento, Calif.).
The 2HYPE Celebrity Youtube Influencer Game (5 pm PT/ 8 pm ET) pits two teams of Youtube Influencers against one another. Slated to participate are Jesser (1.7 million Subs, 462 million views), Cash Nasty (2.3 m, 536 million) and Kris London (1.6 m, 194 m). In all, participants slated for the 2HYPE celebrity game account for 37.5 million Youtube subscribers.
"I'm super excited to be partnering with Ballislife and playing with all of the 2Hype crew again for this event. It's time for us to up our record to 2-0!" said Jesse Riedel (Jesser).
The complete rosters for the high school game are announced below: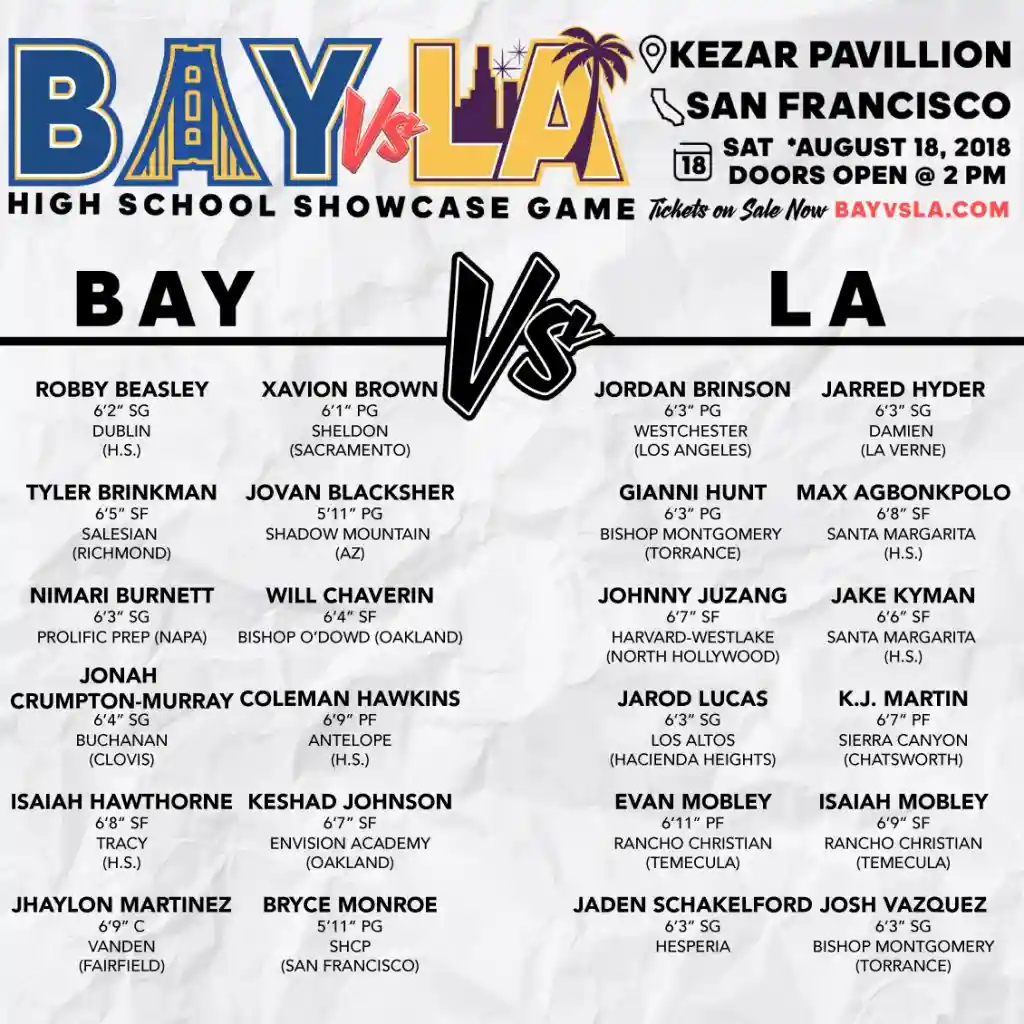 Tickets (2 for $45 first come, first serve general admission) for the 2HYPE + Bay vs. LA showcase basketball games can be purchased at: bayvsla.com
Visit the website for VIP /Courtside seating options and for additional participant and venue info.
About Ballislife
Created in 2005 as a brand highlighting basketball players on its platform, Ballislife has grown from a "Mixtape" outlet to respected basketball apparel, media and event management company. In that time, the Southern California-based company has covered nearly every major high school and grassroots basketball event and today produces and shares content frequently featured on top news websites such as the New York Times and television shows such as ESPN's SportsCenter. Ballislife's social networks are followed by millions of fans and its content has produced over 500 million views on YouTube and another 25 million annually on Ballislife.com. Its website is home to the respected FAB 50 National Team Rankings (which have been produced since the 1987-88 season) and the company has created and executed events such as the annual Ballislife All-American Game, Ballislife Jr. All-American Camp, and Eastbay Funk Dunk Contest.