The scene from "Get Out" when Kendall discovers Ben Simmons pic.twitter.com/5tI1bWcsmZ

— David Astramskas (@redapples) May 30, 2018
According to PageSix.com, future (not a Rookie) Of The Year Ben Simmons is the latest basketball player entering the world of the Kardashians.
The 21-year-old basketball version of Derek Jeter — last seen dating singer Tinashe — has reportedly been seeing 22-year-old Kendall Jenner, who was recently dating Blake Griffin until the Clippers exiled him and his massive contract to Detroit.
This love story probably would have been a bigger deal in the city of brotherly love if it wasn't for The Ringer breaking a story about 76ers President of basketball operations Bryan Colangelo using up to five burner accounts on Twitter to roast Simmons' teammates. In one of the many amusing tweets by one of the burner accounts, it said Simmons, unlike Joel Embiid, wont' be "distracted" by models. It sounds a little ironic since Jenner is a model and one of many models Simmons has dated since entering the NBA (in 2016). But, considering Simmons had one of the most impressive "Rookie" seasons in the history of the league, I'm not sure any of these women has been a "distraction." The only knock on Simmons is he "can't shoot" but considering he's been linked with Brittany Renner, Dylan Gonzalez (of the Gonzalez Twins), Tinashe and Kendall Jenner, I'll say he's been pretty good at shooting his shot.
One person who isn't very fond of Simmons right now is Tinashe's brother, who posted this amusing "Donovan Mitchell for ROY" tweet.
https://twitter.com/kudikaching/status/1001662431611961344
In case you were wondering about Jenner's history with basketball players, besides Blake Griffin, she was with or rumored to be with Jordan Clarkson, Chandler Parsons and D'Angelo Russell. She was also reportedly dating hip-hop star A$ap Rocky earlier in the month.
And if you don't know why I called Simmons "the basketball version of Derek Jeter," here's a few women on his legendary dating resume: Minka Kelly, Jessica Biel, Adriana Lima, Jessica Alba, Scarlett Johansson, Vanessa Minnillo, Jordana Brewster and Mariah Carey (90's Mariah).
BRITTANY RENNER
https://www.instagram.com/p/BeoMY4onnzk/
DYLAN GONZALEZ
https://www.instagram.com/p/BjRFsP-lBen
https://www.instagram.com/p/BZka6noFpJ-/
https://www.instagram.com/p/Bic3Fv-lXC7/
TINASHE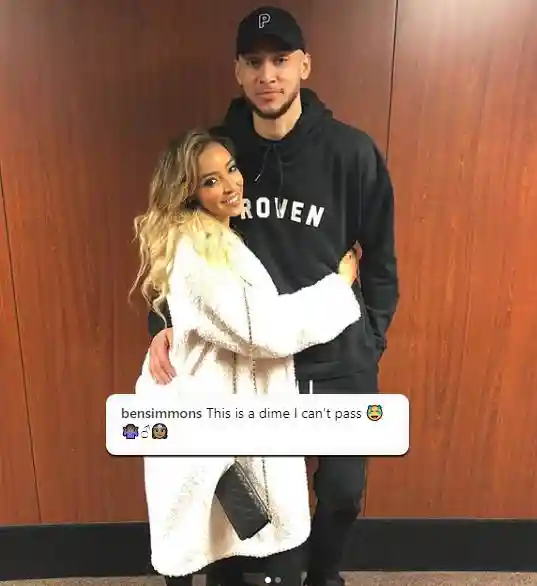 KENDALL JENNER