Fans of Jusuf Nurkic know him as The Bosnian Beast. A beast that scored 19 points on 8-of-11 shooting in the Blazers win over the Wolves on Sunday. A beast that put up 20 points twice last week on 10 or fewer shots. A beast that deserves more attention around All-Star weekend.
General NBA fans know Nurkic as The Human Bullseye for dunkers. Over the past 12 months, he's received more facials than 2018 AVN Best Actress winner Sara Luvv. And one of those facials happened on Sunday when Wolves rookie Josh Okogie was awarded the Daily Dunk on Nurkic award.
This dunk also happened less than 24 hours after Brandon Ingram was the recipient of the award.
LeBron liked Slender Man's dunk on The Beast so much, he posted a photo of it on Instagram with the following caption: "Watch my Young King fly!! I'm telling you he has arrived! Watch yo head."
LeBron is also the poster maker with the most memorable facial on Nurkic. His happened back on March 15th of 2018, a sad day many will remember as the day Toys R' Us announced they were dead and the day the internet thought Nurkic was dead because of all the "RIP Nurkic" tweets.
The dunk was so disturbing, Jordan Clarkson said, "There's a body bag in the hallway right now" during the postgame interview.
LeBron dunked on Nurkic so hard that a Blazer fan damn near threw up. pic.twitter.com/yFg69NhZQa

— realcavsfans.com (@realcavsfans) March 16, 2018
My personal favorite dunk on Nurkic happened during Game 3 of the Blazers & Pelicans Playoff series in April. Midway through the third quarter, Anthony Davis threw down a putback dunk on Nurkic. The dunk wasn't that great but the sight of AD's teammate, Jrue Holiday, pointing at Nurkic as he was trying to figure out what just hit him made it a classic.
I love this photo so much, I printed it out and plan on getting AD and Holiday to sign it. I'm assuming Nurkic won't sign it but if Kobe was willing to sign the cover of a Sports Illustrated issue about his rape case then maybe Nurkic will.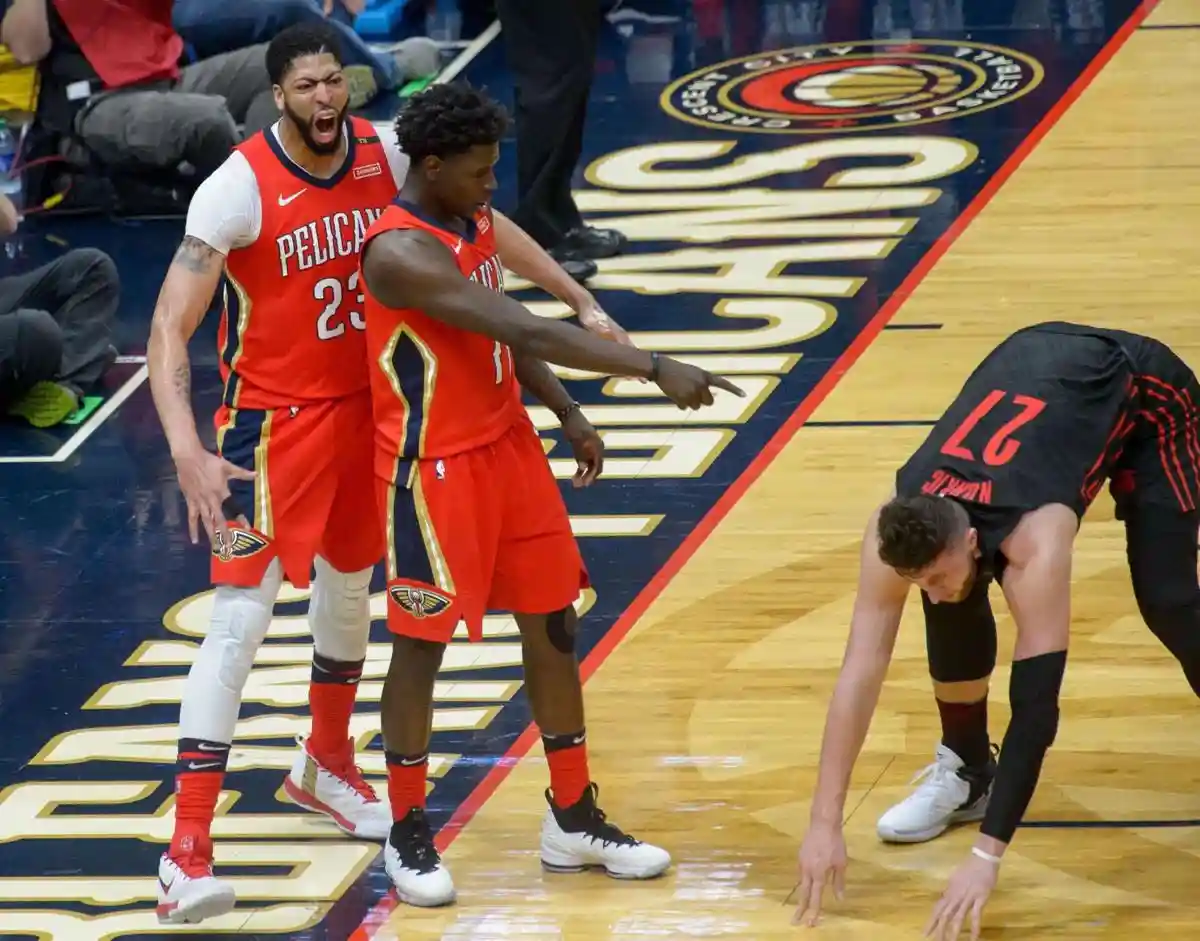 Also worth mentioning is Clint Capela's and-one dunk on Nurkic that happened just five days after Nurkic's near-death experience with The King.
One last thing, I'm sure a few Portland fans will take this post too seriously and say we should praise him for attempting to play this rarely seen thing called defense. All I can say is it must suck to be so oversensitive and I hope your team doesn't get swept in the playoffs for the third consecutive year.
(FYI: I've been a Blazers fan since the 80s when Clyde Drexler was putting every team's center on a poster)