The St. James NIBC Invitational gave us a glimpse of what big-time high school basketball will likely look like in the near future.
RELATED: Updated FAB 50 Rankings | 5 Ways COVID-19 Changed Recruiting 
As COVID-19 numbers spike across the country, many state associations still have not started their 2020-21 high school hoops season. If the seven states scheduled to begin by February 1 tip-off, it will bring the number of state participating to 41.
Delays to start dates, restricted travel and schedule changes a common theme has put even a bigger emphasis on events involving top players and teams. The St. James NIBC Invitational is the event receiving the most national attention. No less than 11 teams that appeared in the FAB 50 National Team Rankings powered by Ballislife.com participated in the Springfield, Va. event January 8-18. The top seven teams in the FAB 50 going into the event participated in at least one game, with No. 1 Montverde Academy (Montverde, Fla.) playing both No. 2 IMG Academy (Bradenton, Fla.) and No. 3 Sunrise Christian Academy (Bel Aire, Kan.).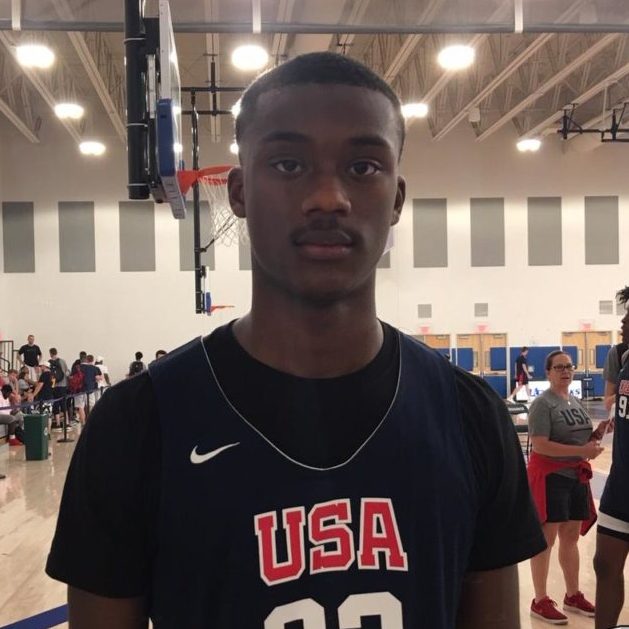 6'5" - SG - 2022
On January 9, Montverde Academy downed Sunrise Christian, 58-52, behind elite 2022 prospects Dariq Whitehead (18 points, 8 rebounds) and Jalen Duren (13 points, 4 blocks). On January 17, MVA and IMG locked horns with the top-ranked Eagles coming away with a 55-51 victory as Michigan-bound wing Caleb Houstan netted 16 points. Montverde Academy led the entire contest, but IMG was never out of it. The Eagles had 15 turnovers (to IMG's 10) but forced the Ascenders into just enough uncomfortable shots (20-of-56 while MVA made 16-of-38). Less than 24 hours later, Sunrise Christian secured the No. 2 spot in the latest FAB 50 with a come-from-behind 69-62 victory over IMG Academy. Tennessee-bound Kennedy Chandler made the big plays down the stretch for the Buffaloes and finished with 26 points.
The event's talent level was unmatched and some of the nation's most talented teams left Springfield with multiple losses and even mini losing streaks. So why were eight of the teams there for 10 days? The event was a bubble situation and for the teams that make up the National Interscholastic Basketball Conference (Montverde Academy, Sunrise Christian Academy, FAB 50 No. 5 Oak Hill Academy of Mouth of Wilson, Va., No. 6 Wasatch Academy of Mt. Pleasant, Utah, No. 11 La Lumiere of La Porte, Ind., Legacy Early College of Greenville, S.C., Hamilton Heights Christian Academy of Chattanooga, Tenn., and Bishop Walsh of Cumberland, Md.) this was the first stop in a season that will include multiple stops in a bubble-type environment and a conference championship tournament.
The original plan was for member teams to play each other at longstanding high school events and for those games to count towards conference standings. That element of the NIBC is a work in progress because of COVID-19, but ongoing league standings and crowning a conference champion is still the goal for this fragmented season, according to La Lumiere head coach Patrick Holmes. The NIBC will host its conference tournament in early March, with the event likely taking place in La Porte, Ind.
"We wanted to come together to have a safe basketball season," Holmes said. "At the NIBC, everyone had to have a negative COVID test in order to travel here. We are fortunate to have access to a rapid test that we can administer on game day to each student-athlete. All eight schools agreed to this protocol at whatever stops we have this season.
"Talking to some of the independent schools, we wanted to figure out how to ensure all participants were going to be COVID negative and to ensure we're still playing high quality games. As this thing continues to evolve, then the goal is to become an official conference. When the off season rolls around, we'll figure out how to build this thing out."
At the St. James NIBC Invitational, there were no reported COVID-19 related issues with the eight teams that make up the conference. With COVID-19 looming, this is the perfect season for NIBC members to tinker with its execution and hit the ground running in 2021-22. The top of the FAB 50 rankings is dominated by NIBC members and many evaluators and scouts commented on just how terrific the level of play was at the St. James NIBC Invitational.
The talent gap between the independent academy-type programs who attract talent from all over the country (and in some instances the world), and those public and parochial schools that play for state titles has been widening over the past decade. COVID-19 is only accelerating that gap.
So is it fair for NIBC schools to be ranked with secondary high schools? Should there be two sets of national rankings and should independent programs only play each other? As long as state association members line up to play NIBC members, they belong in the same pot. It's up to state associations and member schools to decide if they want to play these programs. Some allow their full members to play teams that don't compete for a traditional state title, and others do not.
If the decision is unilaterally made that state association members can no longer play teams that don't compete for state tiles, then there will be no choice other than to separate the programs. That hasn't happened yet, but coaches can't schedule those teams, then complain about it when they lose. On the occasions they do win, it's big news and used to promote their program and the virtues of playing for a secondary high school. In the same light, event operators can't scoff at those programs when they gladly use them as promotional vehicles and to boost gate receipts.
Either way, Ballislife's goal is to promote the players of high school basketball, regardless of its makeup. We adjust with the times and realize high school basketball is not nearly the same as when the precursor to the FAB 50, the National Prep Poll, began in the winter of 1987. We also understand COVID-19 is changing the realities of families and how high school basketball fits in to that reality in 2021.
"High major" high school and "neighborhood" basketball both serve their purpose. They can co-exist, although their relationship often falls into a gray area. They can also exist separately, although the lifeblood of media coverage for neighborhood basketball, our country's daily newspapers, is in peril because of dwindling revenue. The entire sports departments of some newspapers today are smaller than their high school sports departments  were 25 years ago. Meanwhile, the NIBC is sure to garner plenty of attention from media, scouts, college coaches and pro personnel in upcoming seasons.
"The level of competition is second to none," Holmes said.
It will be healthy for the high school game if the NIBC expands to include other independent teams. It will also strengthen the product by adding some of the virtues of state association basketball with set rosters, standings, a post-season and uniform rules that are clearly communicated, enforced and available in the public domain.
Ronnie Flores is the national Grassroots editor of Ballislife.com. He can be reached at [email protected]. Don't forget to follow him on Twitter: @RonMFlores