The great Denzel Washington paid a visit to Jimmy Kimmel Live to promote the upcoming Equalizer sequel, which is his fourth collaboration with Training Day director Antoine Fuqua.
Since the two-time Oscar winner has been attending Lakers games since the days of Magic Johnson and Showtime, Kimmel asked him about the arrival of LeBron James and the tired GOAT question. A hesitant Denzel went into an amusing story about witnessing MJ's "spectacular move" in Game 2 of the 1991 Finals in person, with Spike Lee, and trying to get (the GOAT) drunk later that night.
Unfortunately for the Lakers and their fans, MJ was also good at pump-faking alcohol shots, remained sober throughout the series and averaged 29 points, 11 assists and 6 rebounds over the next three victories to give him and the Bulls their first NBA championship.
RICOCHET
Everyone has seen Spike Lee's He Got Game and knows the story about Denzel shocking Ray Allen by knocking down a couple of unscripted shots in the father and son 1-on-1 scene. Most of you have probably never seen the shocking 1991 film Ricochet that starts off with a painful basketball scene of Denzel in a crop top going 1-on-1 against rapper Ice T. That scene isn't on YouTube but you can see clips of it in Ice T's song from the soundtrack.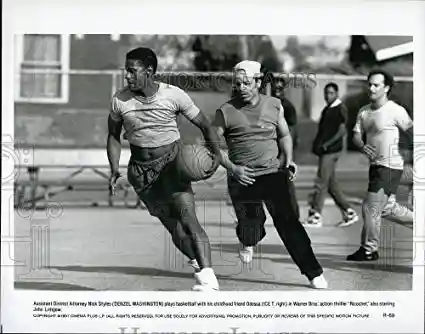 KING KONG AIN'T GOT NOTHING ON ME
And I can't talk about basketball and Denzel without bring back this clip of Robin Lopez's ejection narrated by Denzel in Training Day.
A fun moment after game: MJ left the Stadium to go out with good friends Spike Lee and @NBATVAhmad , and also made a new friend actor Denzel Washington. After shaking hands with Denzel, Lee whispered to Jordan: "Mike, he`s a Lakers fan." Replied Jordan: "We`ll convert him." pic.twitter.com/00RZGvwiEg

— OLDSKOOLBBALL ? (@Oldskoolbball1) June 5, 2018