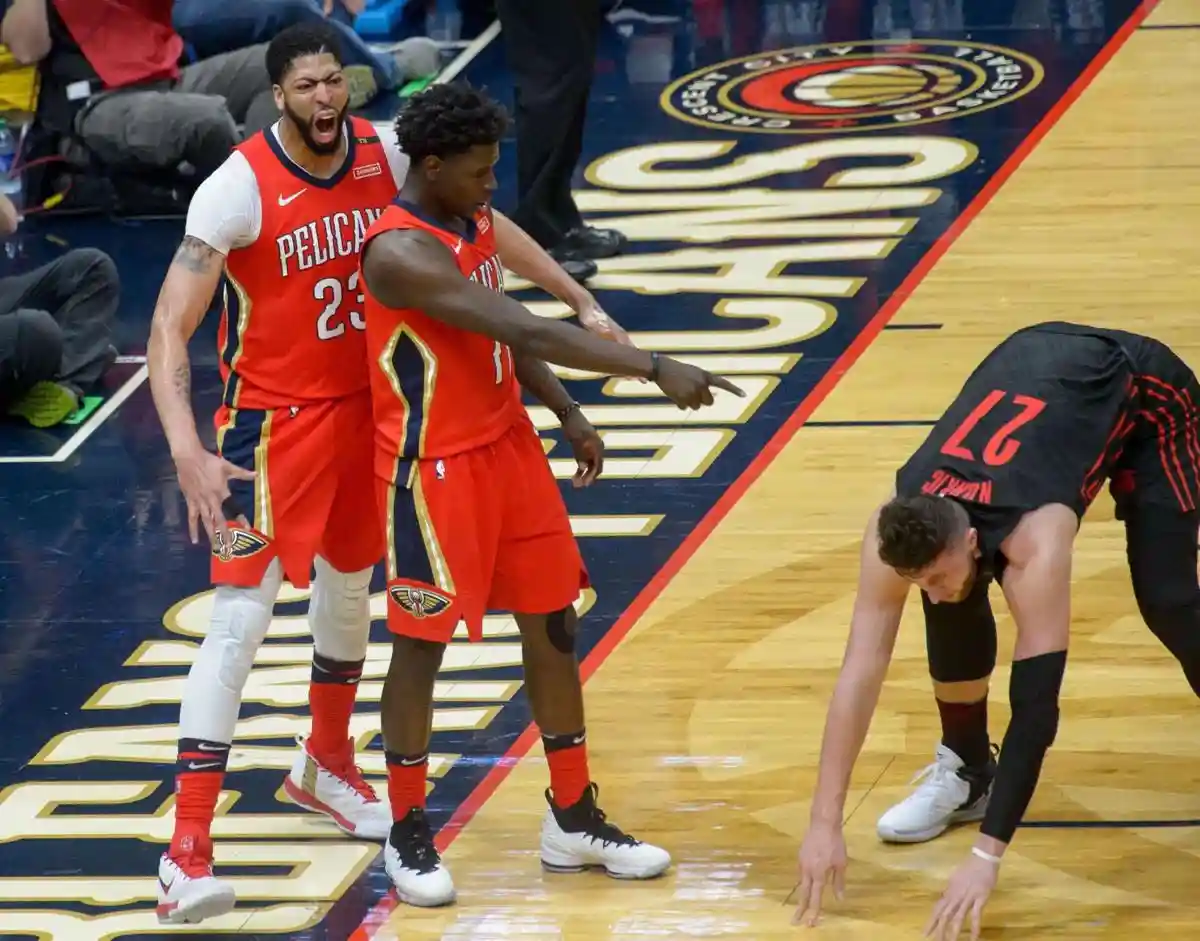 How disrespectful and just flat out beautiful is this photo?
The captured moment is the aftermath of Anthony Davis throwing down a putback dunk over the head of Jusuf Nurkic, a favorite collaborator among the league's best dunkers (like LeBron, who created a Mona Lisa with him a month ago). AD's teammate, Jrue Holiday, enjoyed the dunk so much, he pulled a Charles Oakley and pointed at Nurkic even though he wasn't the one who dunked on him (he did dunk on him in GM2).
If you don't get the Charles Oakley reference, let's go back to December of 1986 to a game between Michael Jordan's Chicago Bulls and Dominique Wilkins' Atlanta Hawks. During this game, Michael Jordan had one of his most memorable dunks — a one-hand poster dunk on Tree Rollins after one of his trademark one-hand ball fakes. You have probably seen it before, but the clip always cuts right after the dunk and right before Charles Oakley points right at the head of Rollins.
And we can't talk about post-dunk pointing without bringing up the "Lister Blister." The infamous dunk was done by Shawn Kemp in Game 4 of the 1992 playoff series between the Sonics and Warriors. What many people don't know about this celebrated dunk is it's also one of the best revenge dunks in NBA history. Earlier in the series, the two got into a fight after a flagrant foul by Lister. Punches were thrown and since this was the 90s, they each received a tech and were told to keep playing.
Earlier this season, Larry Nance Jr paid homage to the Reign Man by giving Mason Plumlee a less cool looking version of the "Lister Blister" celebration.
Another favorite clip of mine is this one (15 second mark) of a very young and thin Shaquille O'Neal letting putting his finger right in the face of a high school defender.
BONUS: JRUE'S DUNK ON NURKIC
LEBRON ON NURKIC – THE MINI MOVIE