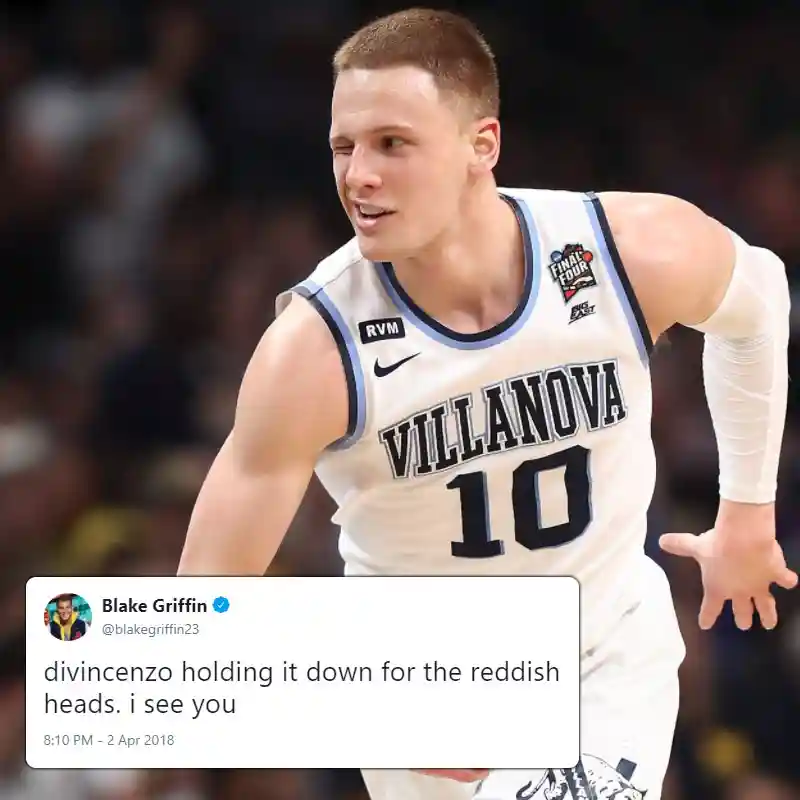 Donte DiVincenzo made redheads and "reddish heads" like Blake Griffin proud last night. In the NCAA championship game, the Villanova sophomore guard scored 31 points (10-15 FG) off the bench and was named Most Outstanding Player! The 31 was a national title record for most points off the bench.
The performance also earns him a spot in the Basketball Redhead Hall of Fame, along with legends like Bill Walton and Dennis Johnson (yes, he was a redhead).
The following are some of the best moments in basketball history by redheads and clips from young redheads that's ready to carry the torch from GOATS like The Red & White Mamba.
BILL WALTON
Bill Walton is by far the greatest ginger to ever touch a basketball and his performance in the 1973 NCAA championship game is arguably the greatest title game performance ever: 44 points on 21-of-22 shooting!
Walton also picked up two NBA championships and a NBA Finals MVP award before becoming one of the most polarizing sports commentators of all-time.
DENNIS JOHNSON
DJ went from getting kicked off a college team (twice) to 2nd round NBA draft pick to a 5 x All-Star, 3 x NBA champion and 1 x NBA Finals MVP. He's also one of the greatest defenders the league has ever seen. And at 6'4″ he's unofficially the shortest player to ever want to get into a scuffle with Charles Oakley. Every time I see this clip, I wish the ball would have hit Oakley in the back.
BLAKE GRIFFIN
The future stand-up comedian is responsible for a lot of the best dunks over the past decade but only one of them spawned a phrase in basketball.
On November 20th of 2010, Griffin posterized Timofey Mozgov and the phrase "Mozgoved" was born.
DELONTE WEST
I thought about showing West giving Gordon Hayward a "Wet Willie" but the highlight of his troubled NBA career is easily this game-winner from 2008. Why? Because LeBron James made the assist (I'll let you provide the jokes).
MATT BONNER
Believe it or not, the Red Mamba does have a dunk contest title. It was in high school but Matt Bonner can say he won a dunk contest. He can also say he almost got into a fight with Kevin Garnett and once put Mark Madsen on skates. And he can say he once took the ball from Tony Parker and called an isolation play for himself.
BRIAN SCALABRINE
Buzzer beaters, dunks, fancy assists, win a championship, the White Mamba has done everything the Black Mamba has done…just not as many times.
DENNIS RODMAN
Yes, I'm counting The Worm. At one point or another during Dennis Rodman's Hall of Fame career, he sported every color in the rainbow on his head. And as a redhead, the 2 x NBA DPOY once held Shaq scoreless for a half.
Shaq wants you to know Rodman was BBQ chicken on most nights…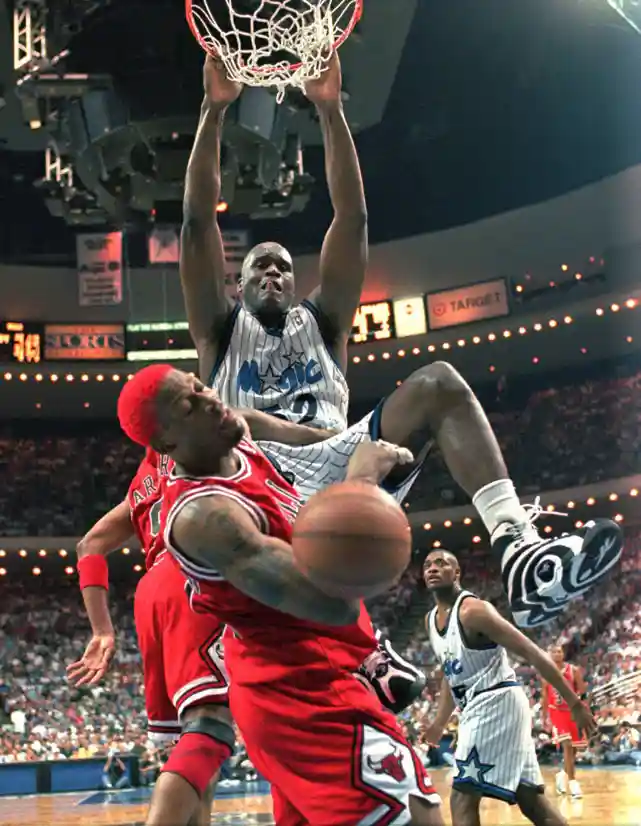 NICO MANNION
Besides Donte DiVincenzo, the young redhead I think will continue the legacy started by Bill Walton will be high-flying Nico Mannion.
Since Bonner has the nickname 'The Red Mamba,' here's some options for Nico:
Agent Orange
Code Red
Ginger Fireball
Gingerbread Man
The Torch
HONORABLE MENTION: ROBERT SWIFT