Let's get one thing straight before you get into the meat of this story: This is not a breakdown of guys like Murray State's Ja Morant, Duke's R.J. Barrett or Tre Jones, North Carolina's Coby White or Texas Tech's Jarrett Culver.
While those players are bonafide first round picks in the 2019 NBA Draft, the guys you'll find below are more along the lines of under-appreciated or unheralded based on their skill and production.
Jordan Ford, Saint Mary's
Ford is the catalyst for the Gaels offense. A First-Team All-West Coast Conference selection, he tied BYU's Yoel Childs for the conference scoring title at 21.5 points per game. Ford polished off his stellar pre-NCAA tournament campaign with 17 points in St. Mary's upset of then-No. 1 Gonzaga in the WCC Tournament title game.
We already discussed Ford's ability to score in bunches, but it's the variety of ways in which he does it that makes him so fun to watch. The 6-foot-1 point guard has the ball on a string, which allows him to take advantage of his elite speed and stop-and-go ability. Ford is a master space creator both on the perimeter and in the paint, which lends to his ability to create shots in just about any situation. He's shooting 42.3 percent from distance this season and 80 percent from the free throw line. St. Mary's is the 11-seed in the South and will begin tournament play against 6-seed Villanova Thursday on TBS.

Wofford senior Fletcher Magee leads NCAA Division I with 151 three-point field goals made this season. (Photo by John Byrum/Icon Sportswire via Getty Images)
Fletcher Magee, Wofford
Magee is perhaps the most lethal three-point shooter in all of college hoops. The senior leads the country in trifecta's made with 151 and is second to Campbell's Chris Clemons (376) with 353 attempts from deep, those figures are good for just under a 43 percent clip from behind the arc. The senior, who is averaging 20.5 points this season, has made the second-most three-point field goals in NCAA Division I men's basketball history, recently passing Duke's J.J. Redick and trials the all-time mark of 504, set by Oakland's Travis Bader, by two.
What makes Magee such a difficult cover is, as mentioned with another great shooter above, how he sets up and comes off of screens to free himself up. The 6-foot-4, 200 pounder can stop-and-pop off of a dead sprint, square himself to the basket mid-air, and hit those normally tough looks with consistency. Wofford opens the NCAA Tournament as a 7-seed in the Midwest taking on 10-seed Seton Hall Thursday on CBS.
Sam Merrill, Utah State
Merrill is certainly a name making his way into more and more households after he was named the Mountain West Player of the Year after leading the Aggies to a share of the league title (with Nevada) and earned the MVP of the Conference Tournament as Utah State defeated San Diego State in the championship game to seal a berth in the NCAA Tournament behind 24 points from the junior.
At first glance, Merrill's numbers pop off the screen with averages of 21.2 points and 4.2 assists per game while shooting 45.6 percent from the field and 90.7 percent from the charity stripe. What you'll notice most about the 6-foot-5 guard is, of course, his smooth 3-point shooting stroke, but also his ability to move without the basketball. Merrill utilizes screens as good as anyone you'll find in the college game, makes overzealous defenders bite with shot fakes and is a crafty finisher around the cup. Utah State is the 8-seed in the Midwest and will take on 9-seed Washington Friday on TNT.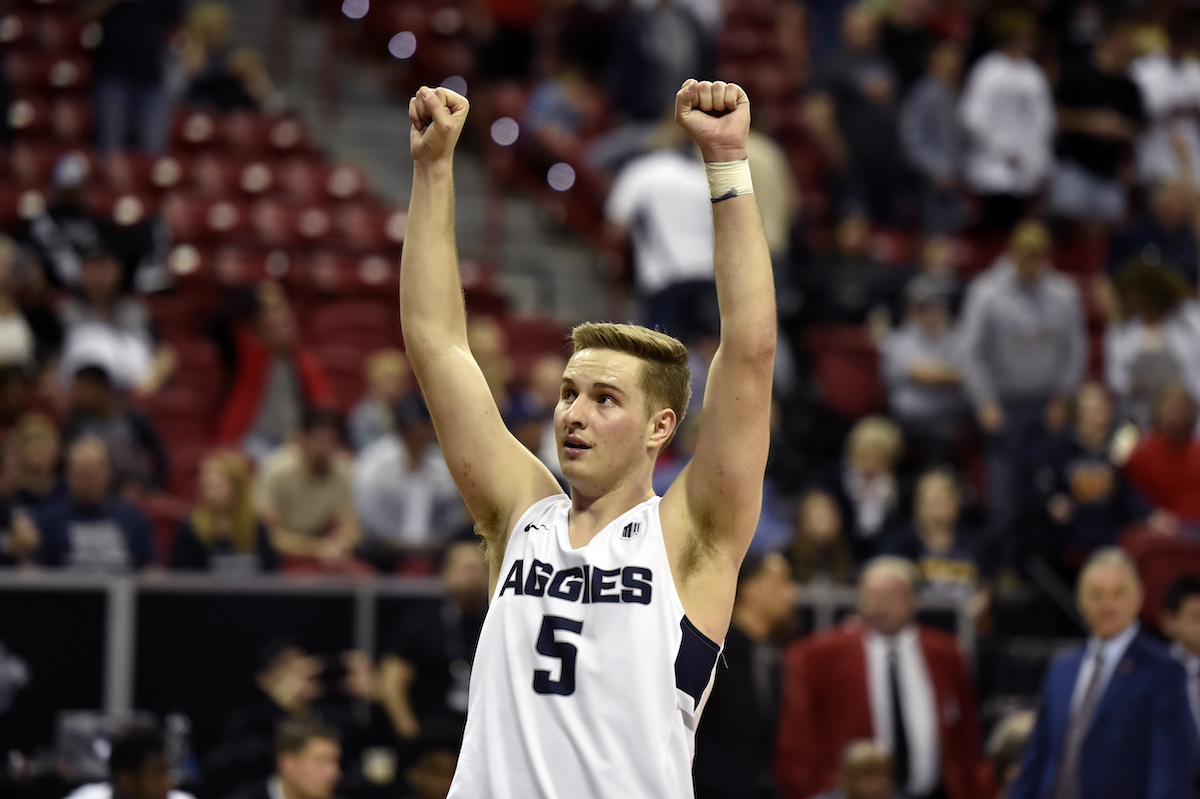 Utah State junior Sam Merrill was named Mountain West Player of the Year and conference tournament MVP. (Photo by David Becker/Getty Images)
Myles Powell, Seton Hall
The junior has continued to make steady progress from very reliable role player as a freshman, to solid starter as a sophomore and now one of the breakout stars this season in college basketball. Powell's 22.9 points per game rank 13th in the country and he's producing buckets in every way imaginable. Powell is shooting 45 percent from the field, 36.3 from three-point range and 84.6 from the free throw line and has put up 28 or more points on nine different occasions this season, including a 40-point effort against Grand Canyon in a Wooden Legacy quarterfinal win over Grand Canyon.
Powell is not afraid to take and make the big shot with the game on the line and has hit a handful of clutch three-pointers over the course of his Pirates' career. Many of the clips you'll see on the 6-foot-2, 195-pounder will show that he isn't bashful about when and where he pulls from and he gets great lift on his jump shot. Powell has nailed 103 triples so far this season. Seton Hall, a 10-seed, will find itself in a shootout against 7-seed Wofford Thursday on CBS.
Shizz Alston, Jr., Temple
Alston was named a First-Team All-American Athletic Conference performer after tying for the conference scoring title at 19.7 points per game and finishing top five in assists, three-pointers, free throws, assist-to-turnover ratio and minutes played. Alston has scored 20 or more points in each of his last eight games leading up to the NCAA Tournament.
The 6-foot-4 senior boasts a wiry, but strong frame at 180 pounds and creates well for himself and others off the dribble. Alston is a tough shot taker and maker and is also a knock-down free throw shooter, hitting freebies at a 90.6 percent clip this season. One of his best attributes is his willingness to move the ball ahead via the pass in transition. The Owls will take on Belmont Tuesday in a First Four match-up on TRUTV.
Payton Pritchard, Oregon
Pritchard won't blow the viewer away with freakish athleticism or flashy passes, but the Ducks' signal caller embodies what a true point guard brings to the table. The junior has started all 35 games for Oregon this season and ranks top 10 in the country in total minutes played at 1,234 (35.3 minutes per game).
Pritchard, who didn't make either First or Second-Team All Pac-12, is averaging 12.7 points and 4.5 assists on the season, ranks among the top 50 in assist-to-turnover ratio and is hitting free throws at a 84.3 percent clip. Oregon needed to win the Pac-12 Tournament to make the field of 68 and did so with a convincing 20-point victory over top-seeded Washington. Oregon enters the field as a dangerous 12-seed, taking on 12-seed Wisconsin Friday on TBS.
CJ Massinburg, Buffalo
When you talk about a player who fills up the stat sheet, Massinburg fits that mold. The 6-foot-3, 195-pounder is averaging 18.7 points, six rebounds and 3.3 assists while shooting 46.6 percent from the floor and 39.6 from three in leading the Bulls to a 31-3 record on the season. Massinburg's performance earned him the Mid-American Conference Player of the Year award as Buffalo won both the regular season and conference tournament titles.
The senior was an outstanding player last year as a junior and put his skill on display when the 13th seeded Bulls upset 4th seeded Arizona in opening round. Massinburg scored 19 points in that game and has the game-changing ability to lead Buffalo to a strong 2019 tournament run. The Bulls are a 6-seed and will play the winner of the Arizona State/St. John's play-in game Friday on TNT.
Justin Simon, St. John's
Simon was a highly-touted player coming out of high school and spent his first collegiate season at Arizona where he played limited minutes. The 6-foot-5 guard made his way back east to the Red Storm where he's turned into one of the best perimeter and team defenders in the country.
Simon's offensive numbers are respectable at 10.4 points and 3.2 assists per game, but it's what he does as on-ball defender, defensive rebounder, shot blocker and ability to shoot passing lanes for steals that shows his true impact on the game. Those who watch a lot of Big East hoops know Simon well as he was named Defensive Player of the Year in the conference. St. John's will take on Arizona State in a First Four game Wednesday on TRUTV.