Since I watched Deadpool 2 last night (because the NBA gave the Cavs and Celtics a four day break), Deadpool & Cable creator Rob Liefeld follows Ballislife (and is a fellow Kobe fanatic), and I love doing posts that makes me feel old as shit, I'm digging up these awesome comic covers ESPN & Marvel collaborated on waaaaay back in 2010, when the cinematic MCU was basically just a pair of Iron Man movies and a forgettable Ed Norton as The Incredible Hulk.
The 30 covers were made for ESPN the Magazine and focused on the biggest NBA stories going on at the very interesting time: LeBron taking his talents to South Beach, Melo leaving the Nuggets, Michael Jordan running the Bobcats, if Greg Oden can be repaired, if Blake Griffin can be contained and if the Warriors should build around Steph Curry or Monta Ellis (seriously).
Deadpool was featured on the 76ers cover with Andre Iguodala, Elton Brand and a mascot wanting a sequel from Allen Iverson. Unless you were a big comic fan back in 2010, you probably didn't know much or anything about the "Merc with a Mouth" since this was six years before Ryan Reynolds played the R-rated superhero.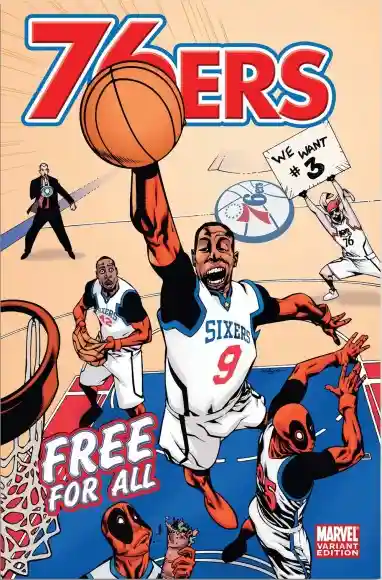 Thanks to DigitalBusStop.com for gathering all 30 covers and for featuring some of the original Marvel comics covers the ESPN ones were based on.
Enjoy!