Kevin Durant's day started off with news of being fined $15,000 for being a "jerk" to the refs. The day got much better with news of LeBron selecting him with the 1st pick in the secret (should have been televised) NBA All-Star draft and ended with him putting up a triple-double (28 points, 10 rebounds, 11 assists, 3 blocks) in a win over the Timberwolves.
"Life could be much worse. It was definitely a fun day," Durant said after the game.
During a postgame interview with the lovely Rosalyn Gold-Onwude, KD also talked about how good it felt to be drafted first by the Warriors nemesis and the idea of competing against his current teammates.
"Well, finally someone picked me number one. That feels pretty good. It's going to be fun competing against Steph, Klay and Draymond."
The always-amusing Portland Trailblazers Twitter account retweeted a video of KD saying this and replied, "Our bad." The apology/joke was a reference to the franchise picking Greg Oden over KD in the 2007 NBA Draft.
Also worth mentioning is KD's assists. He's put up a total of 25 assists over his past two games and had a season-high 14 before getting ejected in a win against the Knicks.
"He's even more dangerous. He's already the best scorer in the world," Jamal Crawford said. "If he has the assists, that just makes it tough to deal with."
KD YELLS "TEAM LEBRON" AT STEPH
KD'S INSTAGRAM POST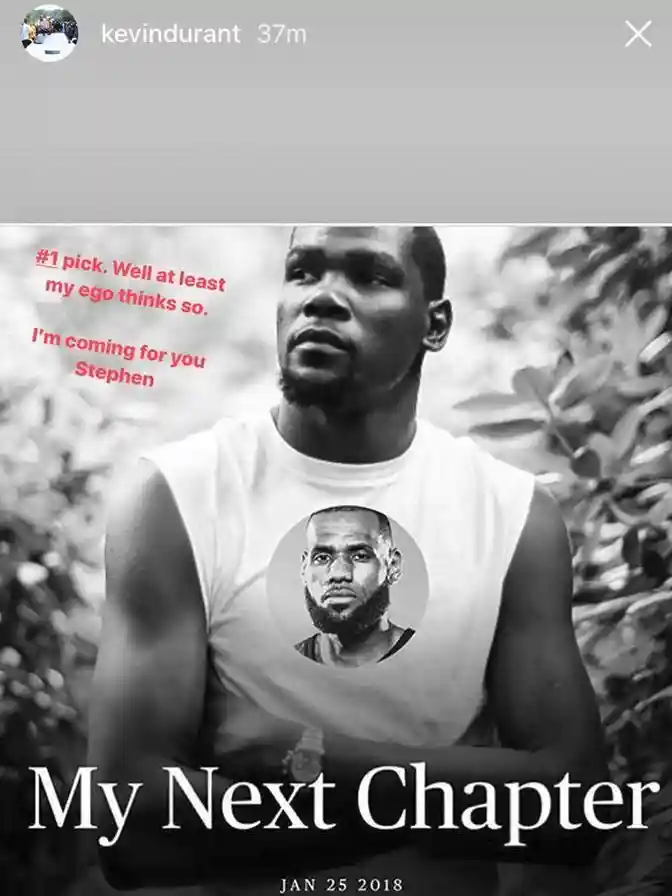 IF THE BLAZERS COULD GO BACK IN TIME