Jonathan Kolb, has been named the 2023 WNBA Basketball Executive of the Year. Hired by the New York Liberty in 2019, Kolb is sticking to his promise on building and developing a championship caliber team.
New York Liberty General Manager Jonathan Kolb set his sights on building a championship contending team when hired. This offseason, Kolb performed several crucial transactions, including the free agency signings of Breanna Stewart and Courtney Vandersloot. In January, New York acquired former MVP Jonquel Jones and defensive player Kayla Thornton, in a three-team deal between the Dallas Wings and the Connecticut Sun. Already deemed executive of the year prior to the start of the season by Liberty fans, Kolb has solidified and assembled one of the most elite teams in the WNBA this season. Kolb is the first Liberty GM to win the award for the top WNBA basketball executive.
Congratulations to Jonathan Kolb of the @nyliberty for being named the 2023 WNBA Basketball Executive of the Year pic.twitter.com/SI0CuIoEKv

— WNBA (@WNBA) September 14, 2023
The Liberty finish with the best record in franchise history
After two back-to-back- first round playoff exits, and a 16-20 finish in 2022, the New York Liberty far exceeded expectations this year. Through 40 games, New York finished a franchise best 32-8, and captured the No. 2 seed in the WNBA. After acquiring three All-Stars, Kolb edged out Gregg Bibb, President of the Dallas Wings, with 20 points. Compiling a lineup of two former MVPs, New York finished with a league leading 18-4 record post All-Star break. The Liberty, led by head coach Sandy Brondello, finished first in several offensive categories post All-Star break.
"I am profoundly humbled to be named this year's WNBA Basketball Executive of the Year by my esteemed peers, a group for whom I hold the deepest respect," said Kolb per press release. "This accolade, at its core, is a testament to the synergy of our team – from Clara and our ownership group's unwavering trust, to lockstep partnership with Keia and our business team, the brilliance and unity our players exhibit on the court, the meticulous dedication of Sandy and our coaching staff, the strategy sessions with my confidant Ohemaa and our front office, and the ceaseless care factor from our performance staff and entire team."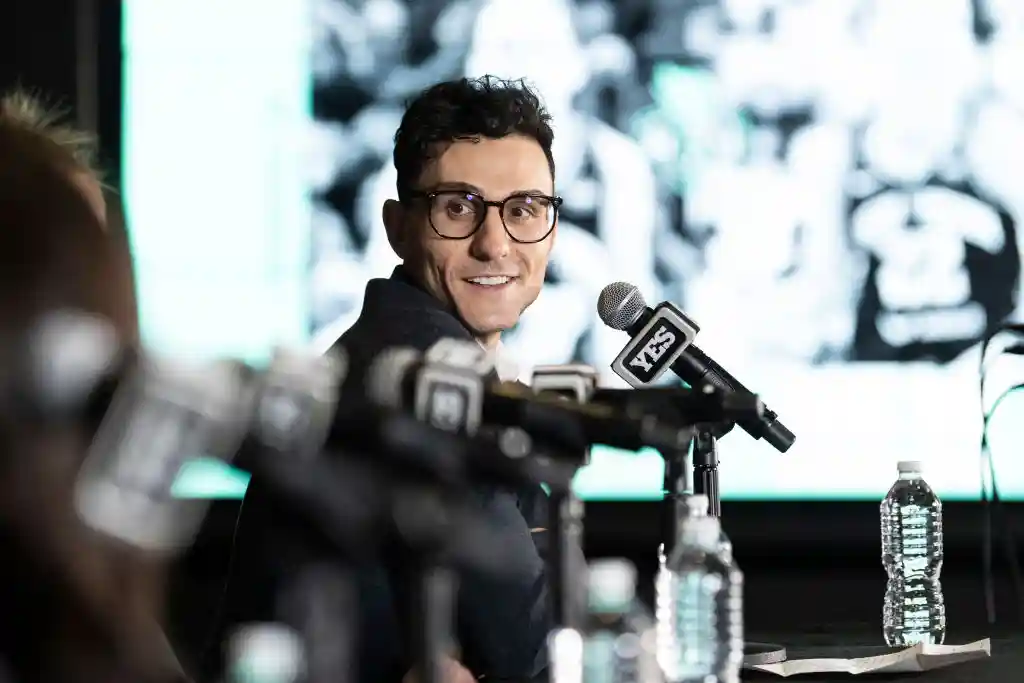 Off season frontcourt improvements
With the off-season acquisitions, New York bolstered its front court depth, with the addition of Breanna Stewart and Jonquel Jones. The Liberty were extremely efficient on the boards, finishing second overall in rebounding percentage. Between Jones and Stewart, the duo totaled a combined 34.3 points and 17.7 rebounds per game. In 2022, New York wasn't as productive on the boards, averaging only 34 a game. From 2022, New York's rebounding percentage is up by 3.8 percent.
Kolb adds a pure playmaker
The addition of Courtney Vandersloot was a brilliant move by Kolb. The 5x WNBA All-Star and WNBA champion, brought structure and strength to the backcourt, which already included Sabrina Ionescu, along with Betnijah Laney. Vandersloot, a pure floor general, excels in driving to the lane, finding backdoor cuts, and reading screens. New York broke several historical records, including the all-time WNBA record for team assist percentage.
"Serving as the General Manager for the New York Liberty has been a dream realized for me, and I bear the weight of this role with immense responsibility and gratitude. Witnessing our fans rally behind this team has been incredible, and I cannot wait to see where this journey takes us," said Kolb in a press release.
Prior to their Game 1 playoff matchup between the Washington Mystics, Jonathan Kolb spoke to the media on New York Sports, and his take on winning the award.
"We play for a professional sports in New York right? We're a team in New York and that's who we are and that's what we do." Kolb told reporters. "They're talking about the best teams in New York, everyone let them have it [on X] which was cool. That was something we're seeing change. I think when we had the press conference in February announcing [Sloot] and [Stewart], we want this to be mainstream. Credit to the players and the coaches, because they put together something really special on the floor, that now New Yorkers are starting to realize."
New York Liberty GM Jonathan Kolb pre game pic.twitter.com/oMdWFt41Fb

— Sara Jane Gamelli (@SaraJGamelli) September 15, 2023
Kolb is extremely humble
"I don't like this attention. I'd be disrespecting the award if I didn't embrace it, because it is a team award," said Kolb. "[The award] has to all manifest itself in the court in a real winning way. I can tell you, this place is special. The people we have here is special. [Clara Wu Tsai, Joe Tsai, Oliver Weisberg] it starts with them. And then the people that we have here, there are no egos. I couldn't be more humbled, and happy, and just energized everyday to work with the people that I get to work with."
In the pre game press conference, Head Coach Sandy Brondello had some warm words about the GM on Friday night. "I'm really, really happy for Jonathan," Brondello told the media. "He's been here for a long time-- building up the Westchester days, to where we are today, he deserves a lot of the credit to build the organization where players want to come here. He has a great vision. [Jonathan Kolb] is one of the smartest guys I know. He knows the CBA better than anyone I've ever spoke to, and just how to manage a salary cap."
He has success planned for the future
Highlighted as the first GM in WNBA history to acquire three All-Stars from the previous season, New York has performed in every way Kolb has envisioned. In his tenure, the GM secured key players, extending Sabrina Ionescu, Kayla Thornton, and Betnijah Laney to multi-year contracts. Jonathan Kolb truly cares about Liberty basketball, the fans, and has built a team from the ground up. Not easy at times, with hard work, and dedication, this Liberty team has the talent and drive to be WNBA champion contenders.
The New York Liberty will face the Washington Mystics in round 1 of the WNBA playoffs. Game 2 will take place on Sept. 19, at the Barclays Center.
Stay tuned for more WNBA and betting related articles. Click here
Sara Jane Gamelli is a full-time Sportswriter at BallisLife, and Sports Content Creator on Twitch and TikTok. She has a focus on the NBA, WNBA, NCAA Basketball, and the NFL. Sara Jane currently resides in Connecticut with her Cat and Dog. SJ has her undergraduate degree from the University of Connecticut in Economics, with a minor in business administration.