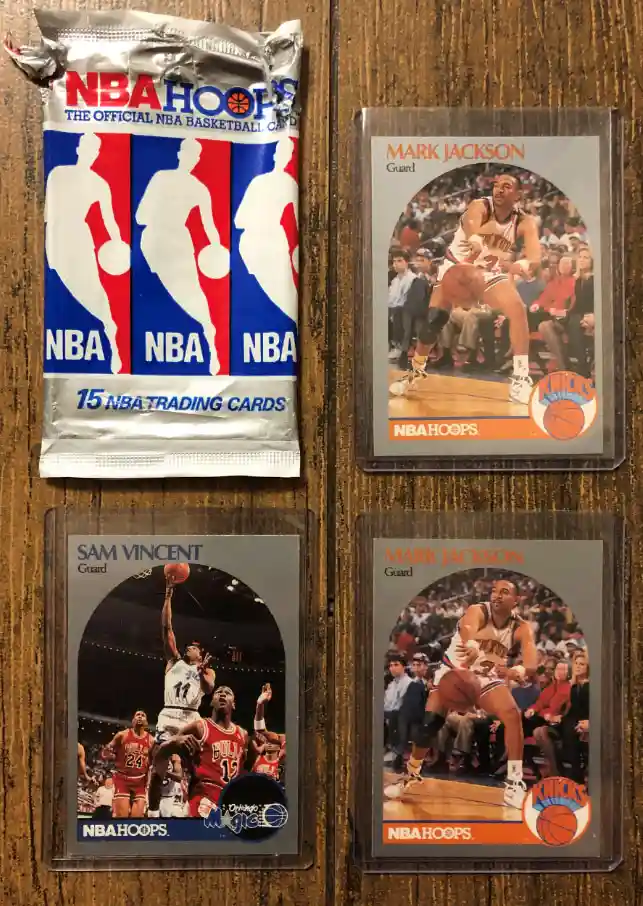 For almost 30 years, the most sought-after card from the over-produced and near-worthless 1990 Hoops product was a Sam Vincent card that showed Michael Jordan wearing #12. That card usually sells for a couple dollars on Ebay.
Thanks to Reddit and Darren Rovell, the most sought-after card from the Hoops set is now a Mark Jackson one that shows Lyle and Erik Menedez sitting courtside behind the former Knicks' Rookie of the Year. That card is now selling for around $30, which is about 300 times more than what it would have cost you last week and about six times more than the price of an unopened box with 24 packs.
If you aren't familiar with the Menendez brothers, they were convicted of murdering their wealthy parents with a shotgun on August 20th of 1989 and were arrested the following year after investigators noticed their spending habits, which included courtside seats at MSG to watch Mark Jackson throw behind the back passes to Patrick Ewing.
After hearing about this discovery, I rushed to my collection of unopened boxes to see if I still had a 1990 Hoops one, which is now going for over a hundred dollars. I didn't find one. But, I did find a single unopened pack that contained three of Jackson's teammates (Johnny Newman, Trent Tucker, Gerald Wilkins), Steph Curry's dad and the two best jheri curls of the 90s (Michael Cage and AC Green). The AC Green All-Star card is my favorite of the pack because of the story behind it: Green was voted in and Karl Malone was so pissed he told the NBA he wasn't going to show up to All-Star weekend. He did...with a mysterious injury that kept him out of the game, Green went scoreless in.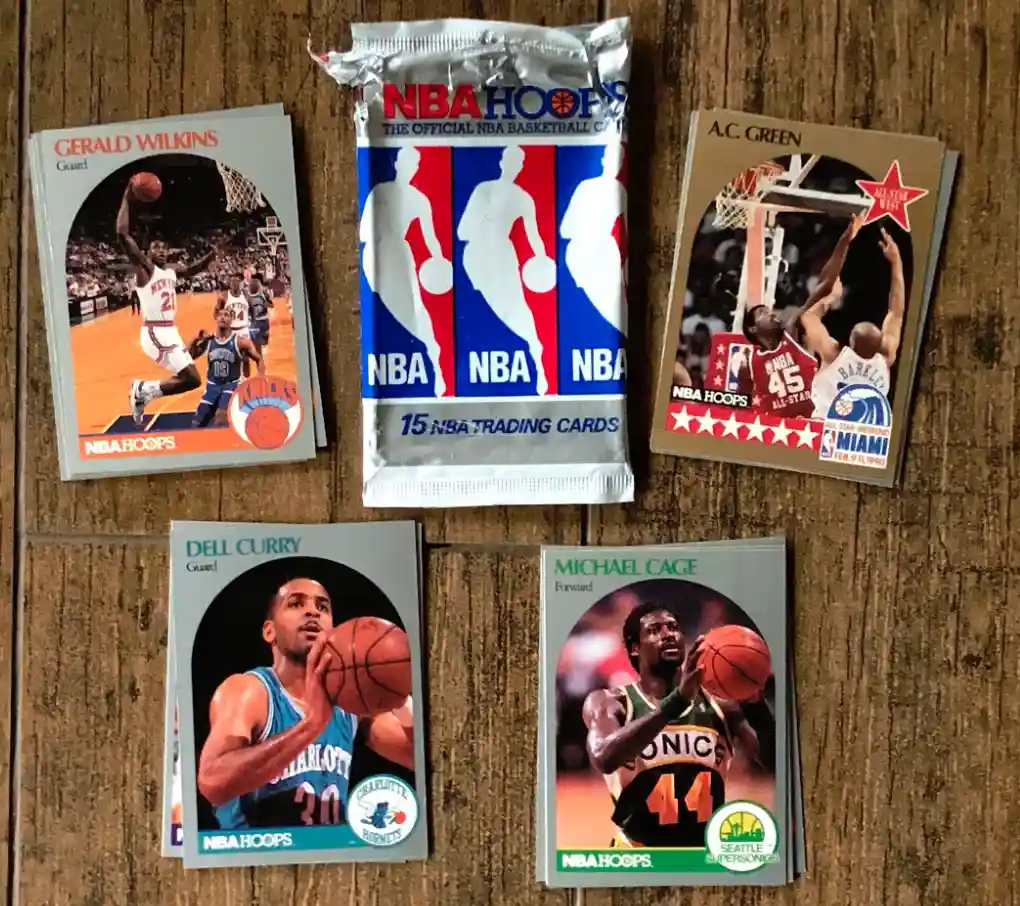 Considering I bought at least a hundred of these packs back in 1990, I was sure I had a few copies of the Jackson card buried next to commons and names like Roy Tarpley, Vernon Maxwell, Mookie Blaylock, Chuck Person, and Alvin Robertson. The thought of going through the stacks and pulling out rookie cards of Crossover King Tim Hardaway, the late Drazen Petrovic and a skinny Shawn Kemp sounded like fun, so I spent an hour going through a few dusty boxes. The shocking result was just two copies of Jackson, about 10 copies of current coaches like Scotty Brooks and Steve Kerr, 1 dead roach and 2 dead spiders.
RANDOM STUFF
Speaking of the Menendez brothers and gems from the 90s that were initially disappointments like the Hoops set, this gives me an opportunity to rave about Ben Stiller's 1995 dark comedy The Cable Guy. The box office bomb that now has a strong cult following featured a hilarious spoof on the Menendez brothers and one of the many awful basketball scenes from the decade. In that scene, Jim Carrey, playing "prison rules," jumps off of Jack Black's back and shatters the backboard with a two-hand dunk.
The scene was almost as unrealistic as Ed Norton's skinhead character in American History X (1998) throwing down a game-winning, reverse dunk in a scene that made Spike Lee's "eyes bleed."
Speaking of Mark Jackson and prisoners, did you know the TV analyst and former Warriors coach used to take annual trips to San Quentin for a friendly pick-up game with the inmates? He even brought Lakers coach Luke Walton with him once and that experience helped him coach Kentavious Caldwell-Pope. I'm obviously kidding about the KCP thing but the Klutch Sports client did split time between jail and playing in NBA games last season and is currently "robbing" the team.
Speaking of a robbery and the Sam Vincent card with the man me and Allen Iverson will always call THE GOAT, I have some great memories about that day too. It was Valentine's day and I was living an hour away from the scene of the crime.
Hours before the game between the Chicago Bulls and Orlando Magic, someone actually had the balls to steal MJ's jersey. The heist had Jordan seeing red and the arena security in a panic. They even sealed off the building and searched departing employees. Security was so desperate to find the jersey, they even took one from a kid in the crowd and checked with Jordan to see if it was his. No surprise, it wasn't.
Since the NBA wasn't willing to delay the game until the jersey was found, he had to wear a replacement. They gave him a nameless Bulls jersey with the number 12 on it. After scoring 49 in a loss, he reportedly said he would not sign autographs in Orlando again. The threat didn't mean anything to collectors because he was well known as an asshole to autograph seekers or anyone who wanted to use his likeness -- just ask the creators of NBA Jam.
UPDATE
I just found a Patrick Ewing and Charles Oakley card that I tore out of an uncut New York Knicks teams set. These uncut sheets were pretty rare even back then so I'm pretty sure if someone had one still intact, with the Mark Jackson card, they could probably get a few hundred dollars for it.