It's just a video of NBA2k19 cover athlete LeBron James interviewing Travis Scott, who recently made the chart-topping Astroworld, a baby with Kylie Jenner and the soundtrack for the latest 2K video game.
As executive producer and curator, James Harden's famous shootaround partner helped assemble a massive list of songs made by everyone from Migos to Bruno Mars to Dilated Peoples to The Gap Band to NBA trainer Dribble2Much! As expected, there's also a few songs (five to be exact) with Scott on it.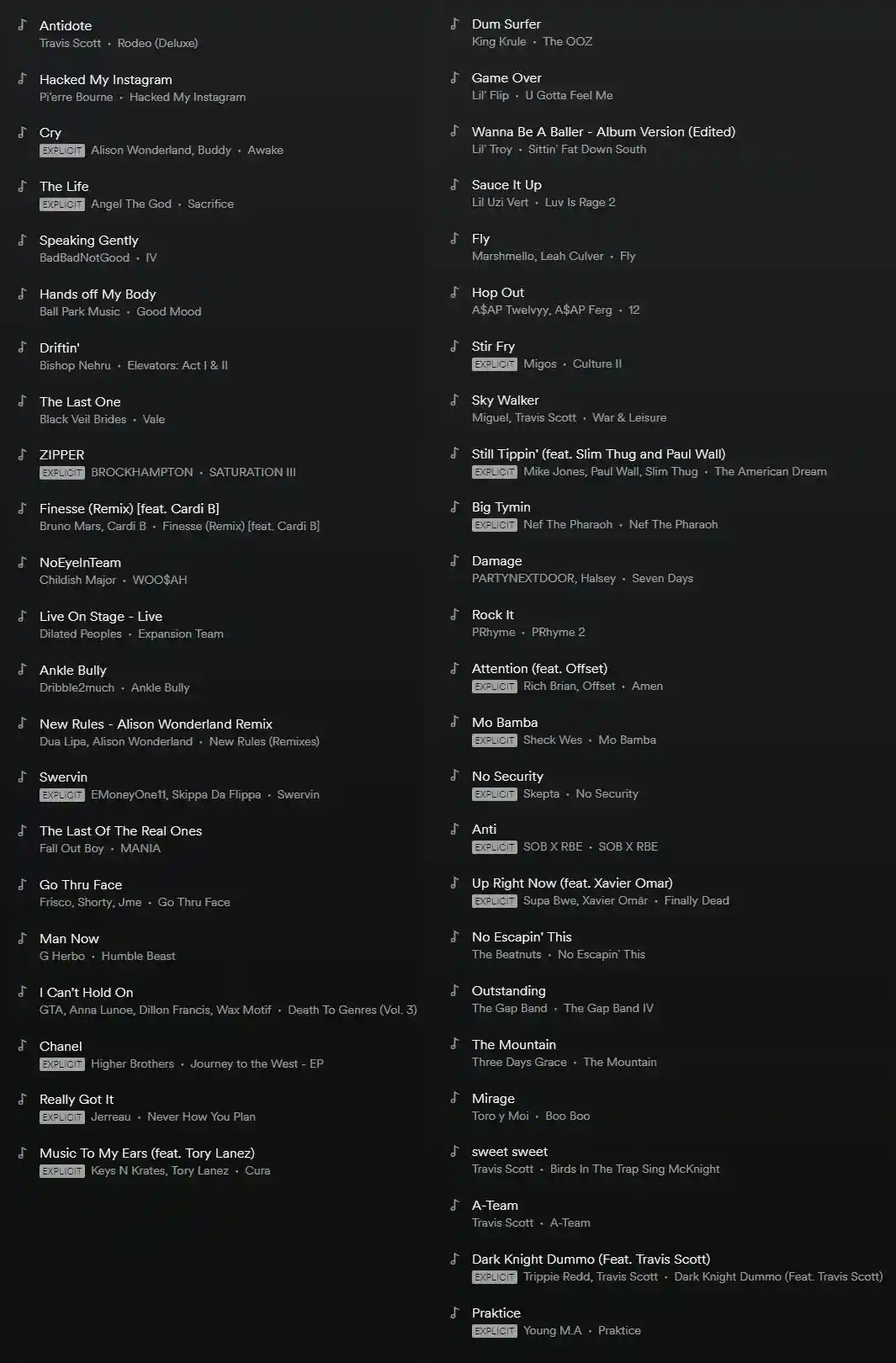 You can listen to the whole album below, or on Spotify, or scroll down a little more to revisit the past soundtracks and some of my favorite songs from each. FYI: I'm an old-school hip-hop and that's why you are going to see artists like Rakim, Nas and Chuck D over young artists that are where they are because of these pioneers.
---
Via Wikipedia
NBA 2K18
Feel So Good – Mase
Gonna Make You Sweat (Everybody Dance Now) – C & C Music Factory
Hip Hop Hooray – Naughty By Nature
I Can't Drive 55 – Sammy Hagar
Jungle – X Ambassadors, Jamie N Commons
Pour Some Sugar on Me – Def Leppard
Put Your Hands Where My Eyes Could See – Busta Rhymes
Shook Ones, Pt. II – Mobb Deep
Sirius – The Alan Parsons Project
So Fresh, So Clean – Radio Mix – OutKast
The Walker – Fitz and The Tantrums
The Zoo – Scorpions
They Reminisce Over You – Pete Rock & C.L. Smooth
Victory (feat. The Notorious B.I.G. & Busta Rhymes) – Diddy, Busta Rhymes, The Notorious B.I.G.
93 'Til Infinity – Souls Of Mischief
All of Me (feat. Logic, ROZES) – Big Gigantic, Logic, ROZES
Am I Wrong – Anderson .Paak, ScHoolboy Q
Birdwatching – The Shelters
Can't Have – Pitbull, Steven A. Clark, Ape Drums
Comin Out Strong – Future, The Weeknd
Conrad Tokyo – A Tribe Called Quest
Deep End – Tarro Remix – THEY., Tarro
Do What I Want – Lil Uzi Vert
Don't Threaten Me With A Good Time – Panic! At The Disco
Hennythings Possible – Vintage Lee
HUMBLE. – Kendrick Lamar
Juice (Know The Ledge) – Main Mix – Eric B. & Rakim
Living Like Khaled – Cousin Stizz
Nas Is Like – Nas•
No Lie – Sean Paul, Dua Lipa
Portland – Drake, Quavo, Travis Scott
Shock Horror – Shy Luv, JONES
Slam – Onyx
Stand Back – PnB Rock, A Boogie Wit da Hoodie
Victory – Joey Bada$$
Wasatch Front – Dame D.O.L.L.A
Wrote My Way Out – Nas, Dave East, Lin-Manuel Miranda, Aloe Blacc
Hush – Linda Lind
Aurora – RL Grime
1984 – Salmo
4 Vérités – Take a Mic
Chantaje – Shakira, Maluma
CULT – Emis Killa
Feel It (feat. Tunji Ige) – GTA, What So Not, Tunji Ige
Fever – Roosevelt
Human – Rudimental Remix – Rag'n'Bone Man, Rudimental
Tokyo Drift – Woodie Smalls, K1D
U Don't – Double K
Shot Lock – Dame D.O.L.L.A (Hidden Track)
NBA 2K17
This soundtrack was curated by Noah "40" Shebib, Grimes, Imagine Dragons, and Michael B. Jordan.
Action Bronson – Actin' Crazy
Daxz – Troop (Instrumental)
Drake – Hype
Drake – Pop Style
Future – Ain't No Time
Hagler – Highs & Lows (Instrumental)
ILoveMakonnen feat. Drake – Tuesday
Majid Jordan – Every Step Every Way
PartyNextDoor feat. Drake – Come and See Me
Skepta – Shutdown
A Tribe Called Red feat. Oka and Chippewa Travellers – Maima Koopi
Chairlift – Romeo
Grimes – KVM
Grimes – Scream (Instrumental)
Hana (Grimes) – California (Remix)
Lizzo and Caroline Smith – Let 'Em Say
Now, Now – Thread
OutKast – Rosa Parks
Santigold – Creator
The Internet – Special Affair
Imagine Dragons – Friction
Imagine Dragons – Gold (Remix)
Imagine Dragons – Wings (Instrumental)
K. Flay – Blood in the Cut
Nico Vega – Beast
Paper Route – Writing on the Wall
Stokeswood – Forget
The Moth and The Flame – Red Flag
Tigertown – Lonely Cities
Tor Miller – Carter and Cash
Alison Wonderland – I Want U
Cro – Melodie
Ghemon – Adesso Sono Qui
Jain – Come
Kali Uchis – Ridin' Round
Lil' Kleine feat. Ronnie Flex – Bel Me Op
Marcus Marr and Chet Faker – Learning For Your Love
Sofi de la Torre – London x Paris (MACE Remix)
The 1975 – The Sound
Yuksek feat. Juveniles – Truth
Dougie F feat. Pibull – On Purpose
G-Eazy feat. Bebe Rexha – Me, Myself, & I
Jamie xx feat. Young Thug and Popcaan – I Know There's Gonna Be (Good Times)
Jay-Z – Heart of the City (Ain't No Love)
Kevin Ross – Stronger
Kiiara – Gold
Puff Daddy and The Family – Workin'
Sam Sparro – 21st Century Life
SBTRKT – Wildfire
White Dave – Bands
NBA 2K16
The soundtrack was comprised by DJ Premier, DJ Khaled, and DJ Mustard, as well as having songs made by them respectively.
Ace Hood – Hustle Hard
Ace Hood featuring Future and Rick Ross – Bugatti
AM444 – Lies-Jay.Soul Truth Remix
Ana Tijoux – Vengo
Bag Raiders – Shooting Stars
Calvin Harris featuring John Newman – Blame
The Chicharones – Little By Little
Club Dogo featuring Arisa – Fragili
DJ Khaled – All I Do Is Win
DJ Khaled – We Takin' Over
Drake – 0 To 100/The Catch Up
Dynamic Duo featuring DJ Premier – AEAO
Emicida featuring Féfé – Bonjour
Fergie – L.A.LOVE (la la)
The Flaming Lips – The W.A.N.D.
Friendly Fires – Skeleton Boy
Gnarls Barkley – Going On
Hogni – Bow Down (To No Man)
Iamsu! – I Love My Squad
Imagine Dragons – I'm So Sorry
J. Cole – Rise and Shine
JAY Z – Where I'm From
Jeru the Damaja – You Can't Stop The Prophet
LCD Soundsystem – Time To Get Away
Living Colour – Cult of Personality
M.I.A. – Y.A.L.A.
Major Lazer featuring MØ and DJ Snake – Lean On
MGK – Till I Die
Nas – Made You Look
Nas – Represent
NYGz featuring H. Stax – Same Team, No Games
OneRepublic – Everybody Loves Me
PRhyme – U Looz
Ramones – Blitzkrieg Bop
Rick Ross featuring T-Pain – The Boss
RJD2 – Clean Living
Santigold – Disparate Youth
Santigold – Shove it
Wiz Khalifa – We Dem Boyz
Zedd featuring Selena Gomez – I Want You To Know
Zion I – Ride
NBA 2K15
The soundtrack was curated by Pharrell.
A Tribe Called Quest – Scenario
Afrika Bambaataa & Soulsonic Force – Planet Rock
Basement Jaxx – Hot 'n Cold
Black Rebel Motorcycle Club – River Styx
Busta Rhymes – Dangerous
Clipse – Grindin'
Death from Above 1979 – Romantic Rights
Depeche Mode – Personal Jesus
Junior – Mama Used to Say
Lauryn Hill – Doo Wop (That Thing)
Lorde – Team
Major Lazer featuring Pharrell Williams – Aerosol Can
Missy Elliott – On & On
No Doubt – Spiderwebs
OneRepublic – Love Runs Out
Pharrell Williams – Hunter
Pharrell Williams – Can I Have It Like That
Pharrell Williams – How Does It Feel?
Public Enemy – Shut 'Em Down (Pete Rock Remix)
Ratatat – Seventeen Years
Red Hot Chili Peppers – Suck My Kiss
Santigold – Creator
Snoop Dogg – Drop It Like It's Hot
Strafe – Set It Off
The Black Keys – Everlasting Light
The Rapture – House of Jealous Lovers
The Strokes – Under Cover of Darkness
NBA 2K14
The soundtrack was put together by the game's cover player, LeBron James.
Big Krit – Cool 2 be Southern
Cris Cab – Paradise (On Earth)
Coldplay – Lost!
Daft Punk (feat. Pharrell Williams) – Get Lucky
Drake – Started From The Bottom
Eminem – Not Afraid
Fly Union – Long Run
Gorillaz – Clint Eastwood
Imagine Dragons – Radioactive
Jada Kiss (feat. Ayanna Irish) – Can't Stop Me
Jay Z – The Ruler's Back
John Legend (feat. Rick Ross) – Who Do We Think We Are
Kanye West – All Of The Lights
Kendrick Lamar – Now Or Never
Macklemore & Ryan Lewis (feat. Ray Dalton) – Can't Hold Us
Nas (feat. Puff Daddy) – Hate Me Now
Phil Collins – In The Air Tonight
Robin Thicke (feat. Pharrell) – Blurred Lines
The Black Keys – Elevator
The Black Keys – Howlin For You
NBA 2K13
The soundtrack was put together by the game's executive producer, Jay-Z.
The Hours – All in the Jungle
Too Short – Blow the Whistle (Main)
Eric B. and Rakim – I Ain't No Joke
Phoenix – 1901
Jay-Z – Pump it Up (Freestyle)
Puff Daddy and the Family – Victory (feat. Notorious B.I.G. & Busta Rhymes)
Daft Punk – Around the World (Radio Edit)
Santigold – Shove It (feat. Spank Rock)
Kanye West – Amazing
Jay-Z – Run This Town
The Dirty Projectors – Stillness in the Move
Nas – The World is Yours
Coldplay – Viva La Vida
Roy Ayers – We Live in Brooklyn, Baby
Justice – Stress
Jay-Z – The Bounce
Kanye West – We Major (feat. Nas & Really Doe)
Mobb Deep – Shook Ones, Pt. II
Meek Mill – Ima Boss (Instrumental)
Kanye West – Mercy (feat. Big Sean, Pusha T, and 2 Chainz)
U2 – Elevation
Jay-Z – On to the Next One
Jay-Z – Public Service Announcement
Jay-Z – H.A.M. (Instrumental)
NBA 2K12
Eminem & Royce Da 5'9" – Fast Lane
Travis Barker featuring Yelawolf, Twista, Busta Rhymes and Lil Jon – Let's Go
CyHi Da Prynce – Sideways (2K Remix)
Kurtis Blow – Basketball
Friendly Fires – Skeleton Boy
Machine Drum – Let It (edIT Remix)
Aceyalone featuring Cee-Lo – Workin' Man's Blues
Freddie Gibbs – Look Easy (2K Original)
Chiddy Bang featuring Q-Tip – Here We Go
Zion I featuring Rebelution- Many Stylez
Duck Down All -Stars 2 – Shout The Winners Out (2K Original)
Middle Class Rut – New Low
Bassnectar – Cozza Frenzy
Ancient Astronauts – Still a Soldier
Alex K. and D.J.I.G. – Now's My Time (2K Original)
See-I – Haterz
James Pants – We're Through
Shinobi Ninja – Rock Hood
DELS – Shapeshift
Hudson Mohawke – Thunder Bay (instrumental)
Mr. Chop – Intermezzo 2 (instrumental)
Kid Mac featuring Mat McHugh – Hear You Calling
Thunderball – Make Your Move
The Freeze Tag – The Shuffle (instrumental)
The Death Set – It's Another Day
Project Lionheart -They Come Back
Jamaica – By The Numbers
XV – Awesome
NBA 2K11
Snoop Dogg – NBA 2K Theme
Big Boi – Shutterbug
Drake – Over
Cassidy – Game Time
Ron Artest – Champion
Duck-Down All-Stars feat. Buckshot, Skyzoo, Promise, and Sean Price – Better Than You
The Alan Parsons Project – Sirius
Art vs. Science – Hollywood
Big Rock Candy Mountain – Rocketship
Brunettes – Red Rollerskates
Chicharones – Little By Little
Children Collide – Skeleton Dance
Constellations feat. Asher Roth- We're Here To Save The Day
Dan Black feat. Kid Cudi – Symphonies (Remix)
Delorean – Deli
Ev – Home Of The Brave (Instrumental)
Failsafe – Hope
Failsafe – Only If We Learn
HOGNI – Bow Down
Kidz In Space – Downtime
Middleman – It's Not Over Yet
Rakaa feat. Aloe Blaac – Crown Of Thorns
The Redland – So Far
The Russian Futurists – Paul Simon
The Russian Futurists – Precious Metals
Sonny Bones – Rise
Two Door Cinema Club – I Can Talk
Yung Automatik & Bay Root Productions – Go Hard or Go Home
Dux Jones – Pourin' It On
NBA 2K10
Ace Hood – Top of the World
Adam Tensta – My Cool
Akala – The Edge
Al Kapone – Rock This
Chali2na – Lock it Down (Instrumental)
Chali2na – International (feat. Beenie Man)
Donnie Bravo – Run Away
Duo Live – Shootin
Flo Rida – ROOTS
Iglu & Hartly – In this City
Illinois – Hang On
Izza Kizza – They're Everywhere
K'naan – Wavin' the Flag
Kanye West – Amazing
Kenan Bell – Like This
Matisyahu – One Day
Metric – Help I'm Alive
Metronomy – Radio Ladio
MGMT – Electric Feel
Miike Snow – Black & Blue
Naïve New Breeders – Can't Choose
Ratatat – Falcon Jab
Ratatat – Mirando
Saul Williams – List of Demands (Reparations)
Sportsrushaz – Iron
The Game – Champion (Exclusive and original track)
The Moog – Joyclad Armies
Vincent Van Go Go – Do You Know
NBA 2K9
Beastie Boys — Root Down
Blackwizard — Dem Nah Ready fe We
Blockhead — Duke Of Hazzard
Bloody Beetroots — Mac Mac
Dangerdoom — Sofa King
Dawn Penn — You Don't Love Me (Extended Mix)
DJ Rasta Root — RootZilla Beez
DJ UNK — In Yo Face
Gnarls Barkley — Going On
Jamalski — That Undaground (Remix)
Mochipet — Sharpdrest
Mommy and Daddy — Pretty Loser
Money Mark — Silly Putty
N.E.R.D. — Spaz
Nickodemus — Funky In The Middle
Santogold feat. Switch & Freq Nasty – Creator
Skeewiff — Light the Fuse
Spank Rock & Benny Blanco — Loose (inst.)
The Brand New Heavies — Jump 'N' Move
The Cool Kids — 2K Pennies
The Heavy — Coleen
The Limp Twins — Moving Closer to The Sofa
The Meters — Cissy Strut
The Pharcyde — Passing Me By
Ursula 1000 — Step Back (Deekline & Ed Solo Remix)
NBA 2K8
Billy Ball & The Upsetters – Tighten Up Tighter
Baron Zen – Turn Around (Peanut Butter Wolf Instrumental Mix)
Breakestra – Getcho Soul Together Pt. 2
Cut Chemist – Bunky's Pick
Devo – Through Being Cool
Ernie & The Topnotes – Dap Walk
The Fabulous Jades – Cold Heat
Fishbone – Skankin to the Beat
G-Love & Special Sauce – Shooting Hoops
Tommy Guerrero – Molotov Telegram
A Guy Called Gerald – Hurry to Go Easy
Highlighters Band – Funky 16 Corners
J Dilla ft. Common – E=MC2
J Dilla ft. Madlib – The Official (2K8 Mix)
J Dilla ft. Q-Tip & Talib Kweli – Lightworks
Percee P – Throwback Rap Attack
Quantic – When You're Through
Quasimoto – Chrome Dreams
Finley Quaye – Ultra Stimulation
J. Rocc – Cold Heat Megamix
Run-DMC – Sucka MC's
Sonic Trip – Energy Play
The Stone Roses – Fool's Gold
NBA 2K7
The soundtrack of the game was produced by Dan the Automator and was released as a game promoting album, Dan the Automator Presents 2K7
Dan the Automator – Intro
Slim Thug – I Love This Game
Rhymefest – Bang The Ball
Hieroglyphics – Don't Hate The Player
Fabolous – Ball Til You Fall
Aceyalone & Rakaa of Dilated Peoples – Champions
E-40 & San Quinn – Baller Blockin'
Ghostface & A.G. of D.I.T.C. – 2K007
Lupe Fiasco & Evidence of Dilated Peoples – Catch Me
Mos Def & Anwar Superstar – Here Comes The Champ
Chali 2na (of Jurrassic 5) – Anchor Man
A Tribe Called Quest – Lyrics To Go (Dan the Automator Remix)
Zion I – Fade Away
The Crest – Heart Shaped Box
NBA 2K6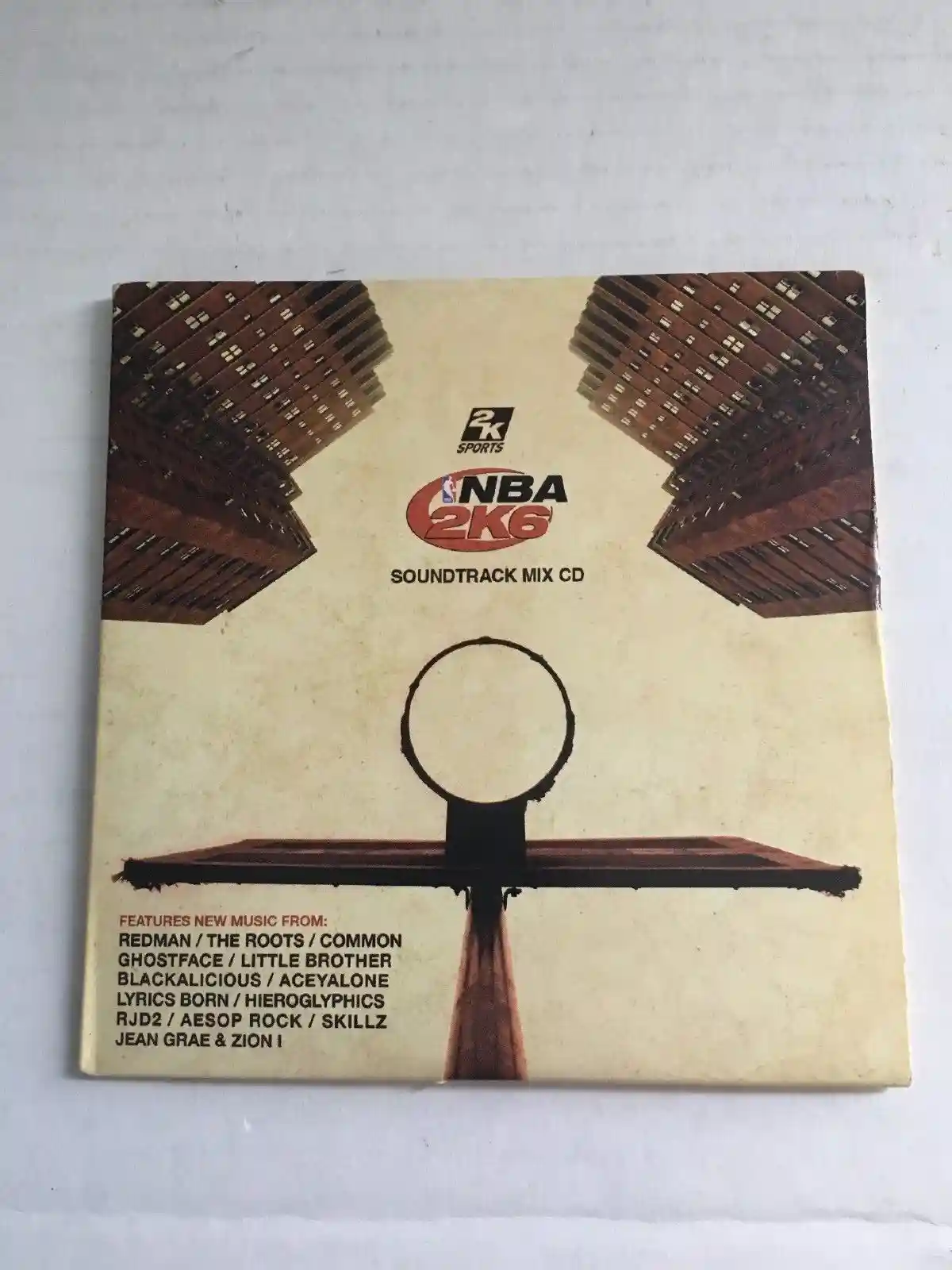 RJD2 – Schoolyard Scrimage Intro
Lyrics Born – Big Money Talk
Redman – That's Why I'm Here
Blackalicious – Excellent
Little Brother – Carolina Agents
The Roots – Set 'Em On Fire
Aceyalone – Doin' My Job
Hieroglyphics – Throw It In Ya Grill
Common – The Movement
Jean Grae – The Jam
Zion I – Ride
Aesop Rock – Junkyard
Skillz – 2K6
RJD2- Schoolyard Scrimage Outro
ESPN NBA 2K5
A promotional CD titled "Bouncing Beats: The ESPN NBA 2K5 Soundtrack" containing the game's soundtrack was also released.
Truck & Mack – Bang (ESPN NBA 2K5 Exclusive)
Jay Rich – Game's Hot
Abstract Rude – What Tyme Iz It?
Bukue One – F'Real
Haiku D'etat (Aceyalone, Mikah9, Abstract Rude) – Mike, Aaron, and Eddie
Del The Funky Homosapien – Don't Forget the Bass
Heiroglyphics with Goapele – Soweto
Lyrics Born – Bad Dream
J Boogie with Goapele & Capitol A – Try me
DJ Design – Soul Power '70
Romanowski – Train Song
DJ Zeph – 24 Hour Notice
Abstract Rude – Through These Streets
People Under the Stairs – Outrun
Romanowski – Up To No Good
Bukue One – Watch Me Now
Romanowski – Struble Strut
Alpha Zeta – Here Comes the Judge
DJ Faust & Shortee – Scientific Breakdown
RJD2 – Act 2
Romanowski – Why?