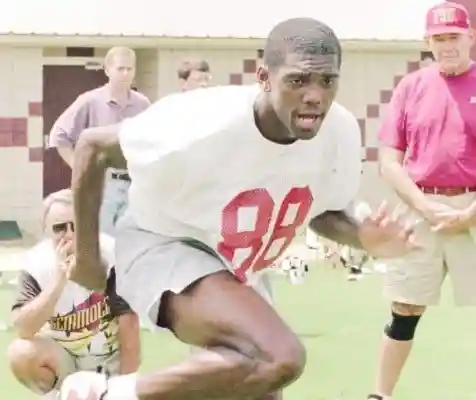 If you know me personally then you have probably heard this story a million times but I love telling it.
When I was a freshman at FSU in 1995, I met a red-shirt freshman football player named Peter Warrick. One day after class, he invites me to play in a pick-up game with his roommate, also a red-shirt freshman. I agreed and ended up showing late to the run at the campus gym. While walking up the stairs to get to the basketball courts at the Leach Center, I hear people screaming like that scene in Blue Chips when Nick Nolte discovers Shaq. It was Peter's 6-4 roommate that had everyone going crazy. And that high-flying roommate was Randy Moss. I left that court thinking two things: I had no business being on it and Moss was the most insane athlete I've ever seen...and this is before I saw him play football.
Moss' time in Tallahassee was short. After getting busted for marijuana while on probation, FSU Coach/GOD Bobby Bowden -- who once told SI, Moss was the only player he ever saw who had the same athletic gifts as Deion Sanders -- let him go. Moss returned to his home state of West Virginia and became a star at Marshall University. He then went on to become arguably the greatest wide receiver in NFL history. And on Saturday night, he was inducted into the Pro Football Hall of Fame.
He obviously made the right decision of choosing catching pigskins on the gridiron over catching alley-oops on a hardwood but I would have love to seen how good of a basketball player the two-time West Virginia Basketball Player Of The Year could have become.
During a visit to Kevin Garnett's Area 21 in early 2017, the Minnesota Vikings' great compared himself to KG's former Minnesota Wolves' teammate Latrell Sprewell and said he thought he could have averaged around 20 points a game in the NBA.
"You're talking about in my prime?" said Moss to KG. "Me, personally, I think I could've been in the 20s, and that's being real serious."
He also talked about the joy of playing high school basketball with Jason "White Chocolate" Williams, who was a red-shirt basketball player at Marshall before transferring to FSU-rival University of Florida. Like Moss, Williams was also a fan of the Method Man & Redman 1995 hit "How High" and it shortened his time in Florida. After a pair of suspensions, he took his flashy game to the NBA and put together one of the most exciting rookie seasons I've ever witnessed.
During that rookie season -- shortened by a NBA lockout and also highlighted by the arrival of Vinsanity -- Nike released this great commercial about the "good ol' boys' from DuPont high school.
And ESPN the Magazine released a story about how they met.
Randy Moss actually found Jason Williams long before high school. "We were in fourth grade, playing midget football on different teams," Moss recalls during a break at Vikings minicamp. "He was quarterback and ran a bootleg. Next thing we knew, he was high-stepping into the end zone like Walter Payton. We wanted to kill him. But we never caught him." By eighth grade, Moss was on the business end of Williams bombs. "I'd throw it as far as I could, and Randy would get it," Williams says, echoing the strategy that resurrected Randall Cunningham. But roundball was Jason's obsession, and by high school his only game.
Kings beat writer Martin McNeal also put out a story with Jason Williams about the friendship.
"All I wanted to do was throw him the bomb." Said Williams. "That's the only play we really needed. I never wanted to throw any short passes to him because he was so fast. I used to drop back and throw it as high and as far as I could throw it. Randy would take care of the rest. He could run and jump and do it all.
Our basketball teams used a ferocious 1-3-1 press. It worked really well, at least party because most people were pretty intimidated before they even took the floor against us. Randy had his name and I had mine."
So in honor of those "good ol' boys" and Moss making the Pro Football Hall of Fame this weekend, here's a few more videos of the man that intimidated me and made me realize in the Fall of 1995 that I had no future playing basketball.
RANDY MOSS ON AREA 21
PETER WARRICK
As for Peter Warrick, his college career ended on a disappointing note. In 1999, he was the leading candidate for the Heisman Trophy and then was suspended because a Dillards employee allowed him and teammate Lavernaues Coles to buy $400 worth of clothing for $21.
He didn't win the trophy but did graduate with a Bachelor's degree, did make it to the NFL (4th pick) and is the reason why LeBron James wore #9 during his football days.
Warrick was also the subject of my first (of many) sports website in 1998, when I realized I had a future career on the internet.
FSU is retiring Peter Warrick's #9. He's the reason why LeBron James wore #9 in high school.

LeBron played 2 seasons at WR and was All-Ohio both times.
99 REC, 1,912 Rec yds, 27 total TD in career. 6 100+ year receiving games. pic.twitter.com/3KqcotUGMS

— Ballislife.com (@Ballislife) April 1, 2018