Every year we can count on March Madness to provide excitement, heartbreak, buzzer-beaters and, of course, the always-welcomed cinderella run.
Last year it was 11th seeded Loyola Chicago which made an unforgettable run to the Final Four. In 2017, another 11-seed, Xavier, won its way to the Elite Eight and 7-seed South Carolina willed its way into the Final Four. In 2016, 10th seeded Syracuse advanced to the Final Four while another 7-seed Michigan State reached the national semifinals in 2015.
But what truly constitutes a Cinderella Run in the NCAA Tournament? Certainly a Low to Mid-Major double-digit seed making the Elite Eight or better is a good barometer, like the above-mentioned Loyola Chicago team. So, which programs have a chance to be this year's surprise team?
Double-Digit Seed Cinderellas
10. Seton Hall
The 10-7 match-up between the Pirates and Wofford should be a dandy because both teams feature high-powered offenses. Myles Powell has the game takeover ability to carry a team to an NCAA Tournament victory, and sometimes, especially in March, that's all an upstart club like Seton Hall might need.
The Pirates' best wins this season came against Kentucky at Madison Square Garden and splits with Villanova, Marquette and St. John's in Big East Conference regular season play. Seton Hall defeated Georgetown and Marquette before falling to Nova in the Big East Conference Tournament. The Pirates are 7-8 against teams that fall under the "Quadrant 1" category.
11. Saint Mary's
The Gaels enter the field as the No. 11 seed and, if you put stock into what history says, that seed is known to make some noise in March. But it's not just about the seed number with St. Mary's. The Gaels are as well-coached as any team in the country as evidenced by their WCC Conference Tournament championship win over the then-No. 1 team in the country, Gonzaga.
Jordan Ford is as dynamic of a scorer as you'll find, while wings Malik Fitts and Tanner Krebs are both shooting the three-ball at over 40 percent. Though Villanova isn't the same team it was last year, getting by the defending national champs will be a tough task.
11. Belmont
The Bruins advanced with a First Four win over Temple on Tuesday and 6-seed Maryland better watch out, because this squad can put points on the board in a hurry. Belmont is led by 6-foot-8 senior Dylan Windler who is putting up a double-double on average this season pouring in 21.4 points and pulling down 10.7 rebounds a game. Windler just missed the elusive 50-40-90 shooting percentage mark with a 54.8 overall field goal percentage, while connecting on three-pointers at a 43 clip and free throws at an 84.6 rate.
Belmont has plenty more options outside of its 6-8 wing, including Kevin McClain (16.3 points per game) and freshman forward Nick Muszynski (14.9 points per game), but keep an eye on point guard Grayson Murphy. The 6-foot-2 freshman scores around 10 points a game, but he orchestrates one of the most potent offensive attacks in the country as Belmont ranks second in scoring offense, producing 87.4 points per game.
12. Murray State
Like Seton Hall, Murray State is paced by one of the fastest-rising stars in all of college basketball this season: The electric Ja Morant. Morant, a 6-foot-3, 175-pound sophomore point guard, is leading the country in assists at 10 per contest and is eighth in the country in scoring average at 24.6 points per game. Morant has shot up the mock draft boards and is projected to go as high as No. 2 in the 2019 NBA Draft.
While Morant alone makes the Racers dangerous, Murray State has three others scoring in double figures this season. Shaq Buchanan (13.0), Tevin Brown (11.7) and Darnell Cowart (10.4) are all capable of supplementing Morant's high scoring nights with ones of their own. Murray State opens with Marquette which features a high-level guard in its own right in National Player of the Year candidate Markus Howard. This match-up should be one of the most entertaining games of the opening rounds.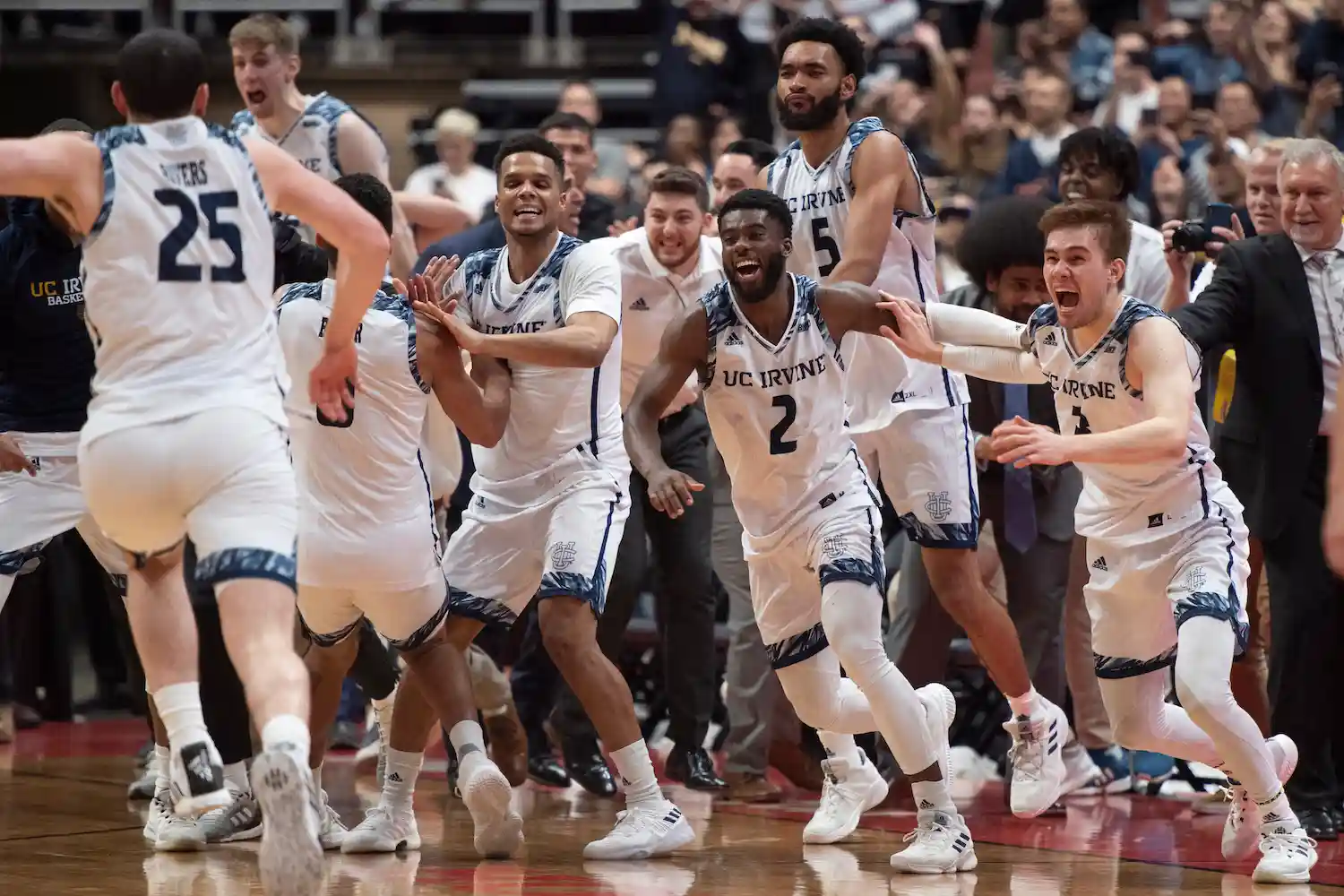 UC Irvine is the trendiest upset pick in the 2019 NCAA Tournament field. Can the Anteaters make a deep run in march? (Photo by Kyusung Gong/Icon Sportswire via Getty Images)
13. UC Irvine
The Anteaters are the No. 13-seed in the South and will take on Kansas State in the first round on Friday. UCI is in the midst of one of its best seasons in program history, winning a school-record 30 games compared to just five losses and the 'Eaters lost only one game in Big West conference play. Irvine is riding a 16-game winning streak into the NCAA Tournament, including a 92-64 waxing of Cal State Fullerton in the Big West championship game. UCI ranks fourth in the country in field goal percentage defense, holding opponents to 37.9 percent from the field on the season.
The Anteaters have the ideal combination of size and skill in the paint to go along with multiple guards who can knock down open three-point shots. Six-foot-10 senior center Jonathan Galloway is the defensive anchor in the middle, while Tommy Rutherford, Collin Welp and Elston Jones are all capable of getting a basket in isolation on the block. Max Hazzard has had a breakout season at the guard position and is joined in the back-court by another sharpshooter in Evan Leonard. UCI boasts a lot of depth, as well, as head coach Russell Turner has six guys who play big minutes off the bench.
14. Yale
The Bulldogs are the prototypical team that "shocks" people come March. Yale is experienced, well-balanced offensively, paced by senior leadership and have a potential NBA prospect on the roster in Miye Oni, who is just a junior. Oni leads the team in both scoring and assists at 17.6 points and 3.5 dimes per game, while also pulling down 6.3 rebounds per contest. The Bulldogs score at a feature three others who score in double-figures in Alex Copeland (13.8), Blake Reynolds (11.4) and Jordan Bruner (10.2).
Yale ranks in the top 30 in the country in points scored per game at 81.1 and will need to put plenty of buckets on the board to keep pace with the hyper-athletic LSU team they face in the opening round. LSU might be more susceptible to upset seeing that it is without head coach Will Wade who was suspended for his alleged role in the college basketball pay-for-play scandal.