RELATED: Ticket Info | Game Record Book | Game Alumni | View Complete 2017 Game | View Complete 2016 Game | View Complete 2015 Game | View Complete 2014 Game
The 8th Annual Ballislife All-American Game presented by Eastbay is set to take place May 5 at Cerritos College (Calif.). Many of the nation's top seniors are scheduled to participate in the event held at The Aviary, Cerritos College's Falcon Gymnasium.
There will be a FREE live stream of the game on Facebook Live, DailyMotion.com, YouTube.com and Twitter.com. The 3pt Contest and Dunk Contest will be stream exclusively on Youtube.com. The Ballislife All-American Game will also be replayed on Spectrum SportsNet (Lakers Channel) the week following the game. Check local listings for air times.
Scheduled to participate at the event is 6-foot-10 UCLA-bound Shareef O'Neal, the Cal-Hi Sports Division 2 State Player of the Year, who will play in front of family and friends one last time before matriculating to Westwood alongside fellow Ballislife All-Americans — 6-foot-7 Jules Bernard (Windward, Los Angeles), 7-foot Moses Brown (Archbishop Malloy, Queens, N.Y.) and 6-foot-4 David Singleton (Bishop Montgomery, Torrance, Calif.). O'Neal, the son of NBA Hall of Famer Shaquille O'Neal, led Crossroads (Santa Monica, Calif.) to the CIF Division 2 state title in March.
The two most recent Cal-Hi Sports NorCal Players of the Year are also scheduled to participate. Undecided Jordan Brown (Prolific Prep, Napa, Calif.) led Woodcreek (Roseville, Calif.) to the NorCal championship and earned top billing in the region in 2017 while 2018 honoree, point guard James Akinjo (Salesian, Richmond, Calif.), recently signed to play for Georgetown coach and NBA Hall of Famer Patrick Ewing.
Another headliner in this year's game will join Akinjo at Georgetown – high-scoring guard Mac McClung. One of the most viral players in the country, known best for his high-flying dunks, McClung led Gate City (Va.) to the Virginia High School League Division 2 state title and broke the VHSL single-season scoring record of NBA Hall of Famer Allen Iverson (948 points), as well as the career scoring mark. McClung finished his senior season with 1,153 points (38.4 ppg), and 2,801 for his career.
Cerritos College will host the BIL AA Game for the first. For more BIL AA Game info and ticket information, please visit ballislifeallamerican.com.
The team rosters for the players scheduled to participate in this year's game are announced below.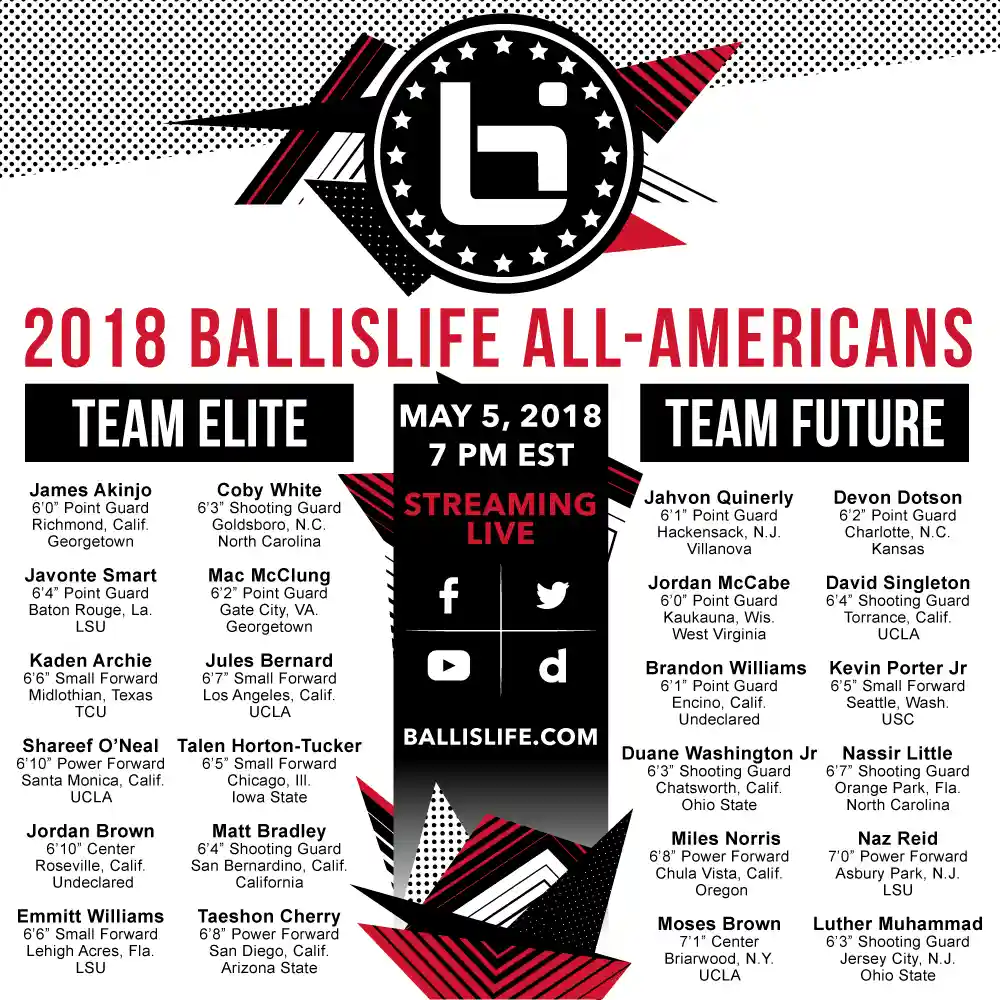 RELATED: Ticket Info | Game Record Book | Game Alumni | View Complete 2017 Game | View Complete 2016 Game | View Complete 2015 Game | View Complete 2014 Game
About Ballislife All-American
The Ballislife All-American Game was created in 2011 with the goal to bring a credible All-American type event to the West Coast with the goal of selecting the most deserving players regardless of geography, mainstream player rankings, or shoe affiliation. Past BIL A-A participants include 2018 NBA Draft Lottery candidates Collin Sexton (Alabama), Trae Young (Oklahoma) and Mo Bamba (Texas), NBA Rookie of the Year candidates Donovan Mitchell (Jazz) and Lonzo Ball (Lakers), and NBA players Stanley Johnson (Pistons), Zach LaVine (Bulls), Tyler Ulis (Suns), Jordan Bell (Warriors), Marquese Chriss (Suns), and Thon Maker (Bucks).
As the world's leading supplier of athletic shoes, clothing, and sports equipment, our goal at the Eastbay Blog is to provide you with an in-depth look at the latest news and the hottest new releases. We'll give you sneak peeks of upcoming products and provide you with in-depth product reviews, valuable sneaker advice, and informative details regarding sneaker culture and history. We hope that by providing this info, you'll gain valuable knowledge that will help you make the most well-informed buys possible.