On Thursday, LaMelo & LiAngelo Ball put up a total of 89 shots on their way to scoring 96 of their team's 170 points in the JBA league (that makes the ABA league of the 70s feel like a defensive-minded league). Gelo had 54 of those 89 shot attempts. In case you were wondering, there's only been three players in NBA history (Wilt, Kobe, Rick Barry) to ever attempt 50 shots in a game; Wilt and Kobe both ended up with 60 points.
In their latest game, the Ball Bros attempted two less shots but cracked the century mark with 101 of the their team's 130 points!
LaMelo Ball: 47 PTS (13-38 FG, 2-13 3PT, 19-24 FT), 15 REB, 7 AST, 3 STL, 2 BLK
LiAngelo Ball: 54 PTS (23-49 FG, 2-10 3PT, 6-9 FT), 16 REB, 5 AST
The 130-122 victory came against the Chicago team that made some noise last week when the coach put his hands on a player during a game. That player, Montrell Dixson, had a team-high 15 rebounds with 14 points in this game while his teammate Travis Ingram flirted with a triple-double (11/11/8) and wanted to put his hands on Melo after this loose ball foul.
Most exciting moment from the JBA game in Chicago.
(Via JBA/Facebook) pic.twitter.com/v5r1fbMEii

— David Astramskas (@redapples) July 23, 2018
Here's a screenshot of the shocking boxscore (Via SBN_Ricky) that resembles the boxscores I used to generate playing NBA Live 95 with Shaq and Penny Hardaway.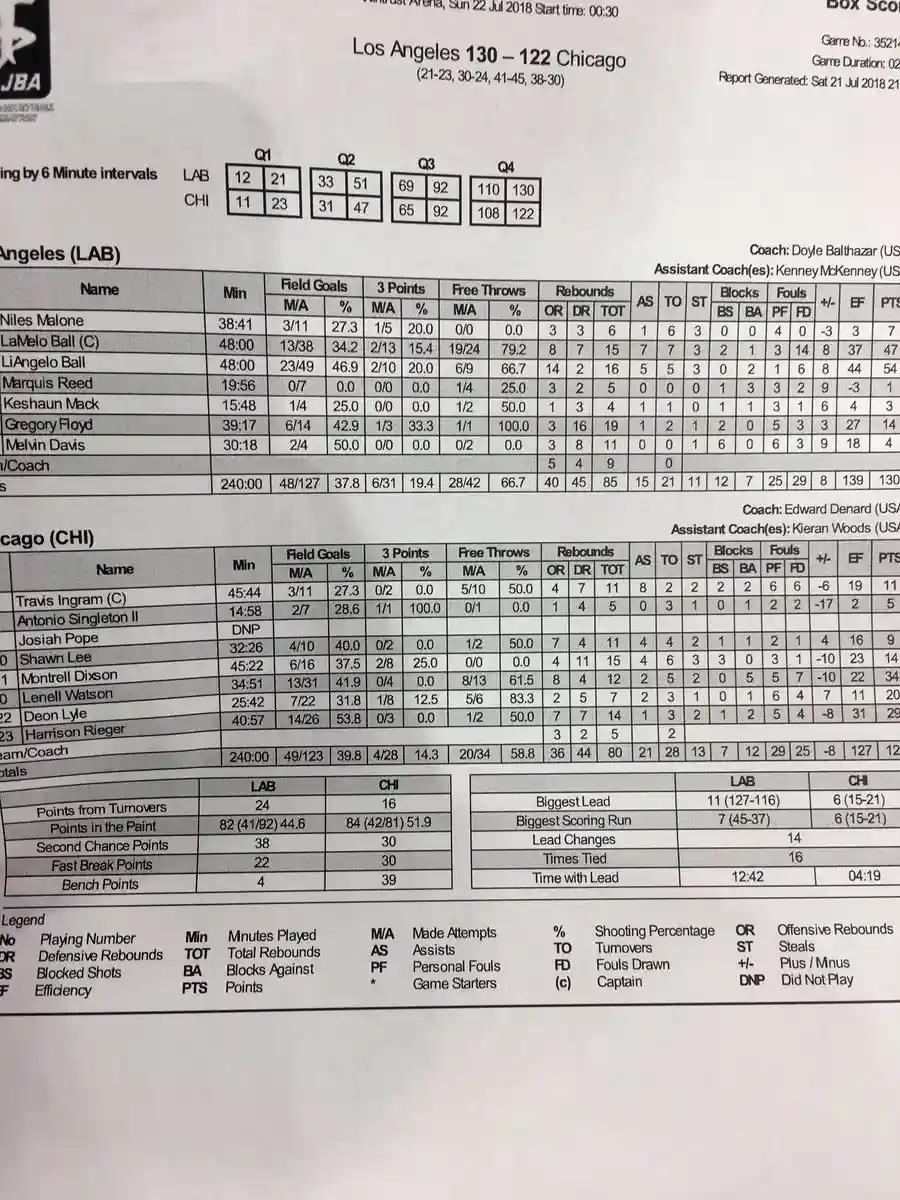 After three games, LiAngelo Ball is averaging 51 points per game but is just 66-of-145 from the field and 11-of-52 from three. You read that correctly: 66-of-145 from the field and 11-of-52 from three.
LAMELO BALL MIXTAPE
And here's a short mixtape of Melo in the JBA league. If the beat sounds a little familiar, you might be remembering the 2014 HoopMixtape of Seventh Woods when he was a 14-year-old viral star.