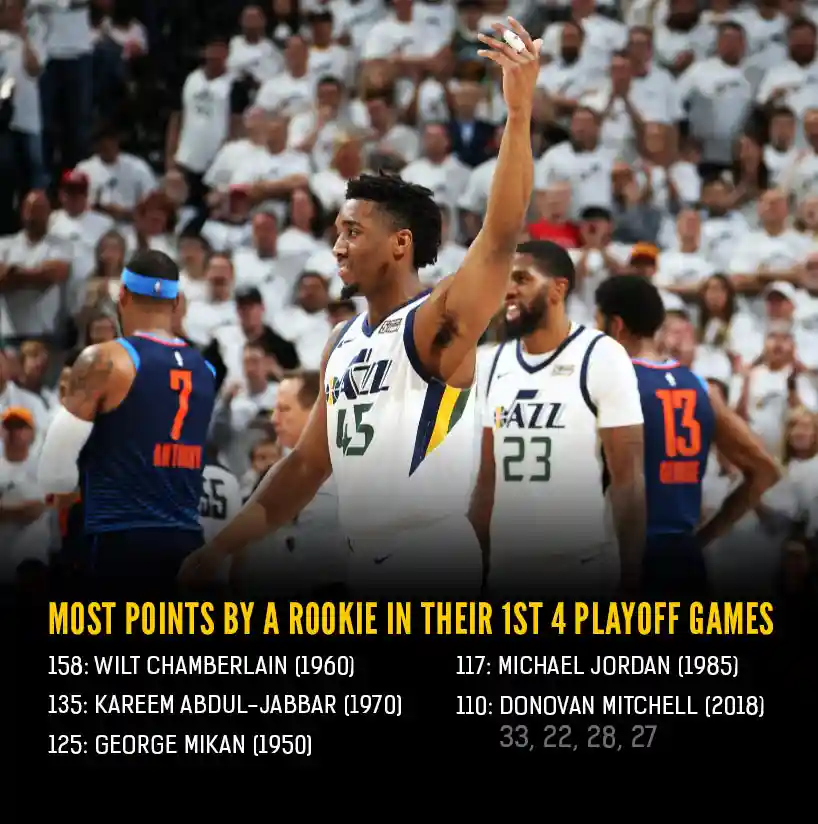 After Ricky Rubio's triple-double in Game 3, Russell Westbrook guaranteed to "shut that shit off" in Game 4. I guaranteed Westbrook would put up better individual stats than Rubio in their next game (safe bet) and I also put down money on the Jazz beating the Thunder (-5). That's why I'm as happy as a Jazz fan watching Donovan Mitchell spin on Corey Brewer and join the likes of Wilt and Michael Jordan with his 33-point performance in a 113-96 victory.
Besides a lot of great highlights from the Big 3 of Spida, Slow-Mo Joe & Jesus Rubio, the game also featured a lot of entertaining drama with members of OKC's "Big 3" of Westbrook, PG13/Playoff Paul & Aquaman (Melo has been replaced by Steven Adams).
PG13 PUSHES INGLES
The first chippy moment between the teams happened when Ingles got extra close to a bent over George on an inbound. George responded by shoving him right in front of the ref. Easy tech. The shove caused both teams to join in a group chat with Melo and Mitchell doing most of the talking.
WESTBROOK & RUBIO
Trying to "shut that shit off," the overly aggressive Westbrook picked up his second personal foul midway through the first quarter with this bump on (flopping) Rubio. While Westbrook was telling his coach not to take him out, Jae Crowder was in his ear saying sweet nothings. This led to a little trash-talking between the two.
MITT ROMNEY TAUNTS WESTBROOK
Yes that's former presidential candidate and current U.S. Senate candidate Mitt Romney (wearing a David Stockton Jazz jersey?) letting Westbrook know he just picked up his fourth foul in the first half.
PG13 PUSHES INGLES PT2, 3 & 4
In the final minute of the first half, Ingles hits a heat check over George and lets him know about it. George pushes him out of his way, ends up with the ball on the other end and gets fouled by Ingles, who tries to take the ball from George, who responds with two more light "get out of my way" pushes.
During a postgame interview with the Inside the NBA crew, Ingles said he's "not gonna back down" from George and feels disrespected when teams leave him open for so many threes.
"I feel like I've earned that respect to be guarded, especially from the three-point line."
FELTON HITS GOBERT IN THE BALLS
What hurts more than getting hit in the nuts? How about losing your best player because of the blow.
After Raymond Felton hit Gobert with a low blow, Westbrook came on the court for a group chat even though he might not have been cleared by the ref to enter the game. The league is currently reviewing the play, which may or may not lead to a suspension for Westbrook.
JAE CROWDER EJECTION
Up by 20 (!) with five minutes left in the Utah victory, Jae Crowder got ejected for overreacting to a foul by Westbrook.
The best part about this clip was watching Steven Adams take a Crowder elbow to the face and act like he was just hit with a Tempur-Cloud pillow. The second best part about this clip was the facial expressions by Melo, who no one was afraid of getting hit by since he hit just 5-0f-18 shots and the last punch I remember him throwing was a sucker punch in 2012 — that resulted in a 15-game suspension.
WESTBROOK VS THE MEDIA
After the loss, Westbrook had to face his biggest enemy (no, not Kevin Durant, who said it was a "total accident" that he liked a Instagram post calling Westbrook the "problem" in OKC), the media.
"Next question. Wrong person."@russwest44 in his press conference after the Thunder drop to 3-1 against the Jazz. #NBAPlayoffs pic.twitter.com/Zb0exyXrvl

— NBA TV (@NBATV) April 24, 2018
"It wasn't about me and him, let's get past that."@russwest44 on his "aggressive" play against Rubio. #NBAPlayoffs pic.twitter.com/MZ9kXP357k

— NBA TV (@NBATV) April 24, 2018