Junior point guard Kennedy Chandler made a statement by defending his home turf at The Grind Session's Memphis vs. The World hoops tournament. The five-star prospect out of Eads (TN) Briarcrest Christian earned Player of the Week honors after scoring 52 points and dishing out 14 assists in two wins over University Heights (KY) and Marshall County (KY). Chandler is currently a top 15-ranked prospect in the country in the 2021 class and holds offers from the likes of Duke, North Carolina, Kansas, Michigan, Florida State, Syracuse and among many more. Chandler has led the Saints to a 7-1 record on the season and a No. 34 ranking in the latest FAB 50 National Rankings.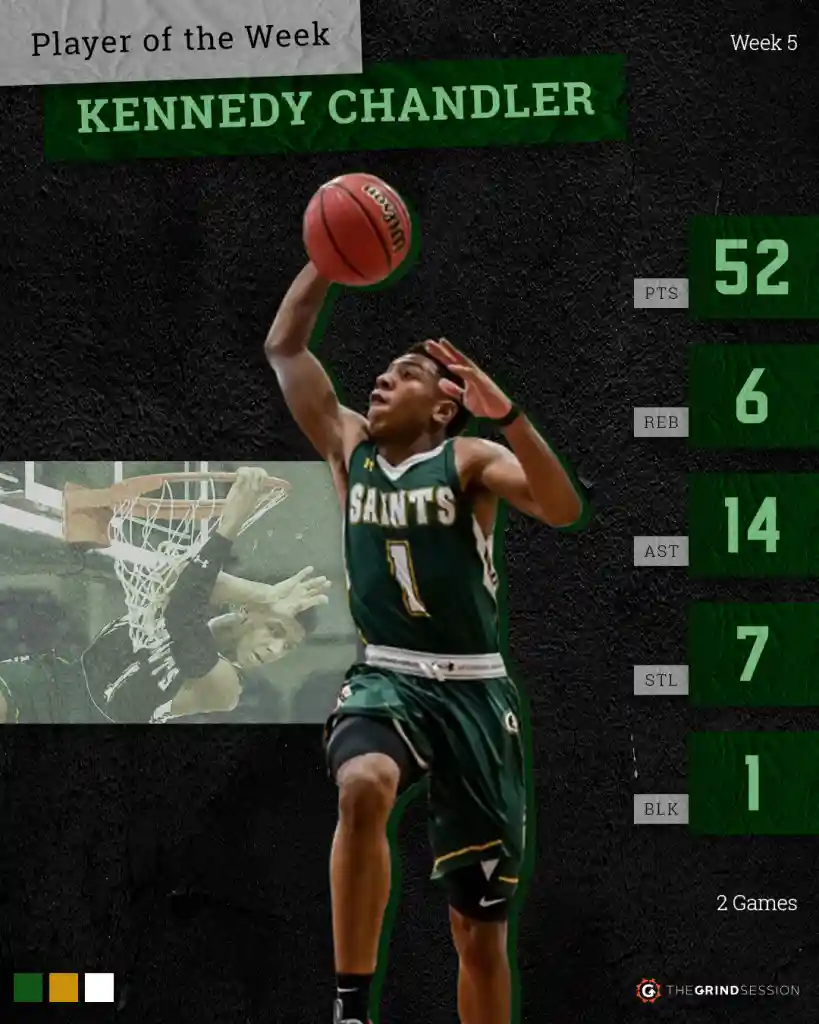 The Grind Session Under the Radar Player of the Week
Vasean Allette out of St. Louis Christian (MO) is the Week 5 Grind Session Under the Radar Player of the Week. The 6-foot-2 freshman showed his all-around game by dropping 32 points with eight rebounds, five assists and four steals, helping the Cougars jump up a spot in the latest Grind Session Top 9 rankings. The player rankings for the class of 2023 haven't come out yet, but if Allette continues to produce the way he has so far this season, he should crack many of those lists.
Updated Grind Session Top 9 Rankings
Week 5 Rankings
1. Prolific Prep (CA)
2. Our Saviour Lutheran (NY)
3. Central Pointe Christian (FL)
4. St. Louis Christian (MO)
5. Dream City Christian (AZ)
6. West Oaks (FL)
7. Trinity International (NV)
8. Arizona Compass (AZ)
9. Orangeville Prep (CAN)
Next Stop on The Grind Session: Kentucky Lake Showcase
Benton, KY | Marshall County High School
Dec. 27-28
*team listed first will wear white
Schedule subject to change
All times central (CT)
Friday, Dec. 27
12:00 Prodigy Prep (FL) v Minnesota Prep (MN)
1:30 Surge Christian (FL) v Wesley Christian (KY)
3:00 Phhoenix Prep (AZ) v Life Christian (VA)
4:30 Marshall County (KY) v Franklin County (TN)
6:00 Ballard (KY) v Sebring (FL)
Saturday, Dec. 28
9:00am Ballard (KY) v Franklin County (TN)
10:30am Marshall County (KY) v Sebring (FL)
12:00 Minnesota Prep (MN) v Surge Christian (FL)
1:30 Life Christian (VA) v Prodigy Prep (FL)
3:00 Wesley Christian (KY) v Phhoenix Prep (AZ)
6:00 Franklin County (TN) v Sebring (FL)
7:30 Marshall County (KY) v Ballard (KY)