The first week of The Grind Session's absolutely loaded fall and winter schedule went off in the Arizona Bubble last weekend featuring some of the top teams and players from across the country.
One of the top performers on the weekend was Arizona Compass Prep's Ty Ty Washington, a 6-foot-4 senior guard, who put up averages of 32 points, 8.6 rebounds, and 4.3 assists in Compass' three games of the event.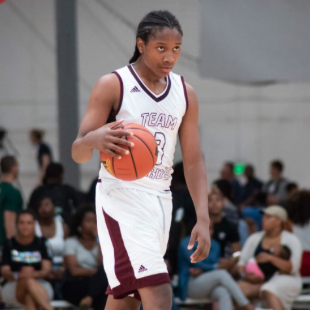 6'3" - PG - 2021
Washington's standout efforts led to Compass Prep winning all three of its season-opening match-ups and earned the Dragons the top overall spot in the first edition of The Grind Top 9 rankings. Check the full list below!
Week 1 Rankings
1 Arizona Compass (AZ)
2 Dream City Christian (AZ)
3 Prolific Prep (CA)
4 Our Saviour Lutheran (NY)
5 PHHoenix Prep (AZ)
6 West Oaks (FL)
7 St. Louis Christian (MO)
8 Veritas Prep (CA)
9 Central Pointe Christian (FL)
Also receiving votes: Orangeville Prep (CAN), US Basketball (OR)
While The Grind Session provides a platform for the many of the top prospects from across the country, it's also a place where players can make a name for themselves and the Under-the-Radar Player of the Week for Week 1 was Lamar Washington of US Basketball Academy out of Oregon.
Washington, a 6-foot-3 junior guard averaged 27 points, including 13-for-25 from three-point range, 6.7 assists and six rebounds in USBA's three contests on the weekend.
Week 2 of The Grind Session Bubble tips off in Arizona on Nov. 14 and games can be watched via a live stream at tanagersports.tv. The full schedule of games is below.
The Grind Session presents The Bubble: Phoenix I
Group 2
Nov. 14-22 | Arizona Compass Prep School | Chandler, AZ
NOV. 14
4:00 Balboa School (CA) v St. Louis Chr. (MO) 6:00 SoCal Academy (CA) v BFL Prep (WA) 8:00 AZ Compass (AZ) v Our Saviour Luth. (NY)
NOV. 15
4:00 SFBA Trinity Prep (NV) v SoCal Acad. (CA) 6:00 St. Louis Christian (MO) v Dream City (AZ) 8:00 BFL Prep (WA) v AZ Compass (AZ)
10:00 SoCal Institute (CA) v Bella Vista (AZ)
NOV. 16
4:00 Balboa School (CA) v SFBA Trinity (NV) 6:00 Eduprize Prep (AZ) v SoCal Institute (CA) 8:00 Dream City (AZ) v Our Saviour Luth. (NY)
NOV. 17
4:00 SoCal Academy (CA) v Bella Vista (AZ)
6:00 PHHoenix Prep (AZ) v BFL Prep (WA)
8:00 Our Saviour Luth. (NY) v St. Louis Chr. (MO) 10:00 AZ Compass (AZ) v Balboa School (CA)
NOV. 18
4:00 SoCal Inst. (CA) v SoCal Acad. (CA)
6:00 BFL Prep (WA) v SFBA Trinity Prep (NV) 8:00 St. Louis Chr. (MO) v AZ Compass (AZ) 10:00 Bella Vista (AZ) v Eduprize Prep (AZ)
NOV. 19
4:00 SFBA Trinity Prep (NV) v SoCal Inst. (CA) 6:00 PHHoenix Prep (AZ) v Our Saviour Luth. (NY) 8:00 Eduprize Prep (AZ) v Balboa School (CA)
NOV. 20
4:00 Balboa School (CA) v PHHoenix Prep (AZ) 6:00 SoCal Acad. (CA) v AZ Compass (AZ)
8:00 BFL Prep (WA) v St. Louis Chr. (MO) 10:00 Our Saviour Luth. (NY) v Bella Vista (AZ)
NOV. 21
4:00 Eduprize Prep (AZ) v SoCal Acad. (CA) 6:00 Dream City (AZ) v BFL Prep (WA)
8:00 AZ Compass (AZ) v SoCal Inst. (CA) 10:00 St. Louis Chr. (MO) v SFBA Trinity (NV)
NOV. 22
4:00 SoCal Inst. (CA) v Balboa School (CA)
6:00 SFBA Trinity (NV) v Our Saviour Luth. (NY) 8:00 PHHoenix Prep (AZ) v St. Louis Chr. (MO)