If you don't know much about NBA Champion Stephen Jackson and "your Google don't work," here's a few things to know about Captain Jack from Port Arthur, TX (What's up Bun B). On the court, he played 14 seasons in the NBA, averaging around 20 points with four different teams. You can now catch him putting up those numbers and arguing with coach Charles Oakley (must-watch video above) in Ice Cube's BIG3 league.
Off the court (and coming off the court), he's built a resume very few players can touch. A resume that includes him running into the crowd and punching a fan during The Malice At The Palace, turning into Dahlsim and choking Steve Francis because the Franchise wanted to dance behind him while he was rapping at a club, and pulling out a 9mm and shooting five shots at a car that JUST HIT HIM outside a strip club in Indy!
Basically what I'm saying is you DO NOT want problems with Stephen Jackson.
On Wednesday morning, news of Jimmy Butler wanting to break up the BIG3 that was supposed to be him, Karl-Anthony Towns and Andrew Wiggins hit the internet.
Shortly after, Andrew's brother, Nick Wiggins, tweeted and deleted "Hallelujah."
Andrew Wiggins' brother!!!! ??? pic.twitter.com/uyJHH9FtVy

— Rob Perez (@WorldWideWob) September 19, 2018
Shortly after, Butler posted a workout video to his Instagram story that ended with him saying, "Hallelujah. Keep that same energy."
Coincidence, right?
— Dan Feldman (@DanFeldmanNBA) September 20, 2018
Stephen Jackson also took to Instagram to mock the brothers, saying Andrew "has no heart" and Nick shouldn't even be talking since he's not in the NBA. His message ended with him saying, "Keep that same energy."
https://www.instagram.com/p/Bn7qmsqHdby/
Everyone from Tracy McGrady to Paul Pierce to Terrell Owens to Fat Joe thought the video was hilarious. As expected, the brothers did not.
Here's what Andrew posted to his IG story and what Nick said in a reply to Jackson.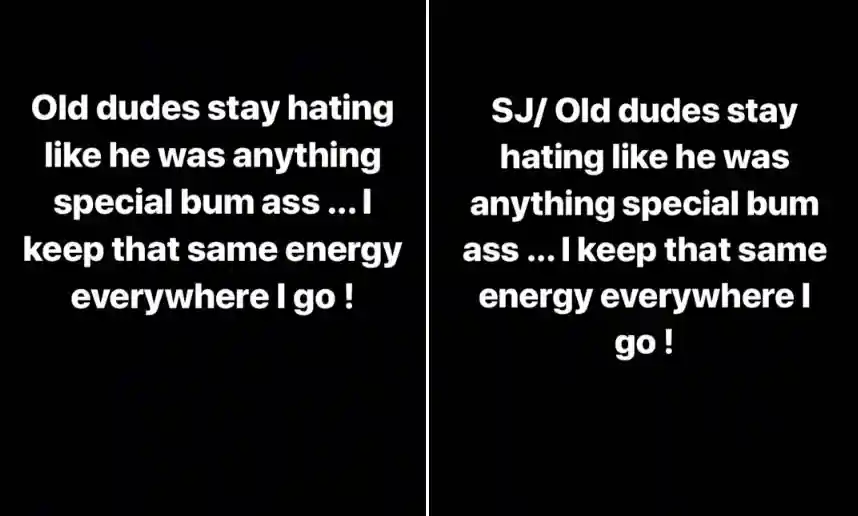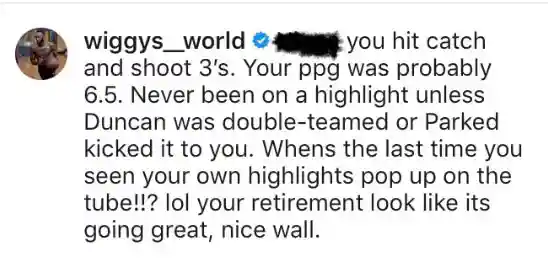 6.5? As I said above, Jackson was good for 20 points a game with four different teams; Andrew averaged 17.7 last season with career-highs of 20.7 and 23.6. Jackson also averaged 20 for the Warriors in the 2007 Playoffs and averaged double figures with three other Playoff teams; Andrew averaged 15.8 during the one playoff series he's been in.
As for being "special," I've never called Jackson "special" but he was one of the better defenders in the league. Not only has Andrew never been praised for his defense, some well-respected people in the NBA world have called him one of the worst defenders in the league.
Jackson responded to Nick by reminding him why he never made the league and saying, "I see your Google don't work."

Jackson then posted another video, wishing Andrew "the best" next season and ending with him hilariously saying, "I'll catch you in traffic."
https://www.instagram.com/p/Bn7w3ieHIZN
The following morning, Jackson posted a video of himself driving to the gym while listening to some Bun-B. This has nothing to do with the online beef but I like to give Port Arthur's Bun B and the late Pimp C as many shout-outs as possible.
If you are interested in juicy (and probably not true) stories about the breakup up the Minny BIG 3, there are articles floating around about Jimmy Butler being the reason why KAT and his girlfriend broke up. Here's what KAT had to say about that.
??? #FakeNews

— Karl-Anthony Towns (@KarlTowns) September 20, 2018
And here's what Jimmy Butler is really doing at 5 AM.