For the past couple of years, every single time we posted highlights of Zion Williamson avoiding a head injury while throwing a down 360-windmill dunk or throwing an opponent's shot into a crowd that would make the Detroit Pistons jealous, people would say things like, "let's see a jump shot" or "can he shoot doe?" The above clip is for those people. A clip showing the Duke freshman knocking down jumpers.
Are you surprised?
The clip didn't surprise me but what did floor me was the Duke website saying the man-child from Spartanburg High is now 285 pounds! Yes, Duke has him listed as a 6-7, 285-pound forward. To put that into perspective, 7-3 NBA center Boban Marjanovic is just five pounds heavier and he's the heaviest guy in the NBA. At 285, 6-8 LeBron James is 35 pounds lighter. At 285, he's heavier than a lot of the best big men in NBA history and just nine pounds lighter than 7-1 Shaquille O'Neal during his LSU days (when he used to get outplayed by Duke's Christian Laettner).
Here's the most shocking thing about Zion having the weight of fat Shawn Kemp from Cleveland: he can still jump like young Shawn Kemp from Seattle. A week ago, the Duke Twitter account shared a video of him using his 40+ inch vert to jump from the free throw line and dunk with such ease he probably could have jumped from behind the line. The last person I saw jump from the line with such ease was 6-7 OKC rookie Terrance Ferguson and he's just 184 pounds (when he's carrying Russell Westbrook and Paul George's bags).
Earlier in June, Zion also set a new vertical leap record at Duke, home of high-flyers like Christian Laettner, JJ Redick, and Shane Battier. I'm obviously kidding with those names; Grant Hill, Corey Maggette and Grayson Allen are all Blue Devils with impressive hops. Anyways, by being able to clear the racks, it means he can touch the top of the backboard, which puts him in a special class with dunk legends like Vince Carter and David Thompson (who was not able to make change on the top of a backboard).
So how much has the college freshman grown over the past few years?
In the 8th grade, he was just 5-9. And like many middle schoolers going into high school, he hit a growth spurt and grew six inches. He was now a 6-3 freshman point guard weighing about 175.
During his freshman year, he suffered a wrist injury and was given some good and bad news from the doctor: the temporary bad news was his wrist was broken and the good news was his growth plate was open and he might be growing another five or so inches.
The wrist healed and in 2015, Carter Wilson of HoopSeen.com wrote this write-up about the "6-4 lefty."
Williamson is a lengthy 6-foot-4 lefty wing who looks a little bit unassuming when he steps onto the floor. But can he ever turn it on when it's game time. A big time offensive threat, Williamson has a fantastic ability to get to the rim, where he can show off some explosive athleticism and finish well above the iron. He also gave us glimpses of this shooting ability, proving he can shoot it over zone defenses from long range. Overall, Williamson is a flat out bucket-getter.
Still a youngster in the class of 2018, Williamson has heard from local school Wofford. However, both high major and mid major coaches should keep an eye on his development, as his ceiling is higher than most in the class of 2018. Do not be surprised if his name is continued to be repeated among hoop circles.
He was absolutely right about that ceiling and mentions of his name.
Zion grew to 6-6 in the 10th grade and 6-7, 230 pounds as a 16-year-old small forward that was about to become an online viral star and Drake's new favorite high school basketball player during his 11th grade.
Not much needs to be said about his final two years in high school except he generated a lot of YouTube views and every single college wanted him (UNC coach Roy Williams said Zion was probably one of the best high school players he's seen since Michael Jordan) and he ended up choosing Coach K over Coach Williams and every other Coach that saw him and his 272-pound frame at the 2017 USA Basketball mini-camp.
So here we are. It's 2018 and Duke wants us to believe the player that looks like former #1 NBA Draft pick Larry Johnson after being exposed to the stuff the animals in Rampage were exposed to is really 285 pounds. I don't see why Duke would lie (Why would a college ever lie about something?) but for sake of Zion's knees, I really hope he's not 285. If he is, those knees are going to take a punishment worse than this kid getting dunked on by a 15-year-old Zion.
HOW BIG WERE THEY?
When I think of "big/little guys" around that 6-7 to 6-9 height, three of the names that pop in my head are Larry Johnson, Karl Malone, Charles Barkley and the late Anthony Mason. During their prime, each was around 250-260 pounds, which is also what 6-10 Shawn Kemp weighed when he was catching alley-oops from Gary Payton.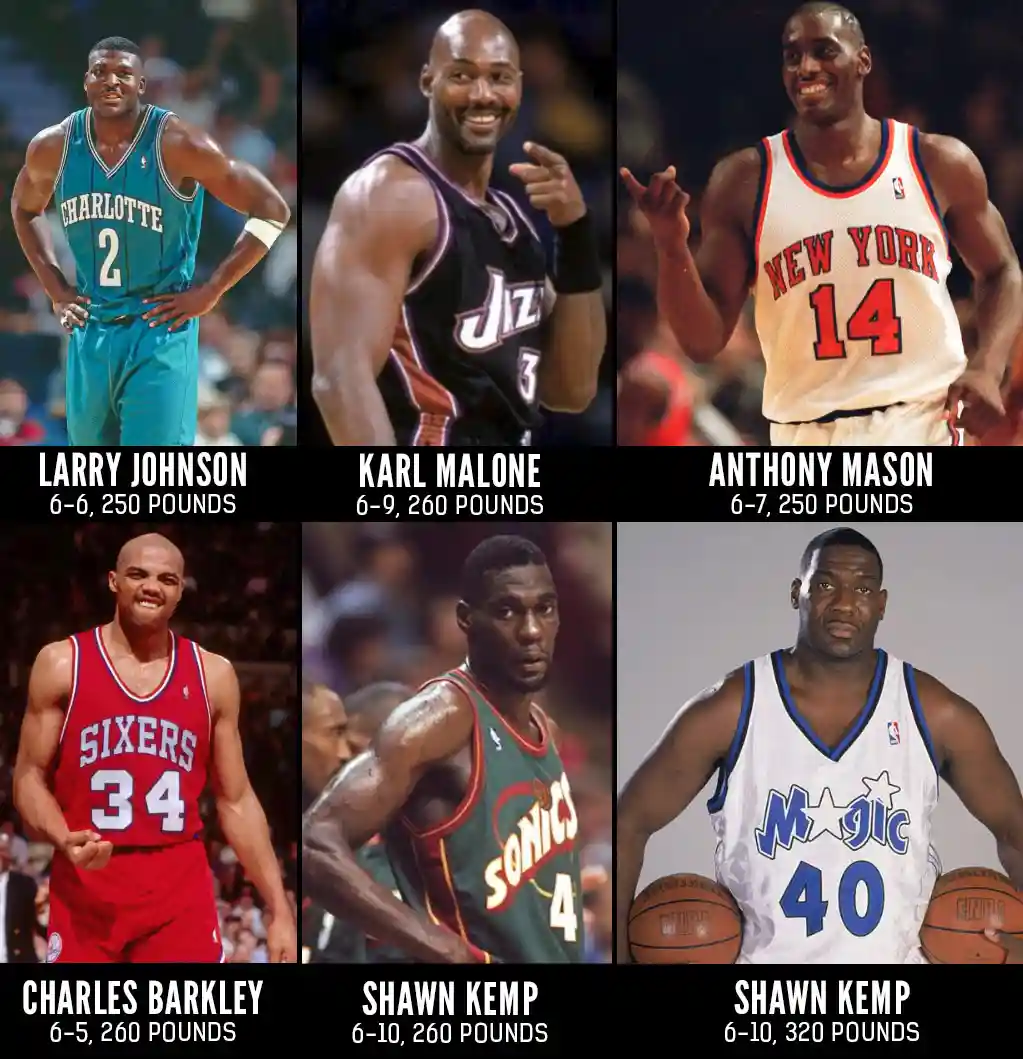 ZION'S CHILDHOOD
OUR FIRST ZION VIDEO (16YO)
CRAZIEST BLOCK
SENIOR MIXTAPE
DUKE STUFF
Zion Williamson from the free throw line.

— Duke Basketball (@BlueDevils) June 28, 2018
⚠️ DO NOT TRY TO TAKE THIS CHARGE. ⚠️ @ZionW32 ???? pic.twitter.com/Z6aTB7xLVs

— Duke Men's Basketball (@DukeMBB) July 25, 2018
Source: Kentucky.com, Charlotte Observer