Thon Maker Drop Kicking Opponents During Basketball Brawl Between Australia and Philippines
I think a few players might get a little more than a slap on the wrist for their involvement in the craziest basketball brawl since the Georgetown vs China brawl of 2011. And one of those players is the Milwaukee Bucks' Thon Maker, who tried to show off his Liu Kang bicycle kick during the FIBA World Cup qualifying match between Australia and the Philippines.
The third quarter fight started when Boomers guard Chris Goulding was hit in the face by Roger Ray Pogoy. This led to Daniel Kickert throwing an elbow at Roy and then all hell broke loose as the benches cleared, flying punches and chairs were thrown, and Maker did what he did.
Thon Maker is Liu Kang! pic.twitter.com/RL1gL3kQsS

— David Astramskas (@redapples) July 2, 2018
4 players from Australia were ejected and 9 from the Philippines team, including former NBA player Andray Blatche aka The Man Who Just Wanted A Triple-Double. The ejections left the Philippines with just three players (June Mar Fajardo, Gabe Norwood, and Baser Amer). After an intentional foul by Fajardo and Norwood, the officials called the blowout game.
3 on 5 now with more than half of Gilas players ejected from the game due to a rumble. @Sports5PH #LabanPilipinas pic.twitter.com/cNHSJYL1kG

— Renz Ongkiko (@RenzESPN5) July 2, 2018
Gabe Norwood also fouls out of the game. Baser Amer is the only player left for Gilas. Australia wins by default, 89-53. #FIBAWC #ThisIsMyHouse pic.twitter.com/8vL8VLHSVb

— ESPN5 (@Sports5PH) July 2, 2018
So the Philippines could take some selfies…
The players on the Philippines were taking selfies after the brawl?https://t.co/uAPI7Np6aI pic.twitter.com/o7ob2Hz0wg

— David Astramskas (@redapples) July 2, 2018
Crazy photos from the Australia & Philippines brawl pic.twitter.com/ZqoxPTfsxN

— David Astramskas (@redapples) July 2, 2018
REACTIONS
MAN WTF!!! Disgusting

— Andrew Bogut (@andrewbogut) July 2, 2018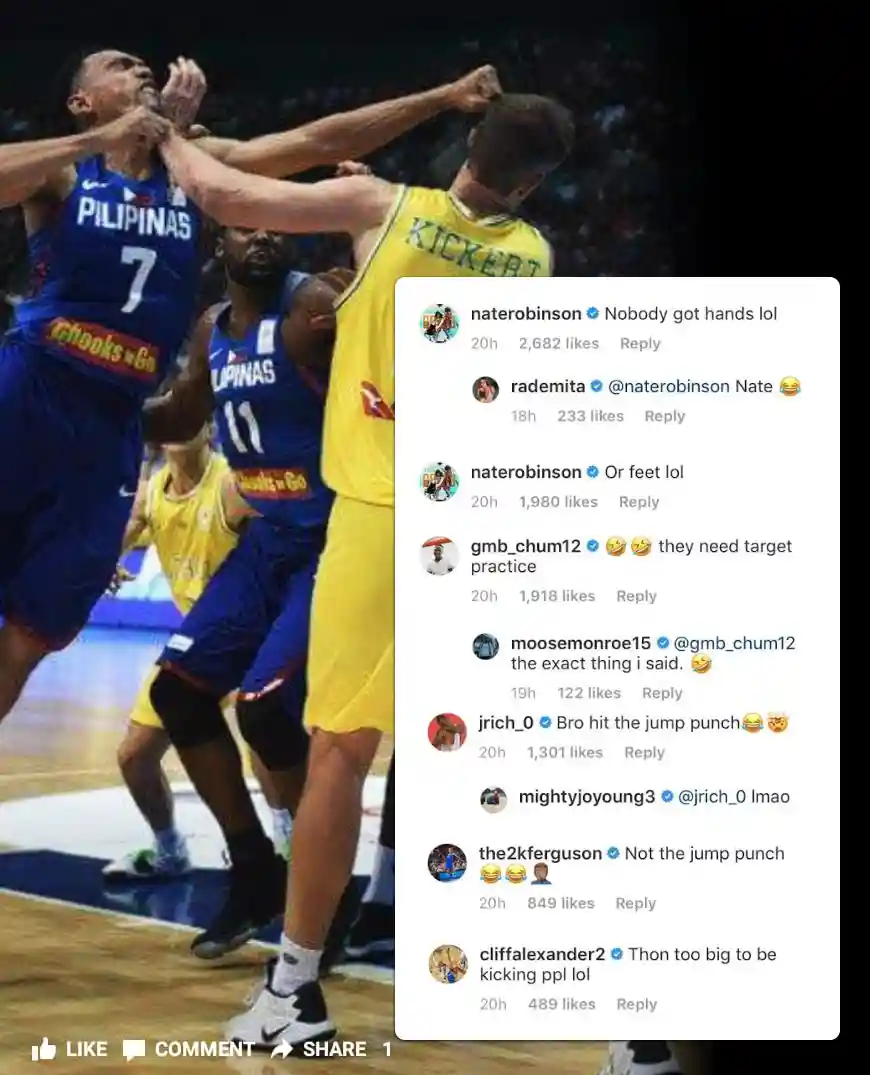 FULL VIDEO
(Source: GMA News Online)
BIGGEST BASKETBALL BRAWLS