The Best Of RJ Barrett and Zion Williamson's Canada Tour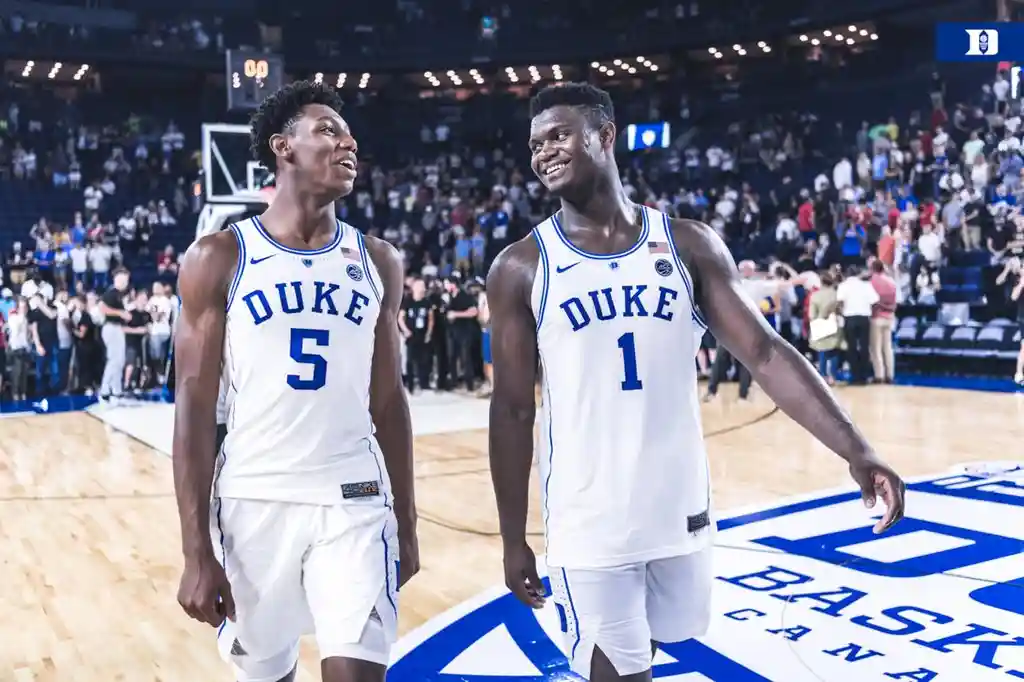 Unless you are playing the Golden State Warriors (at full health), if you put up big numbers in a boxscore, someone, somewhere, is going to say you ONLY scored X amount of points because of "weak competition." If you are talking about LaVar's JBA league then you are absolutely correct. If you are talking about college basketball, then you might be correct but I'm not going to disrespect the talent and say they can't do this against "real competition."
For the past week, we watched Duke freshmen R.J. Barrett and Zion Williamson (two guys we have been watching dominate high school basketball for years) fill up the stat sheets and dominate social media timelines with highlights of them dominating teams during their Canada tour — the most attended 3-game foreign tour in NCAA history.
How dominant were they?
They averaged 61 points per game while their opponents averaged 62 points! You read that correctly. They averaged just a single point less than the entire opposing teams. Potential No. 1 NBA Draft pick Barrett averaged 31 of those 61 to go with 6 boards, 5 dimes and about 5 "He's the best player in college basketball" moments a game. Williamson averaged 30 points, 11 boards and about 5 "OH SHIT!" moments a game.
The Batman and Batman combo even had Dwyane Wade as excited as Jimmy "WELL DAMN!" Butler looking at social media pics.
Those @DukeMBB boys tho ???. I can't wait to watch them play all season. My son will be watching @RjBarrett6 very closely all year.

— DWade (@DwyaneWade) August 20, 2018
If you missed any of the highlights, here's every one of those "OH SHIT" moments.
VS MCGILL
Duke 103 – McGill 58
Barrett: 23 PTS, 10 ASTS
Williamson: 36 PTS (15-23 FG), 14 REBS, 4 ASTS, 3 STLS, 2 BLKS
VS UNIV OF TORONTO
Duke 86 – Toronto 60
Barrett: 35 PTS, 9 REBS
Williamson: 24 PTS, 8 REBS
Sights and sounds from the #DukeCanadaTour win over Toronto ??????? pic.twitter.com/Qsp2UK3LsR

— Duke Basketball (@DukeMBB) August 18, 2018
VS RYERSON
Duke 86 – Ryerson 67
Barrett: 34 PTS
Williamson: 29 PTS, 13 REBS
Sights and sounds from our first win on the #DukeCanadaTour ??????? pic.twitter.com/aXlvjfoIFX

— Duke Basketball (@DukeMBB) August 16, 2018
DUNK EXHIBITION
#DukeCanadaTour – last full day!

? Duke v. McGill
?Place Bell
⏰ 3:00 PM ET
? ESPN+

Jumping into gameday like pic.twitter.com/6OuB9mbVbo

— Duke Basketball (@DukeMBB) August 19, 2018
Our guy @RjBarrett6 showing off for the ?? fans at McGill!

???????????#DukeCanadaTour pic.twitter.com/WvDZrYbUcj

— Duke Basketball (@DukeMBB) August 18, 2018
There goes that man @ZionW32! He floats.

⛅️⛅️⛅️⛅️⛅️⛅️???✈️#DukeCanadaTour ?? pic.twitter.com/Ce6o4Yq4O0

— Duke Basketball (@DukeMBB) August 18, 2018