With the 2023 regular season complete, the WNBA playoffs will begin on Wednesday, September 13. Eight teams, four which represent the East and Western Conference, will compete for the WNBA Championship. The First-Round Playoff matchups will include the best of three games played. Followed by the first round are the semi-finals, and then the Finals. Here, you will find the WNBA betting odds, lines, matchups, and brackets for the WNBA First-Round playoffs between the Las Vegas Aces and the Chicago Sky.
The official bracket for the 2023 #WNBAPlayoffs presented by @Google ⬇️

First Round begins Wednesday September 13th at 8pm/ET on ESPN2 #MoreThanGame pic.twitter.com/Jc90UfZUKt

— WNBA (@WNBA) September 10, 2023
WNBA Championship Title Odds

2023 WNBA Playoffs: Aces vs. Sky Matchup
(1) Las Vegas Aces (34-6) vs. (8) Chicago Sky(17-22)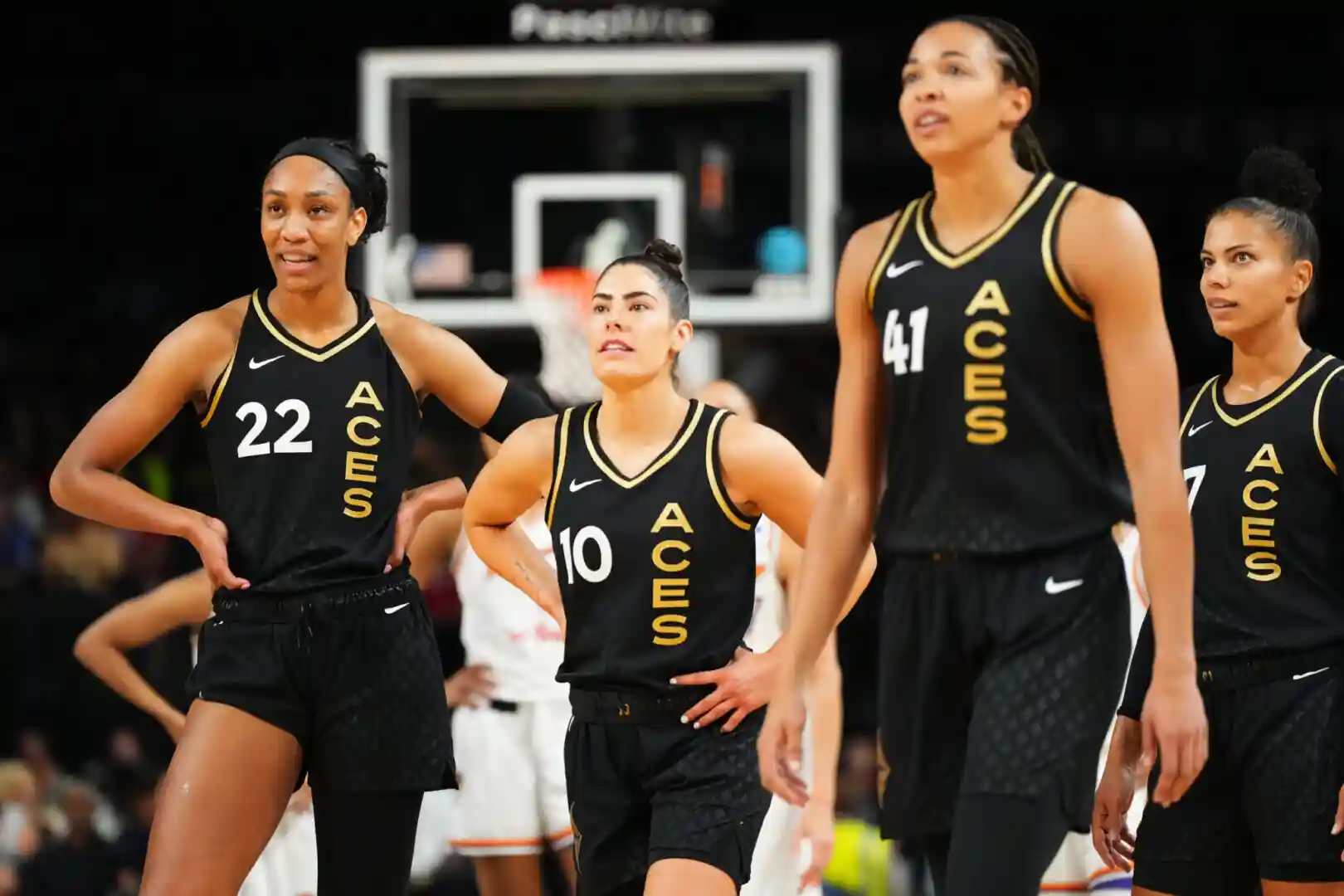 Game 1: Sept. 13, Chicago at Las Vegas, 10 p.m. ET/ESPN
Game 2: Sept. 17, Chicago at Las Vegas, 3 p.m. ET/ABC
Game 3: Sept. 20, Las Vegas at Chicago, TBD/ESPN (If necessary)
Season Matchups
*Las Vegas won the series 3-0*
Game 1: Las Vegas 93, Chicago 80 (Las Vegas -13, Over 168)
Game 2: Las Vegas 107, Chicago 95 (Chicago +14.5, Over 168.5)
Game 3: Las Vegas 94, Chicago 87 ( Chicago +14.5, Over 171)
Injuries
Las Vegas Aces
Candace Parker, forward: OUT (foot)
Chicago Sky
Kahleah Copper, guard: Day-To-Day
Alanna Smith, forward: Day-to-Day
Rebekah Gardner, guard: OUT (Knee)
Isabelle Harrison, forward : OUT (Knee)
Series Preview
The Las Vegas Aces, led by head coach Becky Hammon, finished the season as the No.1 seed, and a franchise best 34-6 record. With one home loss to the Los Angeles Sparks, the Aces will have home court advantage for the first matchups against the Chicago Sky. After a historic season, Las Vegas finished the year with 30 wins, surpassing the 2014 Phoenix Mercury for the most regular season wins in WNBA History. Through 40 games, the Aces led the WNBA in offensive and defensive rating, net rating, assists to turnover ratio, field goal, three-point percentage, and points per game.
Season Matchups
In three matchups against the Sky, Vegas had a 32-point differential, and averaged 98 points a game. Becky Hammons squad shot close to 52 percent from the field in those three meetings. Vegas, who ranks 5th in the league in rebounds per game, dominated on the boards 102-94, which will be vital in this upcoming playoff series. Throughout the season, the Sky put up over 87 points a game, six points more than their season average. Although the Chicago Sky improved their gameplay since the All-Star game, the Aces covered the money line three times, and the Sky covered the spread in 66 percent of the games.
Preview of the Aces
Two 30-pieces and sellout to end the regular season ♦️♠️@_ajawilson22: 36 PTS // 8 REB // 5 STL // 3 BLK // 13-18 FG@Kelseyplum10: 30 PTS // 3 AST // 2 STL // 63% FG // 6 3PM@cgray209: 21 PTS // 8 AST // 8-11 FG // 5 3PM#ALLINLV pic.twitter.com/psSIiTbTjK

— Las Vegas Aces (@LVAces) September 10, 2023
A'ja Wilson, a 2x WNBA MVP, has been a continuous force of power. No. 22 finished the season with leads in several statistical categories. Wilson finished first in win shares, points per minute, field goals made, player efficiency rating, defensive win shares, defensive rating, and blocks. Led by a strong backcourt, the Aces run a three guard lineup, that consists of All-Stars Kelsey Plum, Jackie Young, and Chelsea Gray. The trio of guards averaged a combined 51.6 points, 15.6 assists, 3.8 steals, and 10.4 rebounds per game throughout the regular season. As a whole, Kelsey Plum, A'a Wilson, and Jackie Young finished top three in offensive rating in the WNBA. Guards Jackie Young and Chelsea Gray rank top 7 in three-point percentage. Their core four (Wilson, Plum, Young, and Gray) averaged 80 percent of the total offensive in three games.
Preview of the Sky
THAT'S how you wanna go into the postseason ‼️#skytown pic.twitter.com/QFNFVHfi1F

— Chicago Sky (@chicagosky) September 10, 2023
The Chicago Sky barely squeezed into the 8th and final playoff seed with a record of 18-22. Fresh off a three game win streak against Indiana, Minnesota, and Connecticut, Chicago will face a tough matchup on the road. The Sky, led by interim head coach and GM Emre Vatansever, will catch somewhat of a break with Candace Parker out for the Aces. Parker added 10 points, 5 steals, 7 assists, and 6 rebounds in game 1 against Chicago.
Led by Kahleah Copper, who recently signed a multi-year extension, and Marina Mabley, Chicago ranks 6th in offense, and 7th in defensive ratings. Since the All-Star break, the Sky moved up to 4th in total offensive efficiency. With the 5th best record since the break, Chicago leads the league in three-point percentage (38.6). In three meetings against Vegas, Mabrey and Copper combined for an average 40 points, and Elizabeth Williams with 37 points. Much like the Aces, Chicago runs a three-guard lineup consisting of Mabrey, Copper, and Courtney Williams. Their most recent win impressively came against the Connecticut Sun in overtime. The Sky finished the night shooting 52 percent from the three, and had four players with points in double figures.
The sixth Triple Double in franchise history belongs to none other than our no.1️⃣0️⃣

Court went CRAZY on 'em yesterday!#skytown pic.twitter.com/JYQvVCMV60

— Chicago Sky (@chicagosky) September 11, 2023
Guard Courtney Williams recently hit 3,000 career points. Williams 23 point, 16 rebounds, and 13 assists against the Connecticut Sun is one of six triple doubles in franchise history.
Prediction
As of right now, my predictions are for the straight money line series win. Although Chicago has vastly improved since the All-Star break, and kept things fairly close in their matchups with Vegas, I don't see them winning the series. With the first two games in Vegas, I cannot envision Chicago defeating the reigning WNBA 2022 Champions. Las Vegas only has one loss, excluding the Commissioner's Cup, against the Sparks. The Sky hage some heavy hitters on the offense, however, I will take the Aces overall in terms off offense, defense, and head coach.
Overall, the Aces are 21-19-0 ATS, and Chicago 22-16-2. Stay tuned for daily betting articles throughout the WNBA playoffs. If the Aces want to shut out Chicago, they must heavily rely on their core four, considering their bench ranks last in points per game (13.5). The Sky are 4th in the WNBA in bench points per game (19.5), who scored 32 points against Connecticut. Although inconsistent at times, Dana Evans will certainly be an x-factor for Chicago.
My prediction for the WNBA Playoffs First-Round: Las Vegas in two.
We have now linked up with Prize Picks! Use the code LIFE to get a first deposit match up to $100 dollars on Prize Picks. Click here to get started
Sara Jane Gamelli is a full-time Sportswriter at BallisLife, and Sports Content Creator on Twitch and TikTok. She has a focus on the NBA, WNBA, NCAA Basketball, and the NFL. Sara Jane currently resides in Connecticut with her Cat and Dog. SJ has her undergraduate degree from the University of Connecticut in Economics, with a minor in business administration.
NATIONAL PROBLEM GAMBLING HELPLINE
1-800-522-4700
The National Council on Problem Gambling operates the National Problem Gambling Helpline Network. The network is a single national access point to local resources for those seeking help for a gambling problem. The network consists of 28 contact centers that provide resources and referrals for all 50 states and US territories. Help is available 24/7 and is 100% confidential.