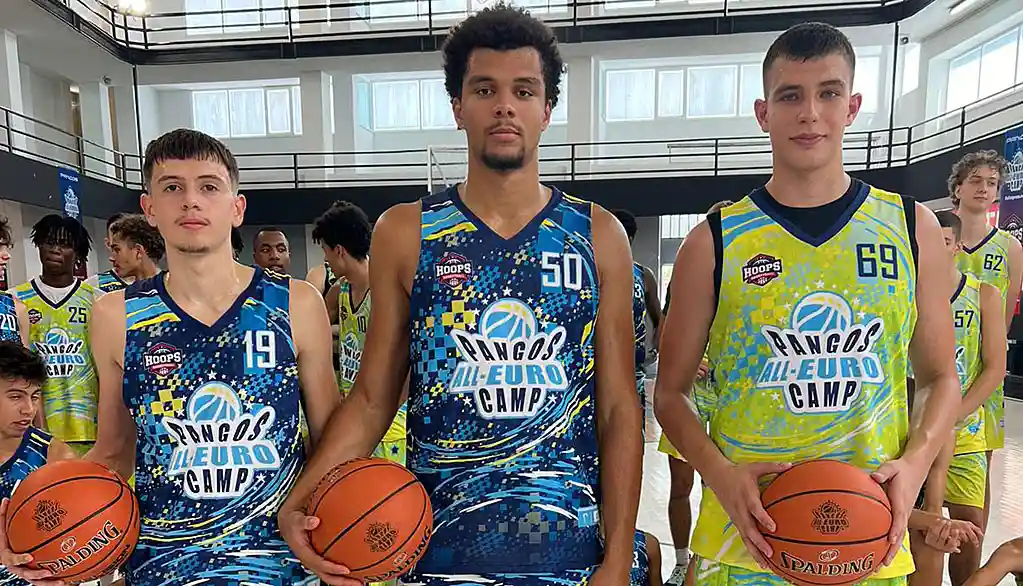 The inaugural Pangos All-Euro Camp is in the books and after two days of competition and evaluation, there is a clear-cut Cream of the Crop performer in forward Noah Penda (No. 50 in the photo above) from Paris, France, who has aspirations to be a top-notch pro. Young prospects shined while interior players were eager to learn.
RELATED -- Pangos All-Euro: Hopefuls Make Statement!
The 55 players who came from all over Europe to the first Pangos All-Euro Camp aspire to play at the highest level possible. The majority have dreams of playing NCAA basketball or at a big-time high school in the United States, but the player who stood out from the rest of the pack is well on his way to achieving his pro dream.
Noah Penda, a 6-foot-7 18-year old (2023) from Paris, France, is eligible to play collegiate basketball in 2023-24, but he feels the best way to an established pro career is by playing professional basketball. He told Ballislife he will be playing for JA Vichy-Clermont Métropole Basket, a French pro team that plays in the Pro B league, France's second division of pro basketball. Penda has plenty of international experience and was the most impactful player at the two-day camp held at Basketaki Arena in Athens, Greece.
Penda could have easily been one of the camp's leading scorers or been ball-dominant against lesser players. He was everything but that for his "Lakers" team, leading them to a perfect 3-0 camp record with unselfish play, smarts and a calming presence. Penda doesn't force any shots and is always looking to make the simple play with excellent interior and hit ahead passing skill. He averaged 10.7 ppg in three games, but that doesn't begin to tell his impact, as Penda made the right read 100 percent of the time and contributed plenty of "hockey" assists. It's the approach he took, and added more to, from his experience with the French 19U national team.
"They expect me to do a bit of everything, from rebounding to guarding the top player on the other team," Pena said. "I just came out here to try and dominate and show what I can do."
If there was any doubt or debate about whom the All-Euro Camp's Most Outstanding Player was, Penda settled that in the Cream of the Crop All-Star Game reserved for the camp's 30 best players. Penda (who models his game after former NBA standout Carmelo Anthony and current star Luka Doncic) only scored five points, but he dominated the glass and created opportunities for others, finishing with eight rebounds and six assists.
Predictably Penda's Blue team won the game, 81-68, and he put his stamp on the camp with a vicious conventional 3-point play, two-handed power dunk through the key right before halftime that gave his team a 45-31 halftime lead. The Gold team got within seven points (58-51) with 11 minutes remaining in the second half, but could get no closer.
Penda easily could have been the game's MVP as well, but the hardware went to 6-foot-1 17-year old (2026) Eldin Ejubovic of Amsterdam, Netherlands. The slick combo guard nailed three 3-pointers and finished with 15 points. Ejubovic is eager to learn the game and improve his skill level. Many of the post players received quality input from Zisis Sarikopoulos, a former pro player from Greece who played collegiately at UAB and Ohio State and was the lead instructor for the camp's skill session. The MVP for the Blue team as chosen by the scouts in attendance was 6-foot-9 17-year old (2024) Stavros Karpouzis of Thessaloniki, Greece. The rugged power forward had seven points and seven rebounds and did a good job of making his presence felt on defense.
Two of the camp's more athletic players also made an impact in the Cream of the Crop All-Star Game. For the winning Blue Team that was 6-foot-3 18-year old (2023) Alleia Ivan Mobio of Alba, Italy. The athletic wing player made his mark with defense and energy, finishing with nine points, five rebounds and two steals. For the Gold Team, that player was 6-foot-4 18-year old (2024) Rodney Ekwoanya of London, England. He had 10 points and a couple of highlight reel blocks. The rangy athlete will play in 2023-24 at Evergreen Christian School (Leesburg, Va.)
Scoring 12 points for the Blue Team was six-foot 18-year old (2023) Divine Nnadi of Athens, Greece. Nnadi is a sound shooting guard who can create offense and forces the defense to give up real estate or make the officials call something because of his aggressive style.
Giorgos Giantsidis wasn't always aggressive, but made his mark at this camp with his outside shooting stroke. He was arguably the event's top marksman and the 6-foot-4 guard from Athens with the sweet stroke has only been 14 since May. Giantsidis, who idolizes NBA star Steph Curry, finished with 10 points, which he netted all in his first shift to follow up on his terrific shooting performance during his Thursday morning camp game.
"My intent coming in to this camp was to just play basketball, that's what I wanted to do, I didn't have any other expectations," Giantsidis said. "This was a good camp and I was trying to do my best. During the week, I get up 200 shots a day and on the weekend, I get up over 1,000. I don't have as much free time during the week, you know."
There were plenty of camp standouts who didn't necessarily have great showings in the Cream of the Crop All-Star Game. Among the players not mentioned in our first Pangos All-Euro Camp report include 6-foot-4 17-year old (2024) Paris Papadatos of Athens, 6-foot-6 17-year old (2024) Atanasij Trajanov of Macedonia, and 6-foot-4 15-year old (2027) Lukas Novakovic of Stockholm, Sweden.
Papadatos displayed a nice crossover and covers ground with the dribble. Trajanov got downhill as well as any wing guard in attendance and was a quality board man. Novakovic got more comfortable as the camp wore on and made solid reads with the ball.
Among the players not chosen for the Cream of the Crop All-Star Game who made an impact with their solid all-around play and were rated as one of the three best players on their respective team in at least two of the three camp games include 6-foot-3 16-year old (2025) Stathis Karatzas of Patras, Greece and 6-foot-8 17-year old (2025) Melchizedek Andre of London, England.
France u17 & INSEP's Noah Penda with a magisterial smitty at the decision point, totally fooling the coverage and the helpside. Such an underutilized move in slot PNR. pic.twitter.com/M6u0aFDmcE

— PD Web (@abovethebreak3) August 15, 2022
Ronnie Flores is the National Grassroots Editor of Ballislife.com. He can be reached at [email protected]. Don't forget to follow him on Twitter: @RonMFlores