Twitter: @GGirlSports
Today marks the last day of the NBA 2K24 Summer League, and the Championship is tonight.  The Cleveland Cavaliers and the Houston Rockets, both undefeated, and will fight for the trophy at 9 PM EST.  In addition, the matchup will air on ESPN, located at Thomas & Mack Center, in Las Vegas, Nevada.  The Houston Rockets flew by the Utah Jazz, and the Cleveland Cavaliers had an exhilarating overtime win against the Brooklyn Nets.  Both teams have key players missing yet should put up an offensive show. The Cavaliers are favored; however, can the Rockets defy the odds and win it all? It this article, I will discuss the money line, totals, spread, and halves odds.   If you are looking for the best betting odds, stats and analysis, here is information to know.
Here is a first look at the 2023 Summer League Championship rings. Rings were introduced at Summer League in 2022. pic.twitter.com/YwFvqAvTFd

— Malika Andrews (@malika_andrews) July 10, 2023
*Tweet from ESPNS Malika Andrews*
NBA 2K24 Summer League Championship Odds


*Odds courtesy of Draft Kings*



Cleveland Cavaliers
Record: 5-0
Opponent Points Per Game: 97.8
Wins: Brooklyn Nets, Toronto Raptors, Memphis Grizzlies, Chicago Bulls, Brooklyn Nets
PPG: 97.8 | FG: 45.8 % | 3 PT: 37.1 % | FT: 76.3 % | REB: 45.2 | ST: 20.8 | STL: 5.6 | BLK: 7.6 | TO: 15.2
Last Two Games
PPG: 94.5 | FG: 44.3 % | 3 PT: 31.2 % | FT: 86.2 % | REB: 42 | AST: 24 | STL: 4.5 | BLK: 8.5 | TO: 13.5
Betting Trends and Stats: 
| | | | |
| --- | --- | --- | --- |
|  Game |  Final Score |  Spread |  Totals |
|  Game 1 |  Cleveland 101, Nets 97 |  Cleveland +2 |  OVER 181.5 Points |
|  Game 2 |  Cleveland 99, Raptors 76 |  Cleveland -2 |  UNDER 177 Points |
|  Game 3 |  Cleveland 100, Grizzlies 77 |  Cleveland +3 |  UNDER 182.5 Points |
|  Game 4 |  Cleveland 87, Bulls 83 |  Chicago +6 |  UNDER 177.5 Points |
|  Game 5 |  Cleveland 102, Nets 99 |  Cleveland -2.5 |  OVER 180 Points |
Houston Rockets
Record: 5-0
Opponent Points Per Game: 98.8
Wins: Golden State Warriors, Oklahoma City Thunder, Detroit Pistons, Portland Trail Blazers, Utah Jazz
PPG: 110.2 | FG: 47.0 % | 3 PT: 37.1 % | FT: 79.5 % | REB: 37.2 | AST: 21.4 | STL: 9.4 | BLK: 6.2 | TO: 12.6
Last Two Games
PPG: 116.5 | FG: 49.2 % | 3 PT: 40.8 % | FT: 90.7 % | REB: 40 | AST: 25 | STL: 11.5 | BLK: 3.5 | TO: 15.5
Betting trends and Stats: 
| | | | |
| --- | --- | --- | --- |
| Game | Final Score | Spread | Totals |
| Game 1 | Houston 100, Trail Blazers 99 | Even | OVER 186 Points |
| Game 2 | Houston 113, Detroit 101 | Even | OVER 182.5 Points |
| Game 3 | Houston 105, OKC 92 | Houston +3.5 | OVER 179.5 Points |
| Game 4 | Houston 118, Golden State 101 | Houston -5.5 | OVER 191 Points |
| Game 5 | Houston 115, Jazz 101 | Houston -5.5 | OVER 191.5 Points |


Trends Rockets vs. Cavaliers
*All graphs made by Sara Jane Gamelli*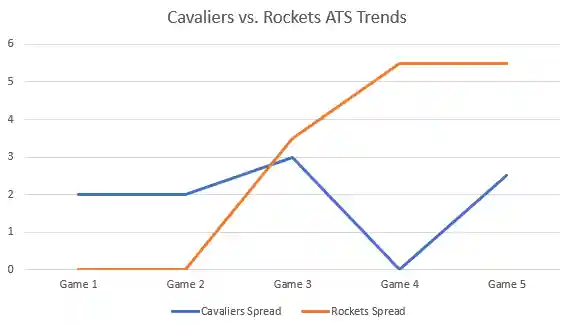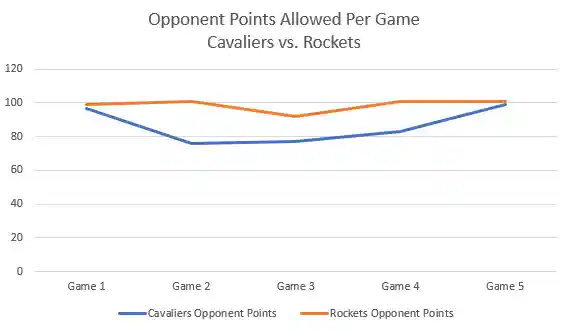 Why the Houston Rockets can cover the spread.
The Rockets are the underdogs at +2. 
The Houston Rockets came into the summer with a loaded roster and learned to adapt.  Also, The Rockets started the Season with a thriller against the Trail Blazers.  Jabari Smith Jr. scored 33 points and hit a buzzer beater to secure the win.  The Rockets unfortunately lost 4th overall pick Amen Thompson, due to an ankle sprain, and Houston pulled Jabari Smith Jr. and Tari Eason by the third game.  The Rockets continued dominance with their roster, and beat both the Detroit Pistons, and OKC Thunder, who were talented teams this summer.
Players & Analysis
The Rockets relied heavily on their 20th overall pick, Cam Whitmore, Trevor Hudgins, Nate Hinton, Jermaine Samuels, and Darius Days. In addition, Whitmore played with a chip on his shoulder, knowing he could've been drafted in the top ten.  Cam Whitmore ranked top 15, and averaged 20.4 points, 31.5 minutes played, 5.6 rebounds, 3 steals, and 2.2 assists. In their must win game against the Utah Jazz, Houston had five players with points in double figures.  Moreover, Whitmore and Hinton had a combined 52 points, 2 blocks, and 6 steals last game.  More importantly, the Rockets shot 96 percent from the line, 38.8 percent from the three-point, and 45 percent from the field against Utah.
Overall, not one team could stop the Rockets offensively, even in the absence of Thompson, Eason, and Smith Jr.  The Rockets finished the summer league with the top offense, and most points scored per game at 110.2.  Furthermore, Houston is TIED with the Cleveland Cavaliers for the best point differential at +11.4.  Although Houston allows nearly 100 points scored, they averaged almost 117 points in 2 games.  Houston is looking for their first ever summer championship, and will have to feed the hot hand, which is Cam Whitmore.
Why the Cleveland Cavaliers can cover the spread.
The Cavaliers are favored at -2. 
The Cavaliers are favored at -2 and are also undefeated this summer.  Also, Cleveland hasn't had many injuries, and had one of the most consistent lineups through five games.  Through five, Cleveland had two impressive wins over the Brooklyn Nets, and a win against Chicago. Additionally, the Cavaliers pulled off a 102-99 must win in overtime against the Brooklyn Nets last night.  Emoni Bates made the go-ahead three-pointer with 56 seconds left, before Nets Armoni Brooks responded with a three-pointer with 24 seconds.  Ultimately, this game went into overtime, and Isaiah Mobley make a 9-foot shot with 1:35 to win the game.
Clevland has gotten consistent, incredible production from the 49th overall pick, Emoni Bates.  In fact, Bates averaged 16.8 points, 6.2 rebounds, and shot 41 percent from the three-point in five games.  In a must win game last night against Brooklyn, Bates had 20 points 7 rebounds, and shot 8-13.  Along with Bates, Sam Merrill, the 2020 60th overall pick has been equally as consistent for the Cavaliers.  In four games, Merrill averaged 18.8 points, 27.5 minutes, and shot 43.2 percent from the three-point.
Furthermore, Merrill scored 19 points on 5-17, 4-13 shooting last night against the Nets. Isaiah Mobley, a 2022 second round pick, has been a force on both sides of the court.  In five games, Mobley averaged 15.8 points, 1.4 blocks, and 7.8 rebounds.  Along with those statistics, Mobley had the game winning basket last night, along with 23 points, 7 rebounds, 5 assists, 1 steal, and 2 blocks.  Although Cleveland lacks big star names, they've gotten incredible production out of their starting five.
Prediction
The Cleveland Cavaliers have been an offensive powerhouse, averaging nearly 98 points a game.  Now that we established their offensive game, let's talk about their defensive aspect. The Cavaliers were one of the best teams in the NBA last season, and that's shown this summer.  Through 5 games, Cleveland held opponents to 86.4 points a game, which is 12.4 less than the Rockets. Moreover, the Cavaliers haven't allowed an opponent to score 100 points and didn't allow more than 83 games in games 2-4.  I wouldn't be surprised if the Cavaliers hold the Rockets to 100 points or less here.
Overall, Houston has the better offense, and stronger numbers in the last two games.  They took care of a Utah Jazz team, who was ranked first in several shooting categories.  The Rockets are shooting 40.8 percent from the three-pointer in the last two games, while Cleveland is shooting 31.2 percent from the three.  Although Cleveland has better defense, Houston has the better offense, and their margin of spread covers are larger.  Houston has the momentum, while Cleveland was tested in late game situations.  I think Cleveland has a little bit more steam on both ends of the court in this one. The Rockets will need some help off the bench, in which Magee scored 21 points.  Give me the over at 191.5 and the Cavaliers at -2.  
If you want to learn about future bets, Click Here
For More NBA Betting Info & Game Predictions, Follow us at @BallislifeBets.
Sara Jane is a full-time content creator, with a focus in the NFL, NBA, WNBA, NCAA Basketball and Football. Sara is also writer at Ballislife.com. Don't forget to follow her on all socials:  Twitter/YouTube/Kick/Twitch/Instagram: @GGirlSports.
NATIONAL PROBLEM GAMBLING HELPLINE
1-800-522-4700
The National Council on Problem Gambling operates the National Problem Gambling Helpline Network. The network is a single national access point to local resources for those seeking help for a gambling problem. The network consists of 28 contact centers that provide resources and referrals for all 50 states and US territories. Help is available 24/7 and is 100% confidential.