Phoenix Mercury star, Diana Taurasi is the first player in the history of womens basketball to score 10,000 points in Phoenix's win over Atlanta
Notoriously known for her hair in a tight bun, Diana Taurasi started her collegiate career with the Connecticut Huskies. The six-foot guard was selected first overall, in the 2004 WNBA draft, selected by the Phoenix Mercury. Since then, Diana Taurasi is a three-time WNBA Champion, two-time WNBA Finals MVP, former MVP (2009), and much more. Taurasi, 41, is in her nineteenth season in the WNBA, all with the same organization. The guard is the all-time WNBA scoring leader, almost 2500 points ahead of Tina Thompson. Last night, Diana Taurasi became first WNBA player ever to ever 10,000 points in history. The Pheonix Mercury defeated the Atlanta Dream 91-71.
Diana Taurasi tonight:

🐐 First WNBA player with 10K PTS
🐐 Career-high 42 PTS in regulation
🐐 First 40-point game since 2010
🐐 Oldest player in WNBA history to drop 40 pic.twitter.com/FnoeQAMyFF

— ESPN (@espn) August 4, 2023
Odds: How Diana Taurasi scored her 10,000th basket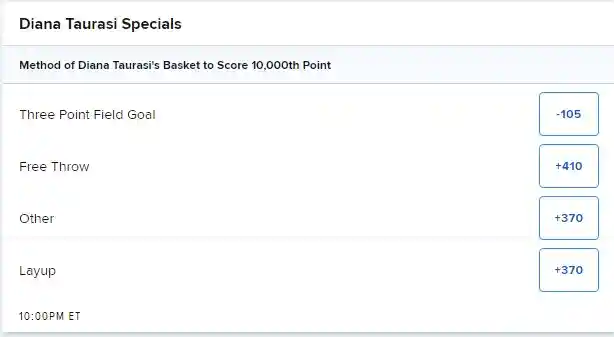 Diania Taurasi has a career night
A historic moment 🙌

Taking a look at every bucket that got @DianaTaurasi to 10k career points!#MoreThanGame pic.twitter.com/eHd1JdBgCX

— WNBA (@WNBA) August 4, 2023
Diana Taurasi made WNBA history last night, and hit 10,000 points, something no woman has done in the history of professional basketball. The odds were favored for a three-point field goal, which is exactly what happened. With 9,997 points down, and 8:23 left in the third quarter, Taurasi hit a three-pointer on an off-ball screen, set by teammate, Brianna Turner.
The WNBA legend had a night to remember. Taurasi had her first 40 plus point game since 2010, and finished with a season-high 42 points, on 6-13 three-point, and 12-21 field goal shooting. The Guard also made it to the line twelve times, in which she shot 100 percent. Taurasi, a career 36.4 percent three-point shooter, hit 46 percent from downtown last night.
On Thursday night, the UConn and Mercury star had her fourth 40-point game, in which she was the oldest to do so in history (41 years old). Post game, Taurasi was greeted with gifts, and a video tribute, from past coaches, teammates, friends, and family.
Diana Taurasi became an all-time UConn great.
On this day in 2003:

Diana Taurasi put on a performance during UConn's 63-62 overtime win against Tennessee pic.twitter.com/ekjvqUzDQf

— Just Women's Sports (@justwsports) January 4, 2023
A California native, Taurasi came to the University Connecticut to play under Head Coach Geno Auriemma. In all three seasons, the point guard led the Huskies to three straight national championships, from 2001-2004, in which she was the two-time NCAA most outstanding player. In her UConn tenure, Taurasi averaged 16.5 points, 1.2 steals, 4.9 assists, and 4.7 rebounds in 111 career games. The college basketball star was a 39 percent three-point, and 45.6 field goal shooter. Her overall record under Coach Auriemma was 139-8. Diana Taurasi was one of the greatest players to ever play for the University of Connecticut, and became the first UConn player to score 2,000 points, along with other career accolades.
The Phoenix Mercury selects Diana Taurasi first overall in the 2004 WNBA Draft
The UConn star was selected first overall by the Phoenix Mercury in 2004. The WNBA inaugural season was in 1997, and Taurasi was an WNBA pioneer, and changed the league for the better. She went on to win the rookie of the year award, in 2004.
In her career, all with the Mercury, Taurasi was a leader, WNBA Champion, ten-time WNBA all-star, and a member of the 15th, 20th, and 25th anniversary teams.
Outside of the WNBA, the Mercury star is a five-time Olympic gold medalist and has several accolades in her time with Russia and Turkey overseas.
Taurasi on her career night
Before she hit the milestone, Taurasi sat down with ESPN, and talked about her love for the game of basketball, and why she's played past the age of forty.
"I didn't intend to play this long, for any title, for any type of prestige or honor. I just played because I'm a kid who loves basketball," said Taurasi.
No. 3 talked about the shot that sealed history. "But I'm kind of happy it happened with a 3. I'm happy that someone set a screen. I'm happy that someone passed me the ball. That's how basketball is played, with everyone having a little part, and it's perfect." (ESPNS Josh Weinfuss).
Now, with 10,024 total career points, Diana Taurasi is under contract with the Phoenix Mercury, for at least two more seasons. The UConn and Mercury legend is a women's basketball trailblazer and paved the way for the next generation. Is it a coincidence that number three hit a three-pointer to score 10,000 points? Maybe so. Diana Taurasi is one of the all-time WNBA greats, and one of the best to ever play the game of women's basketball.
Stay tuned for more WNBA related articles.
Sara Jane Gamelli is a full-time Sportswriter at BallisLife, and Sports Content Creator on Twitch. She has a focus on the NBA, WNBA, NCAA Basketball, and the NFL. Sara Jane currently resides in Connecticut with her Cat and Dog. She is a Boston Celtics, New York Liberty, Boston Bruins, New York Yankees, and New York Giants fan. SJ has her undergraduate degree from the University of Connecticut in Economics.
Tweets by BallislifeBets