Jaylen Brown signs a five-year supermax extension with the Boston Celtics worth $304 million. It will be the richest contract in NBA history. We will break down the contract, and how it will affect the future betting odds for Boston.
After weeks of speculation and negotiation, Boston Celtics Star, Jaylen Brown has signed a five-year extension, worth $304 million. According to Shams Charania, of the Athletic, the contract will be the richest in NBA history. Brown, 26, is a two-time NBA All-Star, and will enter his eighth season, all with the Celtics.
BREAKING: Boston Celtics star Jaylen Brown has agreed to a five-year, $304 million supermax contract extension with the franchise, per sources. This is the richest deal in NBA history, negotiated by agent Jason Glushon.

Fully guaranteed, with a trade kicker. No player option. pic.twitter.com/MQ6NKILY8Q

— Shams Charania (@ShamsCharania) July 25, 2023
Jaylen Brown is coming off one of the best seasons in his career. Last year, Brown averaged a career-high 26.6 Points, 6.9 Rebounds, and 35.9 minutes. In 67 games played, Jaylen Brown averaged career-highs in Field Goal Percentage (49.1), and Free-Throw Percentage (76.5). Since his 2016 NBA debut, Brown led the Celtics to seven straight postseasons, including a Finals appearance vs. the Golden State Warriors, in 2022. The Celtics and Brown have yet to bring home banner 18, however, this extension will give the Celtics the best opportunity to do so.
Out of the 26.6 Points Per Game, two-pointers accounted for 57.8 percent of Brown's shots, and three-pointers for 27.4 percent. That includes free-throws, which contributed 14.8 percent of his total points. The Boston Celtics will need Brown to fine tune his three-point shot, after averaging a career-low in three-point percentage (33.8). Given over fifty percent of his shots are taken from the two, perhaps the addition of Kristaps Porzingis will open the floor, and provide more scoring opportunities for Jaylen Brown.
In seven seasons with the C's, Jaylen Brown averages 17.9 Points, 5.2 rebounds, and 2.2 assists. Over his tenure, the 26-year-old has a 36.5 three-point, and 47.6 field-goal percentage.
Overshadowed by Jayson Tatum at times, Brown has certainly made his mark in Celtics History. Brown currently ranks 17th on the all-time Celtics points leaders (8,428), right behind Tatum at 15 (9,865). In addition, Brown ranks 5th all-time in 3-pointers made, (883), and 11th in career playoff points scored (1,911). Along with Tatum and Kevin Garnett, Brown ranks 8th in all-time playoff steals leaders. After taking in all these statistics, it's safe to say Jaylen Brown is an important part of Celtics leadership and history.
Estimated Contract Extension
According to spotrac, Jaylen Brown is projected to average an annual $60 million AAV. The contract is said to be fully guaranteed, will not have a player option, and will include a trade kicker. The no player is great for the Celtics, meaning Brown can't opt out, and the Celtics will have to pay him a bonus, if traded with the kicker. It Let's take a look at the estimated contract numbers and details.
Contract: 5 yr(s)/ $303,734,893 | Average Salary: $60, 746,979
| | | |
| --- | --- | --- |
| Team | Age | Salary |
| GTD at Sign | 27 | $303,734,893 |
| 2024-2024 | 27 | $52,368,085 |
| 2025-2026 | 28 | $56,557,532 |
| 2025-2027 | 29 | $60,746,979 |
| 2027-2028 | 30 | $64,936,425 |
| 2028-2029 | 31 | $69,125,872 |
| 2029-UFA | - | - |
| Estimated amounts | - | - |
All stats courtesy of sportrac.
Jaylen Brown will earn more in the final year of his supermax contract than the Boston Celtics starting five -- Rajon Rondo, Ray Allen, Paul Pierce, Kevin Garnett and Kendrick Perkins -- have earned in their 2008 championship year COMBINED 🤯 pic.twitter.com/gGl8jR8vaD

— ClutchPoints (@ClutchPoints) July 25, 2023
Future Boston Celtics Championship Odds
*Odds courtesy of DraftKings Sportsbook*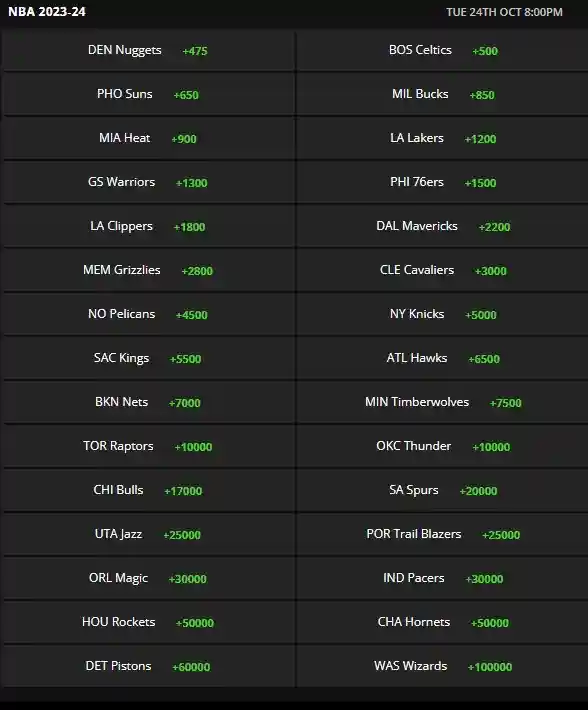 The Boston Celtics will reunite stars Jayson Tatum and Jaylen Brown, in hopes of multiple championship title runs. Tatum, the third overall pick in 2017, has developed into a superstar, alongside, Jaylen Brown. Tatum is eligible for a $318 super max in 2024, and both Tatum and Brown have led Boston to six straight playoff appearances together. It's important to note, both players experienced playoffs runs in their rookie seasons. In Browns rookie season, the Celtics lost to the Cavaliers in the Conference Finals. In five seasons, Brown and Tatum have led the Celtics to three Eastern Conference Finals, the Semi Finals against Milwaukee, and the Finals against Golden State.
The extension of Jaylen Brown will fuel the Celtics with two of the best players, who are both well under the age of thirty. With the departure of Grant Williams and Marcus Smart, Jaylen Brown will have a bigger impact on this organization more than ever, including leadership. In fact, the 2023 Brown-Tatum duo averaged 28.89 points, which is 7th all-time, behind Wilt Chamberlain and Paul Arizin. The 2023 season surpassed Kobe Bryant, Shaquille O'Neal, Kevin Durant, and Kyrie Irving.
How the singing of Jaylen Brown and Kristaps Porzingis affects the odds.
While Boston has fallen short in the playoffs, Head Coach, Joe Mazzulla, entering his second year, will have Brown and Tatum at a young age. I truly believe Kristaps Porzingis, who was acquired in a trade from Washington, will be a great fit for the Celtics. He provides Boston with a double big man lineup (Consisting of Williams and Horford). In addition, Kristaps is coming off one of the best seasons of his career, in which he averaged 23 points, and 1.5 blocks per a game. Robert Williams has been seen developing a shot this off season, and the post-game has been absent between him and Al Horford. Along with the post-game, Porzingis gives the Celtics extra size, perimeter and low-post offense.
Porzingis, who is a three-point thread (35.8 percent), will help open up the court, and allow Jaylen Brown and Jayson Tatum to expand their offensive and post-up game. An extra threat on the perimeter could potentially open up doors for Brown and Tatum to elevate their game and attack the basket. This would be huge, as two-pointers accounted for 57 percent of Brown's scoring last season.
With the Big 3, Brown and Tatum will have more opportunities with kick outs, pick and rolls, screens, and decision making. The Celtics lost defensive stars Grant Williams, Marcus Smart, and drafted Jordan Walsh in this year's draft. By losing those two players, Brown will have to play smart in crucial situations, and have that physical toughness. The addition of the big 3 brings a new level and dimension of offense on this team. Porzingis officially joins the elite duo, who are the "first pair of teammates to have a season with twelve 30-point games as a duo since Shaq and Kobe (2002-2023)"(Clutch Points).
The Boston Celtics certainly can remain hopefully with the resigning of Jaylen Brown. Overall, Brown is one of the best wings in the NBA, a reliable scorer, who's excellent at attacking the basket. With less depth on this roster, Brown will be forced to fix errors in dribbling, passing, and will have to play elite on both sides of the ball. Their odds are second to the Denver Nuggets, and I expect Boston to be one of the biggest threats in the East this year. With the new CBA, it's title or bust for Boston in the upcoming years.
Sara Jane is a full-time Sportswriter at BallisLife, Journalist, and Sports Content Creator on Twitch. She has a focus on the NBA, WNBA, NCAA Basketball, and the NFL. Sara Jane currently resides in Connecticut with her Cat and Dog. She is a Boston Celtics, Boston Bruins, New York Yankees, and New York Giants fan. SJ has her undergraduate degree from the University of Connecticut in Economics.
Tweets by BallislifeBets
NATIONAL PROBLEM GAMBLING HELPLINE
1-800-522-4700
The National Council on Problem Gambling operates the National Problem Gambling Helpline Network. The network is a single national access point to local resources for those seeking help for a gambling problem. The network consists of 28 contact centers that provide resources and referrals for all 50 states and US territories. Help is available 24/7 and is 100% confidential.