Most of the sporting world was gripped to their viewing device for the past five weeks watching ESPN's "The Last Dance", a 10-part documentary on Michael Jordan and the 1997-98 Chicago Bulls quest for a sixth championship in eight seasons. While the focus was on Jordan, there were many other poignant figures who emerged throughout each episode, particularly Bulls General Manager Jerry Krause, Detroit Piston Hall of Famer Isiah Thomas and Jordan's Hall of Fame teammate Scottie Pippen. Now that all the episodes have been aired, we break down the six things we learned, three from the perspective of an editor who followed Jordan throughout his NBA career and one from the perspective of a younger basketball analyst.


Last Dance: 3 Things We Learned (From a 1980s Basketball Fan)
6'4" - SG - 1981
1. The Bulls Likely Don't Win Eight Titles In A Row
One thing that became clear as that 1997-98 season unfolded was the Bulls were not on the same level as they were in 1996-97 and clearly not playing at the level they were in 1995-96 when they won 72 games. Chicago "limped" to a 62-20 record and Michael Jordan clearly carried the team more than he did in past championship runs. That wasn't as evident watching that season unfold in real time over 20 years ago. At 35, Jordan played 4,053 minutes in 103 games that season and no player that age or older has since. Jordan mentioned how he mentally willed himself and the team to get over the hump because physically they were shot. One of the arguments Jordan fans made at the time and the years that followed into the 2000s was that if Jordan hadn't retired, the Bulls would have won eight titles in a row and the Houston Rockets would have been denied back-to-back titles. That theory has been put to the test more than ever and it just seems that injury, wear and tear and the mental grind it took the Bulls to prepare for championship run after championship run would have caught up with them at least once in the later stages of that eight-year run had Jordan not left to play minor league baseball after the 1992-1993 season.
2. Lack Of Reading Really Hurts Our Society As Years Go By
Better access to Internet and social media has given more people outlets to express their sports takes and opinion on sports figures, but for Jordan and Chicago Bulls fans, the information conveyed over the course of the documentary shouldn't be all that new. The dynamics and relationships between Air Jordan, his teammates and the Chicago Bulls' management were laid out in newspapers across the country during the summer and fall of 1997. Jordan's salary compared to his teammates, Pippen's squabble over his long-term contract, the feud between GM Jerry Krause and head coach Phil Jackson was all there to read. Being SoCal based, we knew plenty about the Bulls' plight and that there was little to no chance the core of the group would come back in 1998-99. Now, more than 20 years later, the newspaper industry is not what it once was and fans use other mediums to get their info, which is mostly in the form of short video clips. There is not as much fact-checking and in-depth reporting, so you wonder how much a young person is really learning about the star NBA players and athletes they look up to. You just wonder how that reality is going to shape people's perceptions of LeBron James and other star players 20 years from now because people read much less than they did in past generations. That makes them less informed but with more avenues to voice an opinion on sports-related topics.
3. Jerry Krause Wasn't A Big Villain
Michael Jordan had final say on the creative aspects on this 10-part doc, so naturally he's not going to paint himself in a bad light overall. Now some people may not agree with his methods, but there is no denying his mental approach to the game helped the Bulls' success. It also took its toll on those around him. Naturally, some felt the documentary painted others in an unflattering light, particularly Scottie Pippen, Isiah Thomas and Jerry Krause. At the conclusion of the documentary, former Jordan teammates Stacy King and Horace Grant made waves about the portrayal of some of Jordan's adversaries and were not fond of the perceptions the documentary created. When the documentary began, it seemed as though Krause was going to be a big villain, or fall guy, for Jordan's heroics. The long-time Bulls' General Manager is not here to defend himself, but as the doc went by the evidence produced showed Krause to be very good at his job of building a championship team. His trade with Seattle for Scottie Pippen is one of the best GM moves of all-time, especially considering Pippen emerged from a NAIA program to become of the 50 greatest NBA players of all-time. His drafting of Grant, Toni Kukoc and the then-unpopular trade for Bill Cartwright (in exchange for Jordan friend Charles Oakley) turned out to be terrific moves. Chicago fans in Chicago need someone to blame for the Bulls' breakup and Krause has been an easy target for them (just as he was for a Jordan pot shot) over the years. Bottom line, he was there employed before Jordan, employed by owner Jerry Reinsdorf long after all the central characters of the Bulls' championship team were, and came out looking very good for someone who was paid to do a specific job. Pippen gave Krause his due as a terrific GM in the closing episode, even if some players and many fans had an axe to grind with him over the years.
Last Dance: 3 Things We Learned (From a 2000s Basketball Fan)
1. Jordan Would Have Averaged 35+ Points Per Game In Today's NBA
This isn't some major hot take here as everyone on Twitter and Instagram have weighed in on Jordan's impact in today's NBA. Let's break it down: The 1980's and 1990's featured a much more physical brand of basketball where a hard foul at the rim resulted in the offensive player heading to the free throw line for his freebies without the officials taking three minutes to review whether it was a flagrant foul. Jordan saw the brunt of this type of defensive attention from every team he saw, most notably the late 80's Pistons who had the famous set of "Jordan Rules" designed to stop his airness from going off. Now imagine Mike in the current climate of the NBA where phantom whistles are blown with regularity, hand-checking is all but gone and freedom of movement is the new buzz term to make the game more pleasing to the eye. With Jordan's style of play, skill, footwork, jump shooting ability, body control and explosiveness, he would not only pick defenses apart inside and out, he would live at the free throw line a la James Harden. The one argument I can see to negate the evidence I laid out is Jordan wasn't the most efficient three-point shooter early and late in his career. Mike shot 33.2 percent from deep, but one would imagine a player with his work ethic would have tailored his offensive game to the current fad of launching deep balls.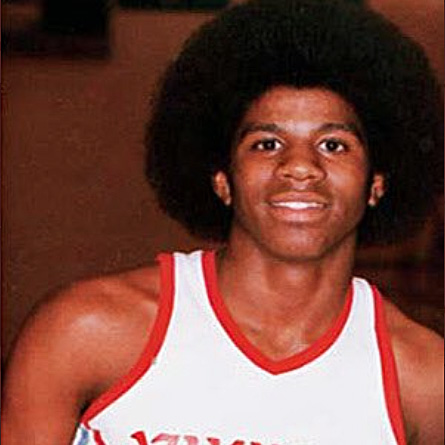 6'8" - PG - 1977
2. The Last Dance Helped Me Set My NBA Mount Rushmore
Though I was relatively young during Jordan's era of dominance, I watch and read a lot about NBA basketball during my youth and there's never been a doubt in my mind that MJ was the greatest basketball player ever to live. But "The Last Dance" helped me sort out who falls in line after Jordan on the Mount Rushmore of basketball, encompassing impact at all levels of the game. For me, second in line is Kareem Abdul-Jabbar. Look at Cap's resume and it's hard to argue against: Six-time NBA champion, six-time league MVP, 19-time NBA All-Star, NBA's all-time leading scorer, and three-time NCAA champion with the only time him not leading UCLA to a national title being his freshman season when first-year college players couldn't play varsity basketball. Something that doesn't get talked about enough when it comes to Kareem is that he made a single move – the sky hook – both famous and unstoppable. The third person on my Mount Rushmore is Magic Johnson the main reason being him, along with Larry Bird, basically carried the NBA out of its darkest days. The Magic-Bird, Lakers-Celtics rivalry dominated the 1980's and Magic's personality and flair on the court has gone unmatched. Johnson also revolutionized the point guard position as a brilliant and dynamic 6-foot-9 playmaker when, back then, guys his size were usually planted on the block. The fourth and final player on my Mount Rushmore, and I'll definitely get some eye-rolls for this one, is Kobe Bryant. Kobe is the closest player we've seen to Jordan in terms of not only skill, but also the detail and focus in which they approached the game. The five-time NBA champion took the torch passed by MJ, kept it lit, and ran with it as long as he could. When you think about the pressure Kobe faced to live up to the "Next Michael Jordan" statement, and how many others had failed to do it, you have to respect how close he came. Just for fun, if I was to add a fifth player to this list, it would be LeBron James.
3. A Scottie Pippen Documentary Should Be Next
One of the most interesting character arc's throughout "The Last Dance" was Pippen's. He started out as a figure the common NBA fan could root for as he took an untraditional path as a walk-on at Central Arkansas who grew seven inches post-high school and developed into an NAIA All-American. As Ronnie mentioned above, Jerry Krause and the Bulls front office pulled off one of the greatest draft day trades of all time when snagging Pippen, the 5th overall pick by the Seattle SuperSonics in the 1987 NBA Draft, for Olden Polynice and future picks. Pippen and Jordan complemented each other well and Scottie became one of the 50 greatest players in league history. While the documentary painted Pippen in a positive light early on, it reversed course through the second half of the series. Pippen made a number of peculiar decisions which dented his legacy in the eyes of many, from delaying a foot surgery and missing some of the 1997-98 season to choosing to sit out the final seconds of a 1994 playoff game against the Knicks because the final shot was drawn up for Toni Kukoč instead of him. I would like to see all of this wrapped up into one documentary that digs deep into Pippen's youth, him as a high school player in Arkansas, and then into his college, NBA careers and beyond.