The Liberty roll past the Indiana Fever, 101-83, and New York covers the 13-point spread.
Betnijah Laney had herself a career day, and helped the New York Liberty made NBA History Sunday at the Barclays Center. Laney finished with a career-high 22 points and shot 3-5 from the three-point. In 30 minutes on the court, Laney had some impressive looks beyond the arc, in addition to some easy lay ins at the basket.
Laney had some luck from her niece, JJ, who sat courtside for the game.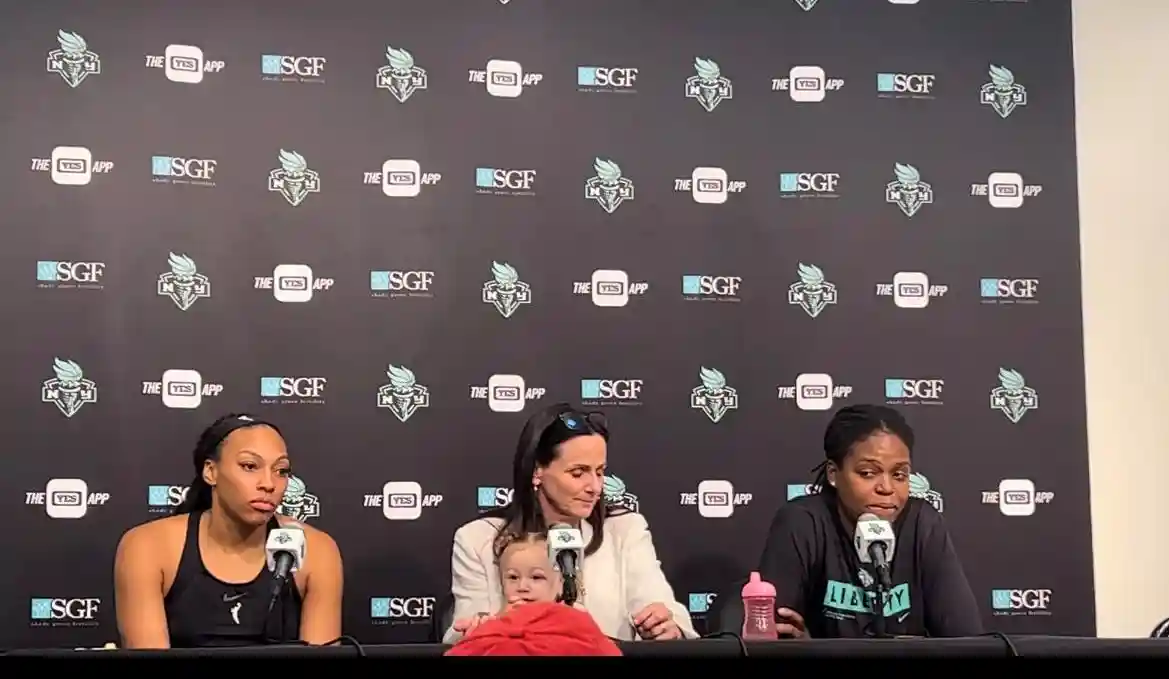 Image taken by Sara J. Gamelli. Left, Betnijah Laney; Middle, Head Coach Sandy Brondello, Right, Jonquel Jones.
Betnijah Laney gave fans some insight to why she performed so well against the Fever.
"Well, I did have a conversation with one of my coaches and some of my teammates just about today, and then I had JJ sitting court side, so that helped a lot."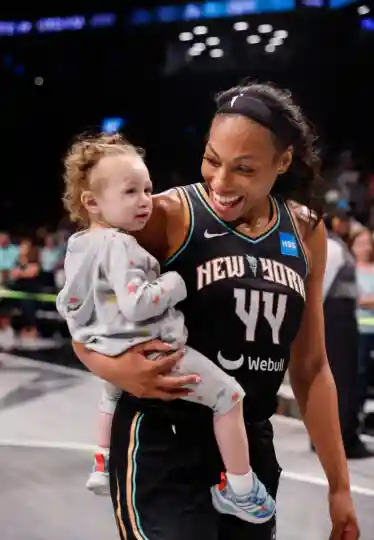 When asked about her consistency, Laney simple stated:
"Just being confident in my shot, taking it when it's there."
Betnijah Laney shot 69 percent from the field, 60 percent from the 3-point, had 1 steal and 1 block.
The Liberty made history Sunday, scoring 44 points in the first quarter, which is a new WNBA record. By the first quarter, the Liberty had six made three-pointers, and fourteen interior points. Their previous first quarter high was 36 points scored against the Indiana Fever back in May. During the post-game conference, former WNBA Coach of the Year, Sandy Brondello had some comments after her team made WNBA history.
"Look, we've been talking about just getting more ball movement and not forcing the early ones if it's not a great shot, and I think this team is just buying in to how we want to play and we have success when you go out there and have success doing it the right way. I think that's nice. 44, I mean, I was just a spectator after a while. I'm like, "Okay, this looks pretty good."
4-time All Star, Jonquel Jones, is coming off her second straight double-double, with 18 points, 11 rebounds, 57 percent three-point shooting. In New Yorks previous win against Washington, Jones had 27 points, and 11 rebounds. All-Star rookie, Aliyah Boston fought in the paint all afternoon against Jones, and ultimately ran into foul trouble. Boston acquired three fouls in the first quarter, which resulted in a flagrant foul against Breanna Stewart.
It's rocking in here!!

The Liberty lead the Fever 67-46 at the HALF!

👀We had Liberty OVER and ML today!

🔥Jones 3-4 3PT
🔥Johannès 3-4 3PT
New York has 12 3-Pointers made! #wnba pic.twitter.com/kMopjO7rgP

— Ballislife Bets (@BallislifeBets) July 23, 2023
Overall, the Liberty had 20 second chance points, including 8 offensive rebounds for Jones. Second chance opportunities opened up three-point shots for Courtney Vandersloot, who has the most 10-assist games in WNBA single season. Sabrina Ionescu made 2 three pointers, including a 25 foot three-pointer jumper in the third quarter, assisted from Vandersloot.
Jones opened up about the game and their success as a team.
"I think we sometimes slow down a little bit too much and try to play a little bit too methodical--- Our passing and our strength work, we're a transition teams that moves the ball quickly, and makes teams kind of get back, whether they score or miss the shot ----- "Playing the way that we played to get the lead, and not just kind of slowing down----- " It's pretty hard to play a perfect game, but I think we handle it very well, and definitely had the right type of mindset and voice."
The Liberty rank first in the WNBA in three-point percentage (38.9), and three-pointers made (10.9). New York additionally made 17 threes as a team and shot over 50 percent from the floor. We often saw mismatches for Breanna Stewart, wide open threes, along with strong interior offense for the Liberty.
Sunday's game was an overall collaborative effort from the Liberty. Laney, Stewart, Jones, Ionescu, Thorton, and Johannes all had points in double figures. Johannes had several open looks, and turnovers, which led to made threes. It was her best 3-point shooting day of the month, in which Marine shot 57 percent. After the game, Johannes gave her post game thoughts:
"I'm just trying to stop overthinking. like I said earlier, just I know everyone trusts me, I have to find a way [to like] have fun again."
On the betting side, the Liberty won the money line [-900 on Draft Kings] covered the -13.5-point spread, and the over hit at 184 total points. It was New York's fourth 100-point game of the season, and their Over/Under ratio is 13-7-0 this season. Both Breanna Stewart and Sabrina Ionescu hit the under for their prop bets. We saw Brenna Stewart make mostly low and high post shots.
Sara Jane is a full-time Sportswriter at BallisLife, Journalist, and Sports Content Creator on Twitch. She has a focus on the NBA, WNBA, NCAA Basketball, and the NFL. Sara Jane currently resides in Connecticut with her Cat and Dog. She is a Boston Celtics, Boston Bruins, New York Yankees, and New York Giants fan. SJ has her undergraduate degree from the University of Connecticut in Economics.
Tweets by BallislifeBets
NATIONAL PROBLEM GAMBLING HELPLINE
1-800-522-4700
The National Council on Problem Gambling operates the National Problem Gambling Helpline Network. The network is a single national access point to local resources for those seeking help for a gambling problem. The network consists of 28 contact centers that provide resources and referrals for all 50 states and US territories. Help is available 24/7 and is 100% confidential.