Established in 2020, The Border League provided high school players with a safe space to play in during the COVID-19 pandemic. Teams from all over the country whose state associations and local ordinances had shut down scholastic play flocked to Phoenix for a pre-season event that would serve as the only opportunity for many to play organized basketball until 2022. Now in its fourth year, The Border League has moved to Las Vegas and hasn't missed a beat.
With hundreds of teams coming from throughout the nation, the Border League offers nine different divisions of play. The GEICO Top Flight Invite has all of its games televised on the ESPN family of networks and were all played in the main gym at Bishop Gorman (Las Vegas). Given the abundance of talent spread throughout the event, for this piece we opted to focus on the players who raised their stock throughout the three-day event, whether it be through individual performance or simply surpassing expectations.
Here are a few of the players who helped themselves at the 2023 Border League Top Flight Invite:

Cooper Flagg, 6'9, PF, Montverde Academy (FL), 2024
In terms of efficiency, there wasn't anyone who brought more than Flagg. Leading Montverde Academy to the Border League Top Flight Invite title, the Maine native did just about everything in his power to make that No. 1 spot in 2024 untouchable. In terms of rankings, he doesn't have anywhere to move up to, but that doesn't mean he can't or isn't working to improve his level of play. His improved 3-point shooting on a shot with ideal elevation just completely takes his game to another level when you consider his ability to constantly exploit mismatches on the offensive end and change the game defensively. The top player on the top team in the country will be heading home on January 5th/6th to play in the "Maine Event," which will give his home state one final chance to see the best player ever to come out of The Pine Tree State. There is no doubt he could be this upcoming season's Mr. Basketball USA, even though the honoree from last season is back. Cooper was fourth in scoring at the event with a 19.0 ppg while converting an event best 22-of-29 field goal attempts (.759), including 5-of-7 3-pointers.    
Cameron Boozer, 6'9, PF, Christopher Columbus HS (FL), 2025
While much of the incoming chatter of the weekend had been about A.J. Dybantsa, fans and scouts left talking about the remarkable performance that Boozer had in Las Vegas. Reaching the championship at the GEICO Top Flight Invite, Boozer paced Christopher Columbus (the only traditional high school amidst the final four) and lived up to his reputation. Boozer is underrated creating for others, is perfectly comfortable shooting out to the three point line, and still utilizes his size to punish defenders in the paint. While most have donned Dybantsa atop the class of 2025, Boozer (who just turned 16 three months ago) is doing everything in his power to reclaim that number one spot with his recent play. There is no doubt he is the most dominant and productive player in his class. He certainly can be the national player of the year once again. Boozer led the event in scoring (25.0 ppg) and rebounding (13.3 rpg). 
Quincy Wadley, 6'4, PG/SG, Bishop O'Connell (VA), 2026
Known as a top-25 player in the class of 2026, Quincy Wadley is a name that has been known within basketball circles for some time. However, he is rapidly disproving the nation that he is merely a shooter. Wadley was outstanding running the show for Bishop O'Connell, controlling the offense as a playmaker while also maintaining his presence as a scoring threat from the perimeter. The son of former Temple All A-10 guard Quincy Wadley not only has a chance to follow in his father's footsteps as an elite player, but surpass them. Wadley was third in the event in scoring (19.7 ppg) behind Boozer and LABC's Trent Perry (20.3 ppg). 
Derrion Reid, 6'7, SF/PF, Prolific Prep (CA), 2024
Similar to some of the other five star players, it's hard to really raise your stock, but Derrion Reid undoubtedly locked up his spot in the McDonald's All American Game with his play at The Border League. The versatile forward showed an improved 3-point shot, was exceptionally active as a cutter/offensive rebounder, and used his agility to defend virtually every position. Reid has narrowed his list to Alabama, Florida State, and Georgia, all of which run systems conducive to a player of his skill set. From start to finish, he was Prolific Prep's best all-around player. 
Asa Newell, 6'9, PF, Montverde Academy (FL), 2024
It's hard to imagine a player ranked in the top-15 by virtually everyone raising his stock, but when you consider that Asa Newell didn't even start for Montverde Academy last season, it's certainly possible. Newell brought so much energy to the Border League on both ends of the floor with his ability to rim run, keep plays alive, and change the game with his versatility defensively. The lefty showed increased range and after starring on the New Balance circuit with 1 Family, has decided to narrow his list of schools to Alabama, Gonzaga, Georgia, and Texas. Newell was second in rebounding at the event behind Boozer at 10.0 rpg and ahead of teammate Cooper Flagg (8.7 rpg). 
Sammie Yeanay, 6'8, PF, AZ Compass Prep (AZ), 2024
A player whom I had only seen on one setting coming into the weekend, Yeanay helped himself as much as anyone in the Top Flight Invite. Playing with a high motor, the Florida native was an elite interior passer, ran the floor exceptionally well, and kept a ton of plays alive with his presence on the glass on both ends. Yeanay took an official visit to Florida last week and recently narrowed his list to eight schools.
Winters Grady, 6'6, SF, Prolific Prep (CA), 2025
Every elite team needs a role player, and Grady is exactly that guy for Prolific Prep. Far from merely a shooter, the Oregon product offers flexibility on the defensive end, is an outstanding cutter, and does a great job relocating to open spaces. The best player at the Crossroads Elite Invitational took on a new role at Prolific, but still showed the intangibles that will make him a high major prospect.
Ryder Elisaldez, 6'1, PG/SG, Bishop Gorman (NV), 2024
Amidst a rebuilding effort for Las Vegas powerhouse Bishop Gorman, Elisaldez showed that he could hold his own with the nation's finest. Ryder is an explosive athlete who can play both guard spots, is a competitive defender, and has shown the ability to finish with creativity in traffic. Having played for the Mexican National Team at youth levels, Elisaldez has the potential to be an immediate impact player at UC San Diego.
Jadyn Harris, 6'6, SF, Bishop O'Connell (VA), 2024
Ten years ago, Jadyn Harris would have been considered a "tweener". In today's era of basketball, he is a "do-it-all" forward. Able to play both inside and out, Harris brings the versatility that college coaches dream of. He is a capable 3-point shooter, outstanding interior passer, and brings the toughness to defend a multitude of positions. Toss in that he is a great rebounder from the perimeter and you see why the Team Durant product is one of the best players left on the board in the DMV.
Randy Smith, 6'3, PG/SG, Christopher Columbus HS (FL), 2024
Making the transfer from Palmetto HS (FL), Smith is finding his role with the defending state champions, but has immediately made his impact. He is a sturdy guard who is a physical defender, is an outstanding rebounder from the backcourt, and can finish through contact against anyone. Still wide open in terms of his recruitment, Randy will undoubtedly have no shortage of opportunities to showcase his talent playing at Christopher Columbus.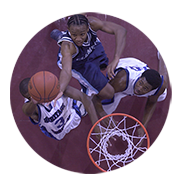 Want more on this article?
Ask a question or start a conversation in the BALLISLIFE Forum!
Click Here!