Twitter: @GGirlSports
The WNBA All-Star weekend was certainly an exciting one, where Team Steward defeated Team Wilson, 143-127. Jewell Loyd made history with a record of 31 points in a single All- Star game.  In addition, Sabrina Ionescu made NBA and WNBA history with 37 points in the three-point contest.  Now that the All-Star break is over, I will break down the daily odds, stats, and my best predictions in this article.  The Minnesota Lynx will matchup against the Atlanta Dream, and the Connecticut will play the Phoenix Mercury on the road. If you're interested in watching and betting, the matchups will air on NBA TV and CBSSN.  If you are looking for the best betting odds, stats and analysis, here is information to know.
Daily Matchups & Odds
*Odds courtesy of Draft Kings*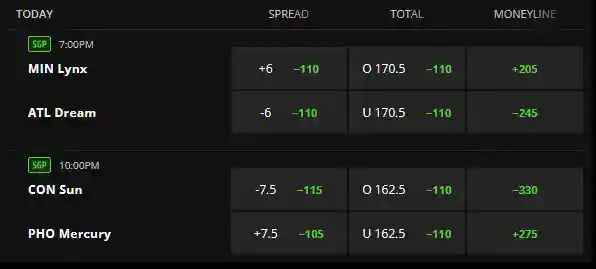 | | | |
| --- | --- | --- |
| Team | Connecticut Sun | Phoenix Suns |
| Record | 15-5 | 4-15 |
| Away/Home | 8-2 | 3-6 |
| Last 10 days | 7-3 | 2-8 |
| Streak | W3 | L1 |
| Last Game | Connecticut 84, Chicago 72 | Las Vegas 98, Phoenix 72 |
Connecticut Sun -7 (-115)
Connecticut Sun Stats
ATS Record: 11-8-1
Over/Under Record: 13-7-0
Last 10 ATS: 6-4
Offensive Rating: 106.4 (3rd)
Defensive Rating: 99.3 (3rd)
Points Per Game: 84.8
Opponent Points Per Game:  79.1
3PT Percentage: 36.4 (4th)
This will be the first matchup of the season between these two teams, and the Mercury will take on the Suns at Home.  The Connecticut Sun have the third best record in the WNBA (15-5) and are 7-3 in their last ten games.  In addition, Connecticut covered the spread in three straight games, and rank top three in defensive and offensive efficiency.  In addition, the Sun rank 3rd in point differential (+5.7), and their only losses came against the New York Liberty, and Las Vegas Aces, the top two teams in the league.  Connecticut is a stacked team, led by All-Stars DeWanna Bonner and Alyssa Thomas.  Their only -10.5 covered spread came against the Seattle Storm, who are 4-16. Overall, Connecticut is 4-0 ATS vs teams who have losing records.
Phoenix Mercury Stats
ATS Record: 6-13-0
Over/Under Record: 9-9-1
Last 10 ATS: 3-7
Offensive Rating: 98.1 (11th)
Defensive Rating: 109.7 (12th)
Points Per Game: 76.7
Opponent Points Per Game:  85.8
3PT Percentage: 31.1 (T10)
The Mercury sit at 4-15 and have the second worst record in the WNBA. Furthermore, Phoenix is 2-8 in their last ten, and are coming off a 98-72 loss against the Las Vegas Aces.  In addition, the Mercury are 2-5 in their last five against the spread and rank last in points scored (76.7).  Also, Phoenix's four wins came against the Fever, Sparks, and Minnesota who are all sub .500 teams.  In their last 10 games, the Mercury covered against a very good Liberty team, however, failed to cover against Seattle, Minnesota, and Dallas. Overall, Phoenix is not a good team at home, and rank near last in offensive and defensive efficiency.
The upside is that Diana Taurasi, a UConn and Mercury legend, is approaching 10,000 career points. Taurasi, 41, is only 86 points away from that historic record. Besides Brittney Griner and Taurasi, there are not a ton of high scoring options on this Mercury team. 7 is a large spread, and Connecticut covered over 7 once in the last 10 games.  Phoenix ranks near last in rebounds, 3-point percentage, and turnovers. The Suns are absolutely the better team in this matchup.  
Suns vs. Mercury Over 162.5 (-110)
In this matchup, we are talking about the 3rd best team, the Connecticut Sun vs. one of the worst teams in the league, the Phoenix Mercury.  The Sun hit the over 7 times in their last game, specifically against Chicago, and Seattle (twice), both teams that are sub .500.  It's important to point out, the Storm have a terrible record, and were able to hit the over twice against the Suns.  On the other hand, Phoenix hit the over 5 times in their last 10 games, specifically against the Liberty and Aces(twice), who are the top two teams in the WNBA.
Lynx vs. Dream Under 170.5 (-110)
Atlanta Dream: O/U: 10-10-0
Minnesota Lynx: O/U: 12-7-0
The Minnesota Lynx (9-11, 5-4 Away) will matchup against the Atlanta Dream (11-8,4-5 Home).  The Atlanta Dream hit the under for three straight games versus the Storm, and Skym twice.  Although Atlanta hit the over 6 times in their last 10, their head-to head stats with Minnesota make it clearer.
| | | |
| --- | --- | --- |
| Team | Minnesota Lynx | Atlanta Dream |
| First Q winner | 5/7 | - |
| First Q Loser | - | 5/7 |
| Points Scored (L10) | 80 | 76 |
| Game Points (AVG L 10) | 157 between the two teams | - |
It's important to look at the head-to-head matchups when analyzing any totals.  Although Minnesota hit two straight overs and hit the over 6 out of their last 10, their head-to-head stats say it all.  In their last 10 matchups, both teams average only 157 points, along with the Dream averaging 76, and Atlanta 80.  Atlanta may be the 3rd highest scoring team in the WNBA (86.60, however they allow the most points per game (86.4). 170 is a high total for two teams have different play styles and are inconsistent. I'll take the under here.
Stay tuned for more NBA Summer League and betting related articles. Click here for more WNBA betting strategies.
For More NBA Betting Info & Game Predictions, Follow us at @BallislifeBets.
Sara Jane is a full-time content creator, with a focus in the NFL, NBA, WNBA, NCAA Basketball and Football. Sara is also writer at Ballislife.com. Don't forget to follow her on all socials:  Twitter/YouTube/Kick/Twitch/Instagram: @GGirlSports.
NATIONAL PROBLEM GAMBLING HELPLINE
1-800-522-4700
The National Council on Problem Gambling operates the National Problem Gambling Helpline Network. The network is a single national access point to local resources for those seeking help for a gambling problem. The network consists of 28 contact centers that provide resources and referrals for all 50 states and US territories. Help is available 24/7 and is 100% confidential.