"Now I know why they call him Dwight. Because Da white man always getting rid of you."
If you thought DC Young Fly and Charlie Clips were harsh while roasting Dwight Howard on the latest episode of Wild 'N Out, they were being nice compared to Shaq's latest roast of the Wizards' new center who is on his fourth team in two years after spending the first decade of his much-criticized but Hall of Fame-worthy career being a bootleg version of Shaq.
The roast came after Dwight Howard saw and replied to Shaq's Instagram post of the Wild 'No Out video.
"We can have a roast battle if you want. I got 10 in the chamber for you LOL."
As expected, the original Superman of the basketball world wasn't going to let his favorite player to mock call him out.
"I only battle champions Lil man, you ain't in my division, you in Charles Barkley's division. Focus on getting that ring brother."
Since the Wizards have absolutely no shot at winning a ring in the near future and Dwight is running out of teams to piss off, he might as well do what Blake Griffin has been doing and focus on being the next Jeff Ross.
But Dwight did respond to Shaq calling him a "lil man" by posting this video of Shaq flopping.
https://www.instagram.com/p/BoF2m-1nkwy
SHAQ VS DWIGHT HISTORY
So why does Shaq seem to hate Dwight so much?
26 year ago, when Shaq was a rookie in Orlando, the "O-Arena" would put up a Superman logo on the scorers table every time O'Neal dunked in a game (which was a lot). The logo obviously represented the dominant Magic center, who also had a Superman tattoo, ring and license plate on his car. When Shaq left Orlando and joined a rookie Kobe Bryant in Los Angeles, he continued to use the Superman name and even used the Man of Steel's theme music on the intro track to his first rap album that came out while he was with the Lakers. So it's no surprise Shaq never cared for Dwight, an Orlando Magic lottery pick who also called himself Superman (won a dunk contest while wearing a Superman cape) and later became teammates and enemies with Kobe in LA.
Since his retirement, Shaq never passed on an opportunity to diss Dwight on TV shows, podcasts, in interviews, in rap songs, and anywhere else he could. He even once posted a photoshopped image of himself in a Magic uni dunking on Dwight Howard with the caption, "There can only be 1 Superman !!! #ME"
Let's look back at few videos of basketball's real Superman and the man who tried (intentionally or not) to follow in his footsteps, starting with this classic 2007 video of "the last Don Dada of Big Men" letting LeBron and Dwight know he's the greatest battle dancer in NBA history too.
2007: DANCE BATTLE
2009: DWIGHT IMPERSONATES SHAQ
Dwight does an awful impersonation of Shaq on IBeatYou.
2010: OLD SHAQ VS PRIME DWIGHT
38-year-old Cavs Shaq scores 20 and dunks on All-NBA 1st team Dwight.
2011: DWIGHT DISSES SHAQ
Dwight says Shaq's former teammate, Penny Hardaway, is the only reason he knew about the Orlando Magic.
2012: BROOK LOPEZ IS BETTER
Shaq discusses Dwight and says Brook Lopez is better on Open Court.
2012: COMEDY FREESTYLE
Shaq takes a shot at Dwight while freestyling on the Comedy Shaq Network.
2014: THERE CAN ONLY BE ONE
Shaq posted this to his IG and Facebook accounts.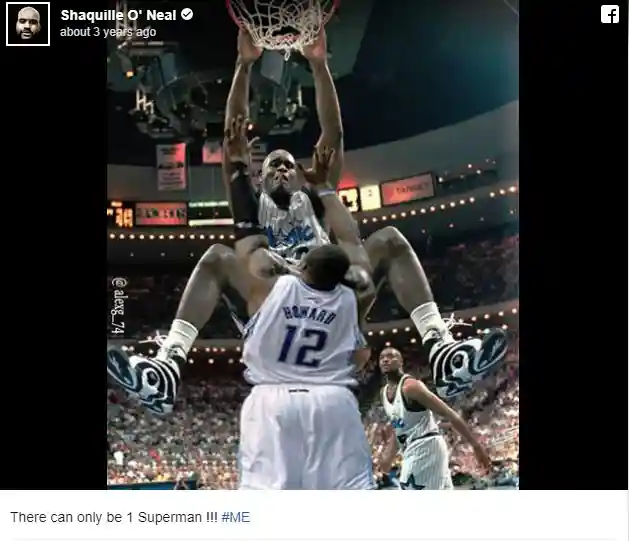 2014: MOTIVATION?
Shaq says he's trying to motivate Dwight with his criticism.
2017: SHAQTIN' A FOOL
Shaq roasting Dwight Howard on Shaqtin' A Fool
2017: ANOTHER DISS TRACK
"The last man to call himself Superman still ain't got no rings!"
Shaq takes a shot at Dwight while making a diss song about rapper Big Shaq aka Fake Shaq .
2018: DWIGHT'S IMPERSONATIONS
The Inside the NBA crew rates Dwight's awful impersonations of Charles Barkley and Shaq during All-Star weekend. Shaq gave him a zero.
2018: THE DWIGHT TRIBUTE
Shaq & Barkley crack up about the Hawks making a tribute video for Dwight Howard
2018: WILD 'N OUT REACTIONS