Ballislife Presents: Bay vs. LA Showcase + Clash of the Stars Basketball Games
Some of the world's most popular digital influencers are set to participate in a celebrity basketball game at the Cerritos College in Norwalk, Calif. Preceding the Clash of the Stars (celebrity influencer game) will be The Bay vs. LA Showcase featuring the best high school players from each region. Visit bayvsla.com for more info

RELATED: 2019 Bay vs. LA Ticket Info | 2019 Bay vs. LA Announcement | 2018 Bay vs. LA Recap
From the team that produces the Ballislife All-American Game and other popular basketball franchises, Ballislife announces the rosters for the second annual Bay vs. LA Showcase + Clash of the Stars basketball showcase. This year's event will be held at Cerritos College in Southern California on August 25 at 3 pm PT (6 pm ET).
The double header will begin with The Bay vs. LA Showcase featuring many of each region's top high school basketball players. The two regions have a long-standing rivalry and each has produced some of the most legendary figures in basketball.
Current college-committed standouts slated to play include Team L.A.'s Ian Martinez and Judah Brown. Martinez, from JSerra (San Juan Capistrano, Calif.) is headed to Utah while Brown, from Pacifica Christian (Newport Beach, Calif.), is headed to St. Mary's. Team LA also includes Shaqir O'Neal of Crossroads (Santa Monica, Calif.), the son of NBA Hall of Famer Shaquille O'Neal, and 6-foot-11 Makur Maker, who 247Sports.com ranks as the No. 2 overall prospect in the 2020 national class. The SoCal team also has one tenth-grader (2022) on its roster in highly-regarded Skyy Clark of Heritage Christian (Northridge, Calif.).
Team Bay is led by 2018 team MVP Robby Beasley of Dougherty Valley (San Ramon, Calif.), who had 18 points, nine rebounds, two assists and two steals to lead a big NorCal comeback that just came up a few points short (122-116). Team Bay also includes Arizona-bound guard Dalen Terry of Hillcrest Prep (Phoenix) via Madera, Calif., and UNLV-bound center Jhaylon Martinez of Dream City Christian (Phoenix) via Vallejo, Calif. Beasley and Martinez are two of the four returnees for Team Bay. The other two are Xavion Brown of defending CIF NorCal champ Sheldon (Sacramento, Calif.) and Coleman Hawkins of Prolific Prep (Napa, Calif.) via Sacramento, who had 12 points, six rebounds and two assists in last year's contest.
The Clash of the Stars (celebrity game) (5 pm PT/ 8 pm ET) pits two teams of digital influencers against one another. Headliners slated to participate are Jesser (2.36 million Subs, 697 million views, 592k IG followers) and Kris London (1.9 million Subs, 263 million views, 530k IG followers). In all, participants slated for The Clash of the Stars game account for over 10.7 million IG followers.
The complete rosters for the high school game are announced below: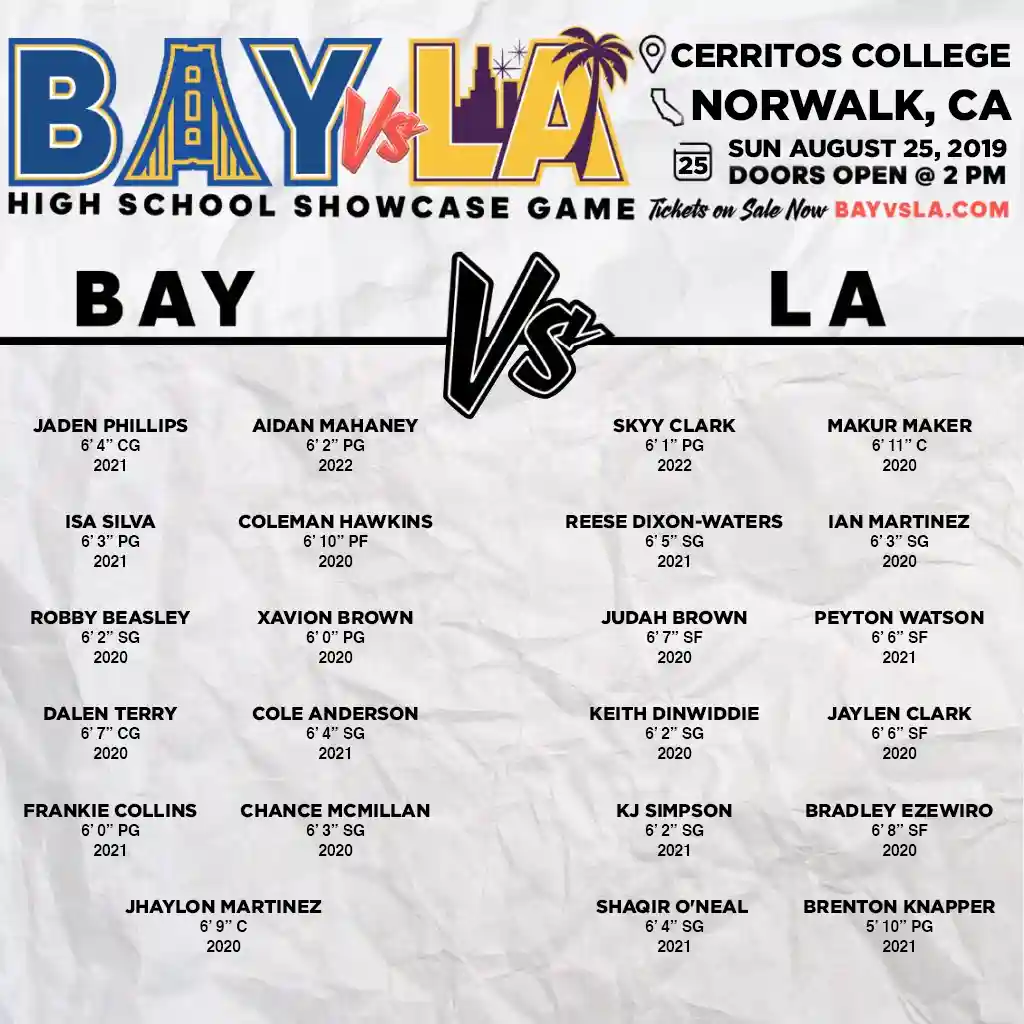 Tickets (1 for $20, 2 for $30, first come, first serve general admission) for the Bay vs. LA Showcase + Clash of the Stars can be purchased at: bayvsla.com
Visit the website for VIP /Courtside seating options and for additional participant and venue info.
About Ballislife
Created in 2005 as a brand highlighting basketball players on its platform, Ballislife has grown from a "Mixtape" outlet to respected basketball apparel, media and event management company. In that time, the Southern California-based company has covered nearly every major high school and grassroots basketball event and today produces and shares content frequently featured on top news websites such as the New York Times and television shows such as ESPN's SportsCenter. Ballislife's social networks are followed by millions of fans and its content has produced over 500 million views on YouTube and another 25 million annually on Ballislife.com. Its website is home to the respected FAB 50 National Team Rankings (which have been produced since the 1987-88 season) and the company has created and executed events such as the annual Ballislife All-American Game, Ballislife Jr. All-American Camp, and Eastbay Funk Dunk Contest.