Twitter: @GGirlSports. 
Both the California Classic and Salt Lake City Summer leagues have ended, and the 2K24 Summer League starts tonight with all 30 teams.  In addition, summer league will be held in Las Vegas, and will run from July 7th to July 17th.  It gives rookies, undrafted, second year, G-League, and international players a chance to show case their talents.  Furthermore, this is the biggest stage for players to prove themselves to an NBA team.  The Semifinals will start July 16th, and one team will be named champion on July 17th. With that said, some states are able to bet on the MVP and the future winner of the Summer League. If you are looking for the best betting odds and stats, here is information to know.
2023 NBA Summer League Championship Odds
*Odds Courtesy of Draft Kings*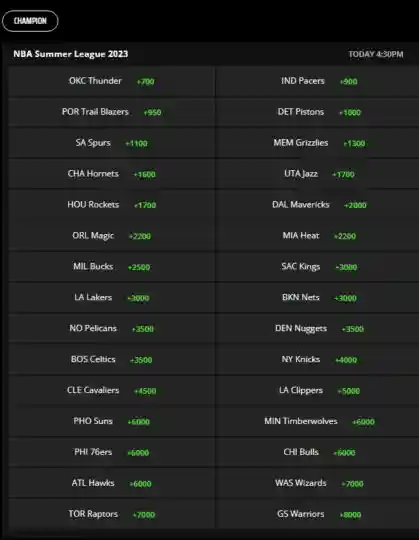 Teams to watch out for:
Oklahoma City Thunder +700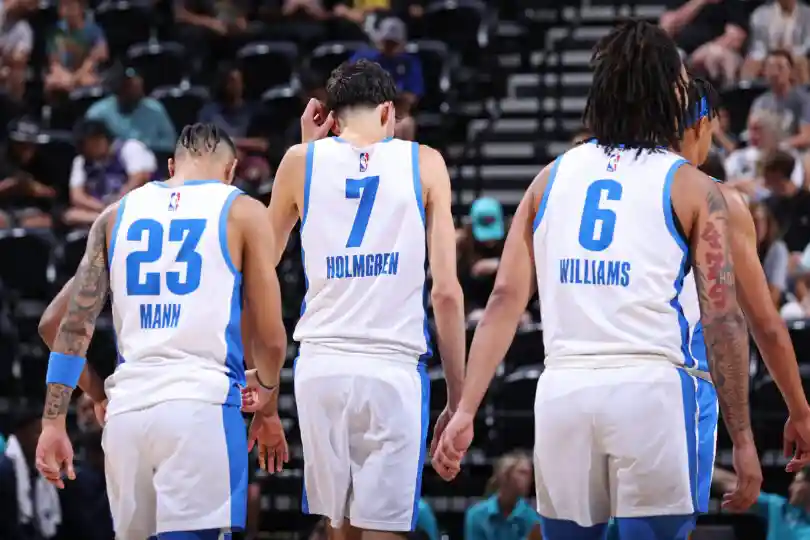 The Oklahoma City Thunder finished strong in the Salt Lake City Summer League defeating the 76ers 100-91. The Thunder finished the tournament 2-1 and have the most NBA experience in the summer league, including players with playoff experience.  In their final game against Utah, the Thunder shot 42 percent from the three, and got big production from Chet Holmgren, Ousmane Dieng, Tre Mann. It's important to note, Jalen Williams and Jaylin Williams did not play last night.
The Oklahoma City Thunder are one of the most youthful, talented teams in the league.  Full of draft picks, the Thunder head up the next generation of basketball.  Both Jalen Williams, Tre Mann, Ousmane Dieng, and Jaylin Williams, and Jared Butler started a combined 131 career games in the NBA. This doesn't include the 2022 former second overall pick Chet Holmgren, who failed to see NBA action last season due to a right foot injury.
Oklahoma City surprised many and snuck into the NBA Play-in Tournament last season.  The Thunder beat the New Orleans Pelicans in the first game, in which both Jaylin and Jalen Willams started.  Unfortunately, Oklahoma City went on to lose against the Timberwolves in the second game of the Play-in tournament.
Now that big man Chet Holmgren is healthy, I think this team will dominate in the summer league.  It's important to note, Jalen Williams was out with a left glute injury, and Jaylen Williams with knee soreness. The Thunder have the best odds to win it all for a reason.  Alongside their core group, they have size, and depth.  Also, look for Tre Mann to continue his impressive gameplay. If Jalen Williams is able to play, it would almost seem unfair to other teams.  We will see how it plays out.
San Antonio Spurs +1100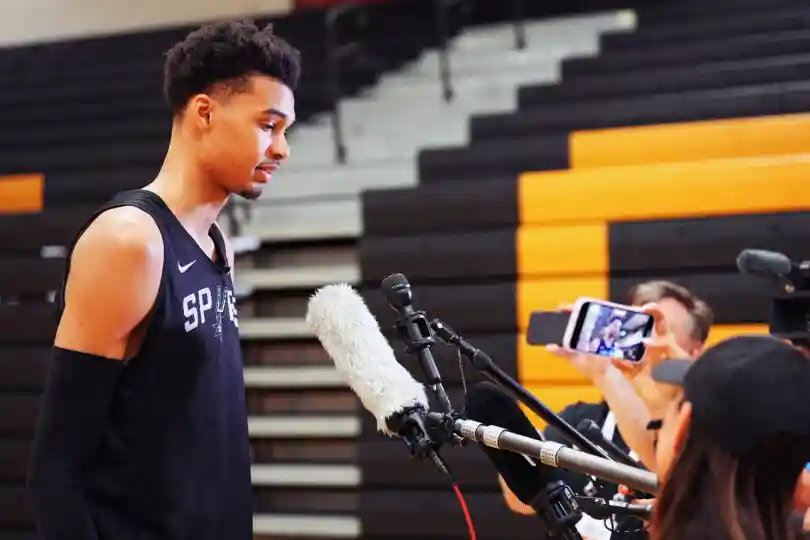 The 2023 number one overall pick Victor Wembanyama will make his debut tonight and held out playing in the California Summer Classic. The Spurs finished 2-0 in the California classic and impressed against the Charlotte Hornets and Los Angeles Lakers.  Wembanyama is a generational talent, and it's hard not to pick the Spurs as one of my top favorites to win it all.  Besides Chet Holmgren, who stands at 7 foot 1, the Spurs have all the teams beat in size.  San Antonio has depth and have a promising young core of players. 
This summer, the Spurs are led by Julian Champagnie and Dominick Barlow, who both have NBA experience.  They both dominated in the first game, Champagnie with 28 points, and Barlow with 26 points. Both players possess good size, and Champagnie shot at least 50 percent from the three in both games.  In addition, they both played great defense, and were able to snag rebounds.  San Antonio has guard Blake Wesley, who has 37 NBA games played under his resume.  He impressed in two games in the summer classic, and nearly averaged 20 points a game in both.  
The expectations are very high for Victor Wembanyama this summer, in what will be one of the most anticipated summer league game in history. Having played in France, Wembanyama is NBA ready defensively and offensively.  I wouldn't be surprised if we see great performances from the 44th overall pick Sidy Cissoko.  
Detroit Pistons +1000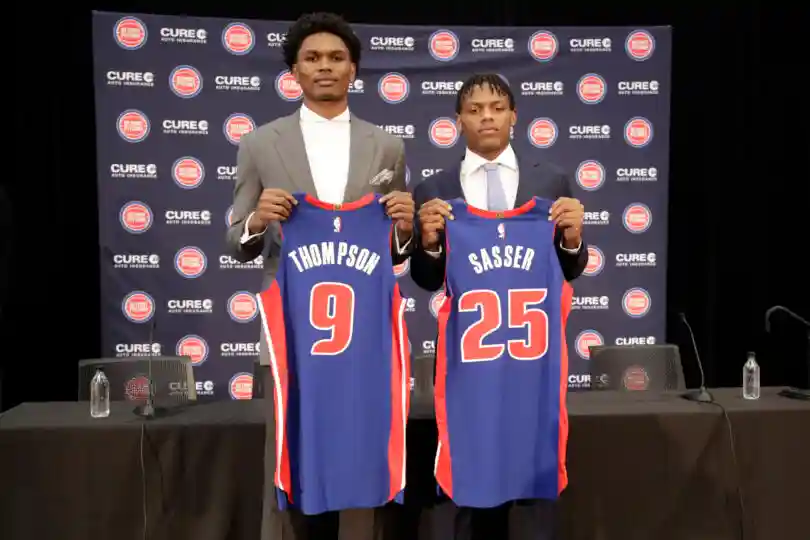 The Detroit Pistons are one of my favorites to win the Championship in Vegas and have a very talented and promising group of players as well.  The Pistons have NBA experience in second year players Jalen Duren and Jaden Ivey.  In addition, they will have the 5th overall pick Ausar Thompson, and 25th pick Marcus Sasser out of Houston.  Both Ivey and Duran were incredible to watch down the stretch last season, and I'm looking forward to them playing alongside Sasser and Thompson.
I fully expect Jalen Duren and Jaden Ivey to set the tone for the rest of the team.  The Pistons are intriguing due to the fact both Thompson and Sasser have yet to play an official NBA game.  Other players listed on the roster include James Wiseman, who's entering his fourth NBA season.  Wiseman was hampered with a knee injury, and now gets a chance to prove his talents to the Pistons.  Although we don't know how this team will play together, the Pistons have an opportunity to grow and develop chemistry between rookies and second year players.  To me, all eyes are on Thompson, who was selected 5th overall. Some say he may not be "as good" as his twin brother Amen, however, he will an immediate defensive impact on this Detroit team.  
If you want to learn about future bets, Click Here
For More NBA Betting Info & Game Predictions, Follow us at @BallislifeBets.
Sara Jane is a full-time content creator, focusing on both college basketball, the NBA, NFL, and writer of Ballislife.com. Don't forget to follow her on Twitter/YouTube/Kick/Twitch/Instagram: @GGirlSports.
NATIONAL PROBLEM GAMBLING HELPLINE
1-800-522-4700
The National Council on Problem Gambling operates the National Problem Gambling Helpline Network. The network is a single national access point to local resources for those seeking help for a gambling problem. The network consists of 28 contact centers that provide resources and referrals for all 50 states and US territories. Help is available 24/7 and is 100% confidential.