Twitter: @GGirlSports
The 2K24 Summer League is officially underway in Las Vegas, and it was an exciting first night.  30 NBA teams will compete against each other, and one team will be crowned champion in mid-July. In case you missed the last article, we broke down the betting odds which team will win the Summer League Championship.  In various sportsbooks, bettors are able to bet on player props, in addition to future bets.  For this article, let's break down the odds and stats for the Summer League MVP.   If you are looking for the best betting odds and stats, here is information to know.
NBA 2K24 Summer League MVP Odds:
*Odds Courtesy of Draft Kings*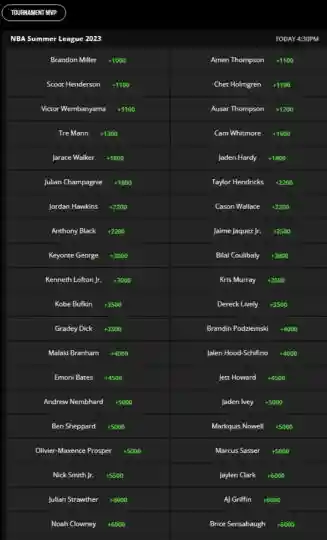 While there are many candidates, we will breakdown our favorites to win the MVP trophy. I have excluded Scoot Henderson and Amen Thompson, due to their possible injuries in week 1.  Hopefully none of their injuries are serious, however, when it comes to betting, it would be risky to put any wager on them at this time.  
Chet Holmgren, Oklahoma City Thunder: +1100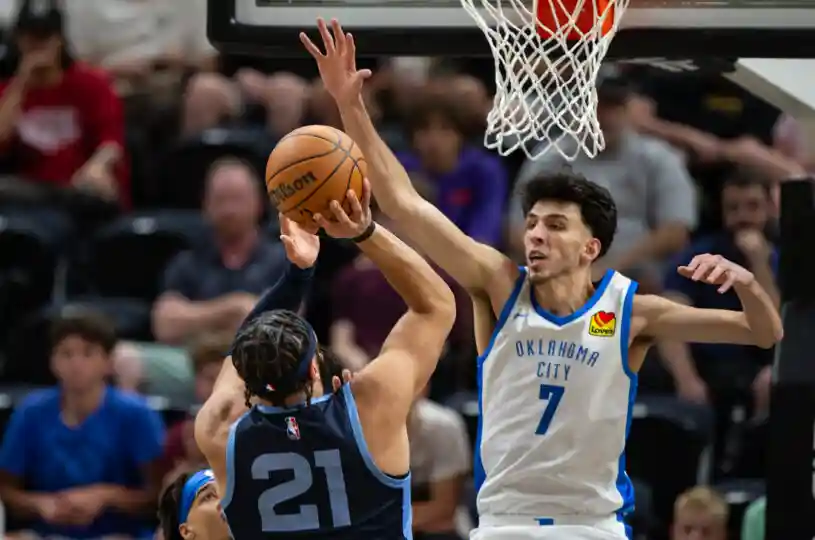 Center Chet Holmgren stands at 7 foot 1 and was drafted 2nd overall in 2022 draft by the Oklahoma City Thunder.  This is a crucial time for Holmgren, who was out for the entire 2022-2023 season due to a Lisfranc injury on his right foot.
Although Holmgren was out last game against the 76ers, he had two decent games in the Salt Lake City Summer League.  In 2 games played, Holmgren failed to find his three-point stride, however, was a force on the defensive end.  In addition, Chet averaged 3.5 blocks, which was more than any other player in the Salt Lake City Summer League.  Furthermore, Holmgren had 4 blocks in his return against the Utah Jazz.
Mentioned before, Chet Holmgren looked rusty shooting wise, however that was to be expected.  In his second game against Memphis, Holmgren had a double-double, finishing with 11 rebounds and 10 points.  He was fantastic on the defensive end, adding 3 blocks and 2 steals.  
Overall, it's hard to say how much the Thunder will utilize Chet Holmgren in the summer league.  He's on an already loaded roster, which means shots will also go to Jaylen Williams, if healthy, Tre Mann, Jared Butler, Jaylin Williams, and Ousmane Dieng.  If Holmgren can find his shooting stride and limit his turnovers, I like his chances due to the impact he has on both the offensive and defensive side of the ball. He has the ability to be an elite rim protector, who can handle and ball, attack and rim, and shoot from outside.  In addition, he played nearly 30 minutes, which was 3rd best in Salt Lake City.  Chet Holmgren is a second-year player who I think will do very well in the Vegas Summer League. 
Salt Lake City Summer League Stats:
Min: 29.8 | PPG: 12.5 | FG: 40.9 % | 3 PT: 0 % | FT: 70 % | REB: 10 | AST: 1.5 | STL: 1.0 | BLK: 3.5 | TO: 4.5 

Victor Wembanyama, San Antonio Spurs: +1100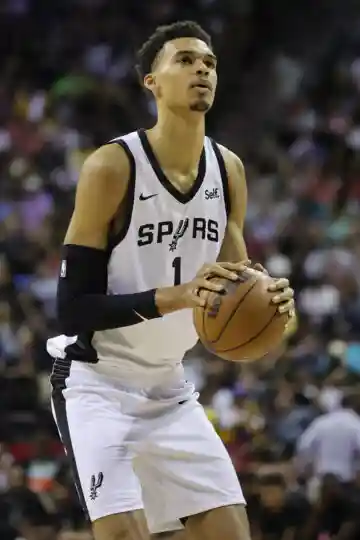 This year's first overall pick Victor Wembanyama made his NBA Summer League debut last night against the Charlotte Hornets.  It was in fact one of the most anticipated summer league debuts in NBA History, and the arena's 18,000 capacity was mostly full.  Wembanyama missed the California Summer Classic League, which was held July 3rd through July 6th.
In his first unofficial summer league game, Wembanyama did struggle in some regards.  He finished the night on 2-13 shooting and grabbed 8 rebounds.  In his first game, he passed well, and created great screens.  If his shot didn't fall, he immediately went into facilitator mode.  Wembanyama stated post-game, " I didn't really know what I was doing on the court, but I'm trying to learn, (Bleacher Report)."  Although Wembanyama missed a layup, shot an airball and looked lost at times, he has incredible NBA IQ, and played solid defense with 5 blocks.  Victor Wembanyama also commented on his conditioning and stated "running up and down the court left him exhausted every time he was subbed out. "(Rachel Nichols).  Perhaps as time goes on, Wembanyama will get more comfortable with his size, speed and agility.
It's easy to see why Victor Wembanyama would be one of the top picks for the summer league MVP.  He was the number 1 overall pick, and has elite size, talent, and has the potential upside to be a generational talent in the NBA.  In addition, Wembanyama is a difference maker for any team just with his presence.  His height gives him defensive upside and he has the ability to knock down three-point shots.
2K24 Las Vegas Summer League Stats:
Min: 27.5 | PPG: 9 | FG: 15.4% | 3 PT: 16.7 % | FT: 100 % | REB: 8 | AST: 3 | STL: 0 | BLK: 5 | TO: 3
Tre Mann, Oklahoma City Thunder: +1300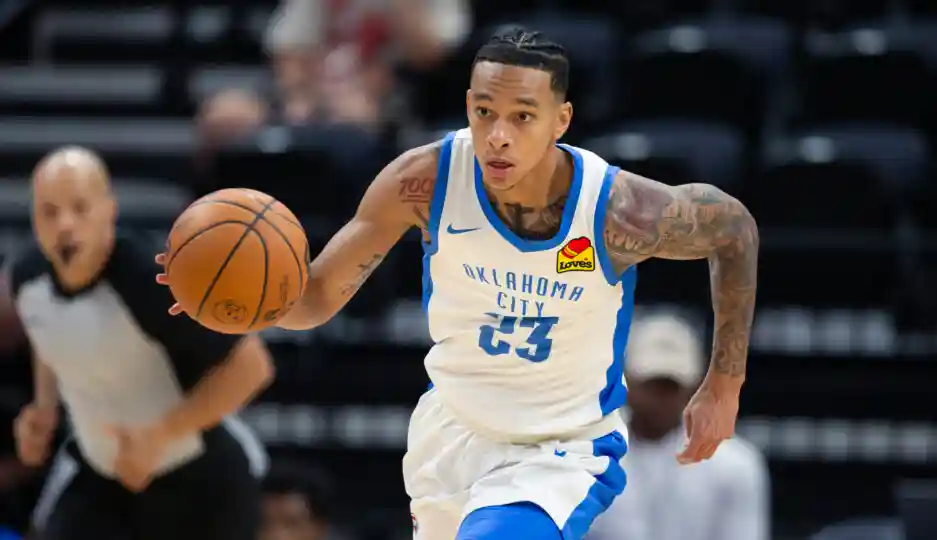 Tre Mann is one of my favorites to win the Summer League MVP at +1300 Odds.  A former 18th overall pick in the 2021 draft, Mann averaged over 7 points last season with the thunder.  Also, he brings a variety of skill sets and experience to an already loaded OKC summer team.
Mann has advantage over many players in the summer league, and that's NBA playing time and experience.  He recorded his first ever triple double in the last game of the NBA season, and I would say he's too good for summer league.  Although Mann stands behind Josh Giddey and Shai Gilgeous-Alexander, he is an excellent guard.  He's impressed in every aspect this summer, is known for his jumpers, and looks like an established NBA player.
Following a disappointing sophomore season, Mann is making headlines this summer.  He's shot 42 percent from the three in the Salt Lake City and has earned the nickname "microwave scorer."  In addition, Mann is a guard who has the ability to facilitate, has a smooth shot, and is able to create space and attack in the lane.  We've seen him dunk over players and hit the easy layups as well.  In addition, Mann led all players in Salt Lake City with 23 points per game, and minutes played, and grabs boards for his size. With out without Jalen and Jaylin Williams in the lineup, Tre Mann is an absolute stud on the court this summer. 
Salt Lake City Summer League Stats:
Min: 31.7 | PPG: 23.7 | FG: 54.5 % | 3 PT: 41.7 % | FT: 76.5 % | REB: 6.3 | AST: 3 | STL: 1.7 | BLK: 0.3 | TO: 4.3
Brandon Miller, Charlotte Hornets:  +1000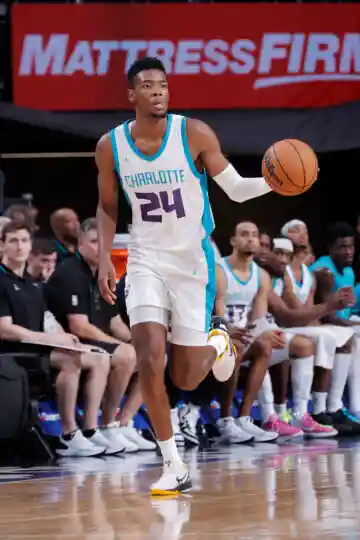 Brandom Miller was selected 2nd overall by the Charlotte Hornets, and currently is favored to be the summer league MVP at +1000 odds. Although Miller has a slow start his first game against the Spurs in the California league, his game improved.  In his first game, Miller scored 18 points, however committed 8 fouls and 6 turnovers.  On top of that, the Hornets got blown out by the Spurs.  In Miller's second game against Golden State, he shot more efficiently, however, only produced 6 points. In 28 minutes on the Miller was negative 22 on the floor, and only attempted 4 shots.
Last night was the first night of the Vegas summer league, and Brandon Miller faced fellow rookie Victor Wembanyama. He scored 16 points, grabbed 11 rebounds, had 3 steals and 1 block in 31 minutes.  Although Miller hit two of his three-point shots in the first quarter, he went cold, and shot well under 35 percent from the field and three.  
Although Miller struggled at times, he had incredible rebounding numbers, especially since they played against Wembanyama.  His shots weren't falling per say, however, the aggressiveness and shot volume increased this game.  This is a sure sign that Miller is moving forward, and if he can get his shots to fall, he has the ability to be the MVP of the league. Along with that, Miller needs to limit his fouls committed.  Brandon Miller is an extremely talented player, who has the size and strength to be an elite offensive player in the NBA.  Can Miller live up to the expectations to be the favored MVP of the summer league?
California Classic Summer League Stats:

Min: 29.4 | PPG: 12 | FG: 46.7 % | 3 PT: 44.4 % | FT: 75 % | REB: 4.5 | AST: 5 | STL: 1 | BLK: 0.5 | TO: 4.5
2K24 Vegas Summer League Stats:
Min: 31.1| PPG: 16 | FG: 33.3 % | 3 PT: 30 % | FT: 50 % | REB: 11 | AST: 1 | STL: 3 | BLK: 1 | TO: 1
Julian Champagnie, San Antonio Spurs: +1800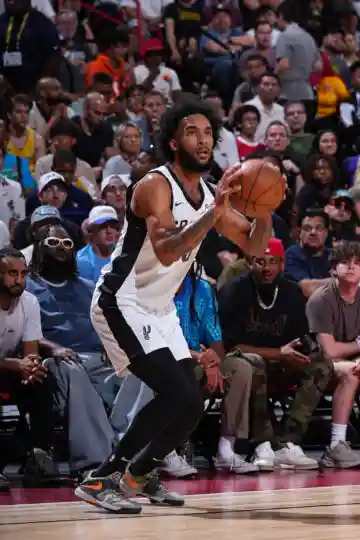 Julian Champagnie was a former 2022 undrafted player, who averaged 9.7 points, and shot 45.4 percent in 17 games with the Spurs.  In those 17 NBA games, Champagnie is a career 40 percent three-point shooter, and averages 3.5 rebounds.
Julian Champagnie was one of the most elite players in the California Summer Classic.  In 2 games, he averaged nearly 30 points per game, 2 steals, and 6.5 rebounds. In addition, he shot an incredible 45.5 percent from the three, and 87.5 percent from the free-throw line.
The addition of Victor Wembanyama did not stop the production of Julian Champagnie.  Last night he scored 20 points in 30 minutes, grabbed 8 rebounds, dished out 6 assists, and had 1 block. In addition, he shot 40 percent from the three, and attempted 15 shots overall.
Julian Champagnie has been more than impressive this summer.  The sharpshooter has great size and is a player that plays both sides of the ball.  He's playing exceptionally well and has NBA experience.  He stole the spotlight from Victor Wembanyama, and I expect him to continue his hot streak.  He dunks over people, creates his own shot, defends, and is ready to catch and shoot. Champagnie is very talented 3-level scorer and is a great candidate for MVP. My only concern would be if Wembanyama increases his minutes and productions, what would that mean for Julian?
California Classic Summer League Stats:

Min: 29.9 | PPG: 29 | FG: 45.9 % | 3 PT: 45.5 % | FT: 87.5 % | REB: 6.5 | AST: 1 | STL: 2 | BLK: 1 | TO: 1
2K24 Vegas Summer League Stats:
Min: 30. 2 | PPG: 20 | FG: 46.7 % | 3 PT: 40% | FT: 66.7 % | REB: 8 | AST: 6 | STL: 0 | BLK: 1 | TO: 2
Other Picks:
Ausar Thompson, Detroit Pistons: +1200
Jaden Harvey, Dallas Mavericks: +1800
Max Christie, Los Angeles Lakers
If you want to learn about future bets, Click Here
For More NBA Betting Info & Game Predictions, Follow us at @BallislifeBets.
Sara Jane is a full-time content creator, focusing on both college basketball, the NBA, NFL, and writer of Ballislife.com. Don't forget to follow her on Twitter/YouTube/Kick/Twitch/Instagram: @GGirlSports.
NATIONAL PROBLEM GAMBLING HELPLINE
1-800-522-4700
The National Council on Problem Gambling operates the National Problem Gambling Helpline Network. The network is a single national access point to local resources for those seeking help for a gambling problem. The network consists of 28 contact centers that provide resources and referrals for all 50 states and US territories. Help is available 24/7 and is 100% confidential.