In a much-anticipated first game of the WNBA Finals, the Las Vegas Aces defeated the New York Liberty 99-82. After a monstrous second half, the Aces trio of guards combined for 72 points. Unable to get stops on defense, the Aces scored nearly 100 points, on 40.9 three-point field goal shooting. Game two will take place on Wednesday, Oct 11 in Las Vegas.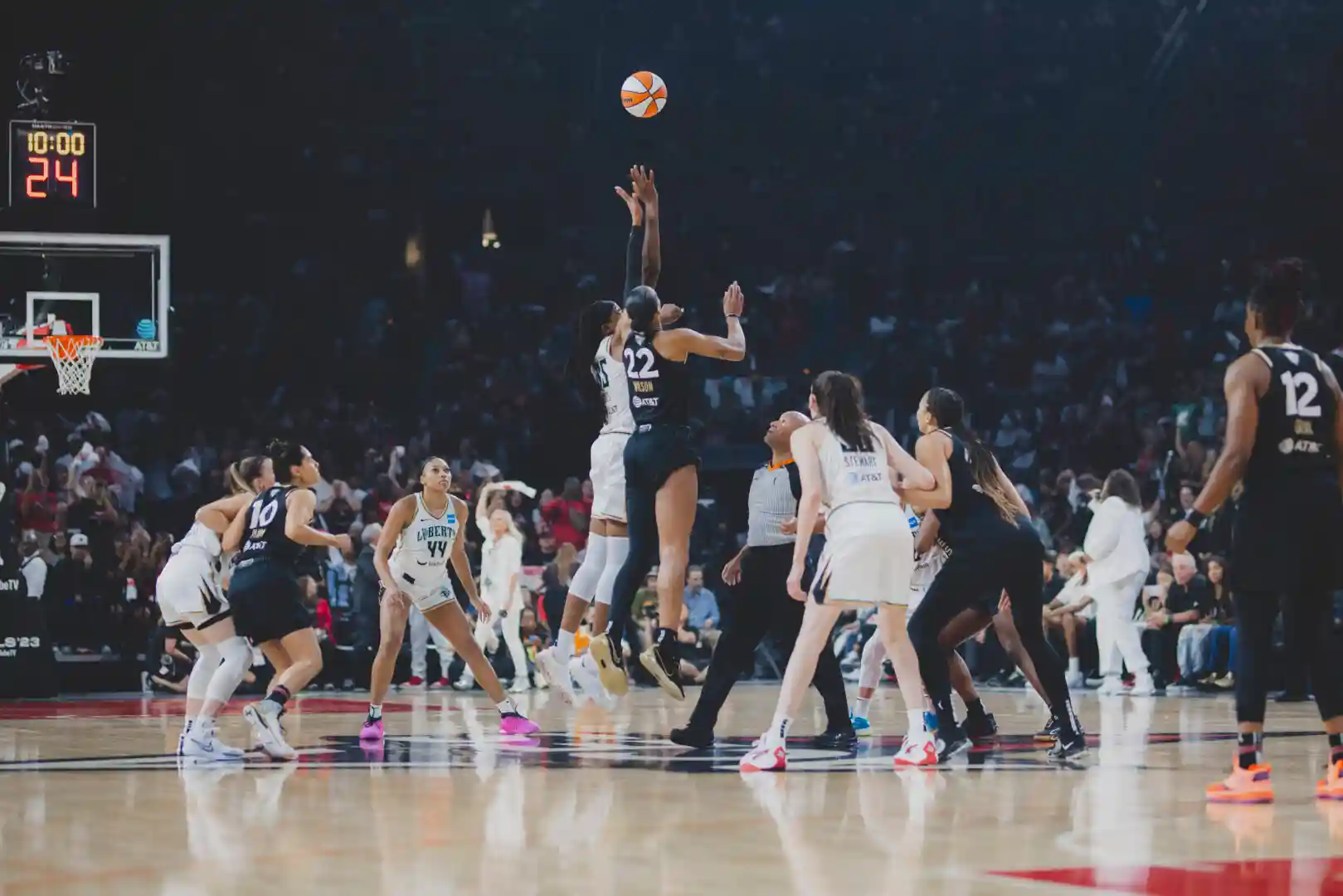 THE LAS VEGAS ACES DEFEND HOME COURT AND TAKE GAME 1 🎰 pic.twitter.com/YY4hiQQXuS

— ESPN (@espn) October 8, 2023
The Liberty had the lead through halftime
The New York Liberty's second half offense looked uncharacteristic, while the Las Vegas Aces had one of the most dominant performances of the postseason. With the regular season series split, excluding the Commissioners Cup, Aces guard Alysha Clark recognized the playoffs are a different experience, in which both teams are "two completely different teams right now." Clark finished with 8 points, 1 steal, 5 rebounds, and 2 assists.
The Aces are the reigning 2022 WNBA Champions, while the Liberty haven't appeared in the Finals since 2002. While Las Vegas kept their championship core, the Liberty acquired three stars in the offseason, Jonquel Jones, Breanna Stewart, and Courtney Vandersloot.
Two top teams on offense and defense, the Aces and Liberty equally shot 44.4 percent from the three. In fact, New York had a consistent three-point lead through the first into the half. Through two quarters, both sides were evenly matched, both shooting over 40 percent from three, and nearly 50 percent from the field. For New York, Jonquel Jones had an incredible first half, with 12 points and 9 rebounds. Jones finished with 16 points and 10 rebounds, which marks her seventh consecutive double-double this postseason. For the Aces, Jackie Young, A'ja Wilson, and Kelsey plum each had 12, 10, and 14 points though the half.
Aces head coach Becky Hammon stated the team gave themselves a "D" grade in the first quarter. When asked about her team's classification, "I would say C-minus," "said Hammon. "I didn't think they were that bad in the first half, but they turn it around to an A [grade]--I thought they played a pretty good first half, didn't like our defense in the [first half]. We just kind of amped up defense, locked in, and just tried to say solid."
The Aces had a monumental third quarter
AND-1 FOR JY0 😤

The @LVAces are on a roll to end the 3Q

📺 ABC | #WNBAFinals | @YouTubeTV pic.twitter.com/NjNpTFP7Xq

— WNBA (@WNBA) October 8, 2023
The Aces did exactly what Hammon said. They executed on defense, and exploited New York's offensive weaknesses. In the second and third quarter, Vegas held the Liberty to just 1-9 (11 percent) three-point shooting, and 14-34 (41.2 percent) from the field. Besides Breanna Stewart with 11 second half points, no Liberty player saw numbers in double digits. New York had control of the boards in the first twenty minutes, which the Aces negated in the final half. In the final twenty minutes, the Aces outrebounded the Liberty 19-13. Along with A'ja Wilsons nine second half points, Jackie Young, Kelsey Plum, and Chelsea Gray combined for 38 points in the second part of the meeting. The Aces took control of the paint, with several of their guards penetrating to the rim. New York was held to just 12 points in the paint in the final two quarters.
In a sellout crowd of over 10,000 fans, The Aces went on a 14-4 run in the third quarter, in which they extended to a 20-8 run in the fourth quarter. The Liberty, once up by three at the half, were outscored 53-33 in the second half of the matchup. Unable to answer on the defensive end, New York conceded 27 fourth quarter points to Vegas. All five of the Aces starters, including Alysha Clark, finished positive +/- on the court. With emotions tempered, Aces Head Coach Becky Hammon had to be physically restrained by her players after several questionable calls.
Jackie Young had a career night
𝐒𝐩𝐞𝐜𝐢𝐚𝐥 𝐀𝐠𝐞𝐧𝐭 𝐙𝐞𝐫𝐨 🤫

Playoff career high for @JackieYoung3!

26 PTS
5 REB
4 AST
3 STL
5 3PM#RaiseTheStakes // #WNBAFinals pic.twitter.com/c5jmkJv2pb

— Las Vegas Aces (@LVAces) October 8, 2023
Aces Guard Jackie Young was drafted first overall out of Notre Dame by the Aces in the 2019 draft. Originally not the finest three-point shooter, Young has risen to the top, and became the Aces deadliest weapon in game one. In 37 minutes played, Young scored a playoff career high 26 points on 5-8 (60 percent) from long distance. The guard added four assists, five rebounds, and three steals. No. 0 is just the fifth player in WNBA Finals history to average over 25 points and five made three pointers.
Young continued to be the catalyst of the Aces offense through the final two quarters. New York switching from man to zone defense, Jackie Young couldn't be tamed. Through the second half of the matchup, Young scored 14 points on 5-7 field goal shooting (71 percent). All three of her steals came in the back end of the game.
Less than a minute into the first quarter, Jackie Young pulled a deep 25-foot three point shot over Sabrina Ionescu. Four minutes later, Young drilled another three over Ionescu, this time utilizing the strong screen set by Kiah Stokes. Defensively, she held Ionescu to just seven points on 2-7 and 1-5 three-point shooting.
𝐓𝐇𝐄 𝐊𝐈𝐍𝐆 👑 pic.twitter.com/AycJQ7WMlT

— Las Vegas Aces (@LVAces) October 8, 2023
"She's been impressive all year defensively," Becky Hammon told the press post-game. "Should've have been on one of those teams. She's somebody who going into the season-- I wanted her, you know kind of baby Bron [Lebron James] mode. She's [Young] really taken the challenge of getting downhill. She's strong, [Young] absorbs a lot of contact." Speaking of Lebron James, the "King" was attendance for game one of the Finals.
The Aces trio of guards shined
Four-of-a-Kind ♦️♠️

Four Aces scored in double digits to secure the W.@JackieYoung3: 26 PTS // 5 REB // 4 AST // 3 STL // 5 3PM@Kelseyplum10: 26 PTS // 5 REB // 53% FG@cgray209: 20 PTS // 6 REB // 9 AST // 2 BLK // 3 3PM@_ajawilson22: 19 PTS // 8 REB // 2 STL // 3 BLK //… pic.twitter.com/DUpaeFC5hk

— Las Vegas Aces (@LVAces) October 8, 2023
Jackie Young wasn't the only player to have a stellar night for the Aces. Guard Kelsey Plum finished with 25 points, on 10-19 (52.6 percent) field goal shooting, and 1-7 (14 percent) from long range. There were several occasions where Plum was able to drive and find the open lay in. 2022 Finals MVP Chelsea Gray added 20 points on 6-13 (46 percent) field goal, and 3-5 (60 percent) three-point shooting. Gray dished out 9 of the Aces 21 assists. The trio of guards finished with a combined 73 points, 2 blocks, 4 steals, 16 rebounds, and 14 assists. Plum, Young, and Gray all finished the regular season top 15 at their position and points scored. Young lead all guards in field goal percentage (52.3).
"It was a really nice contribution," Hammon said of Young, Gray, and Plum. "The three of them, our trio of guards, I thought were pretty ridiculous overall." Hammon mentioned "Jackie is just scratching the surface of how great she could be."
Defensive Player of the year A'ja Wilson stated Jackie Young "is the baby sister she never wanted." "I love her to death, and I'm going to make sure I am pulling that confidence out of her, Jackie is a little shy. " Wilson mentioned "eyebrows" were raised when the Aces drafted Young first overall.
Sisters 🤞

"I love her to death and I'm going to make sure that I am pulling that confidence out of her... Because when you see that, you get the best Jackie." — @_ajawilson22 on Jackie

"She really instills that confidence in me. She's like my big sister. She's always… pic.twitter.com/8kXHa8E4tU

— Las Vegas Aces (@LVAces) October 9, 2023
The Liberty need to improve defensively
Liberty head Coach Sandy Brondello weighed in the Aces guard's performance post-game. "Well, we didn't do a great job of stopping them, obviously," said Brondello. "They're great players, and they were all getting into the paint. Jackie [Young] obviously was making a lot of threes. I think their movement got us out of position a little." Brondello mentioned the one-on-one defense, and the Aces got "the upper hand" on this game.
Coach Brondello recognized the Liberty need to improve defensively. Through 40 minutes, Las Vegas finished with 99 points, on 35-64 (54.7 percent) field goal shooting, and 9-11 (40.1 percent) from long range. On the guards, Brondello stated, "We've got to make them a little bit harder than what they were. I mean they had too many open layups at the rim."
The Liberty get early offensive support from the "Wizard"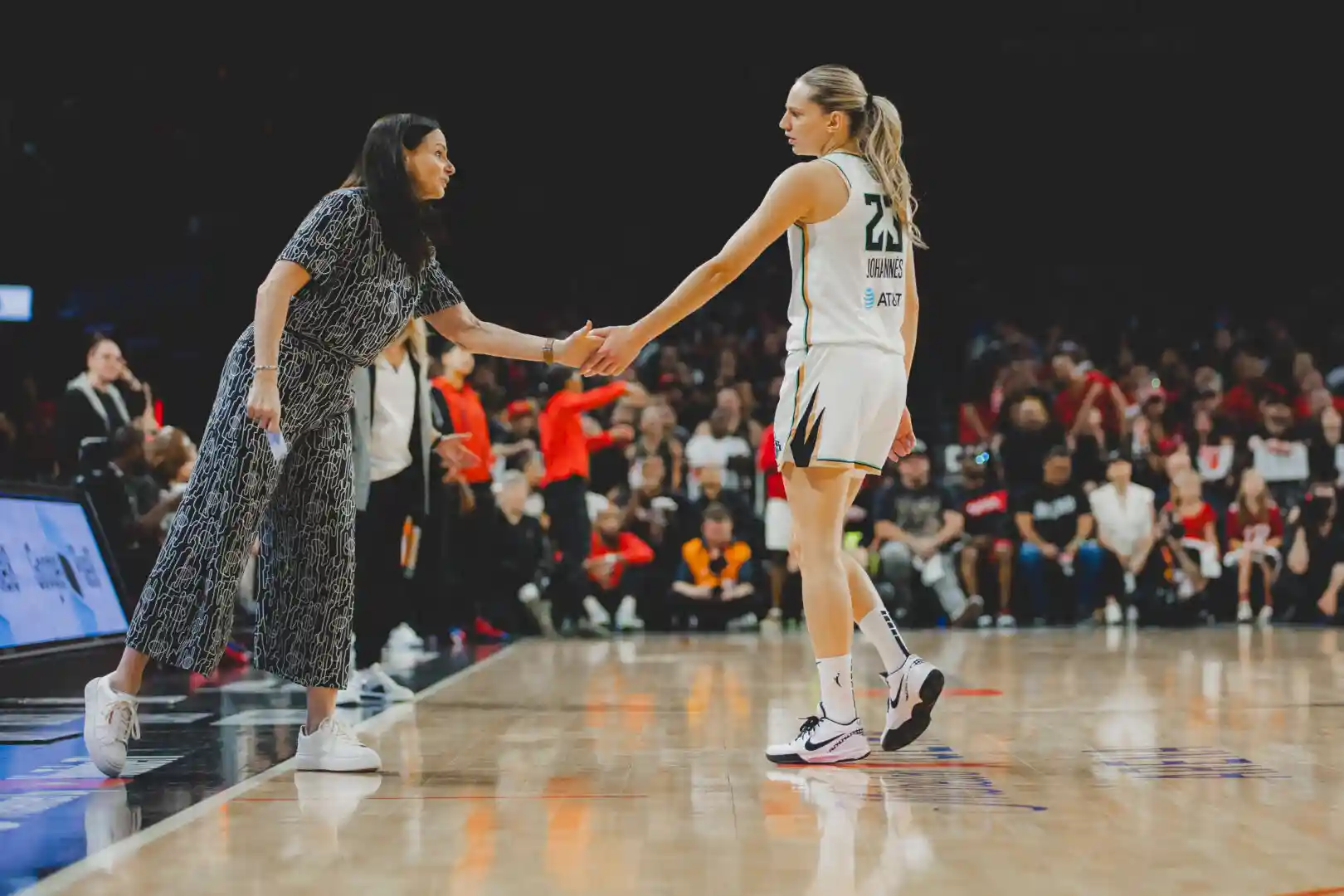 The Las Vegas Aces typically run a six-player lineup, which includes A'ja Wilson, Kelsey Plum, Jackie Young, Chelsea Gray, Kiah Stokes, and Alysha Clark. The New York Liberty have slightly more depth, which includes Marine Johannès and Kayla Thornton off the bench. Through 40 regular season games, both the Liberty and Aces ranked near last in bench points. In seven post season games, New York averages the second lowest bench points (seven), compared to the Aces ten. From playing man and zone defense, Sandy Brondello entered guard Marine Johannès in the game early. Through the playoffs, Johannès averages 3.2 points on 31.8 field goal and 29.4 three-point percentage. There' one team the France guard excels against, and that's the Las Vegas Aces.
Marine Johannès is a sniper from long range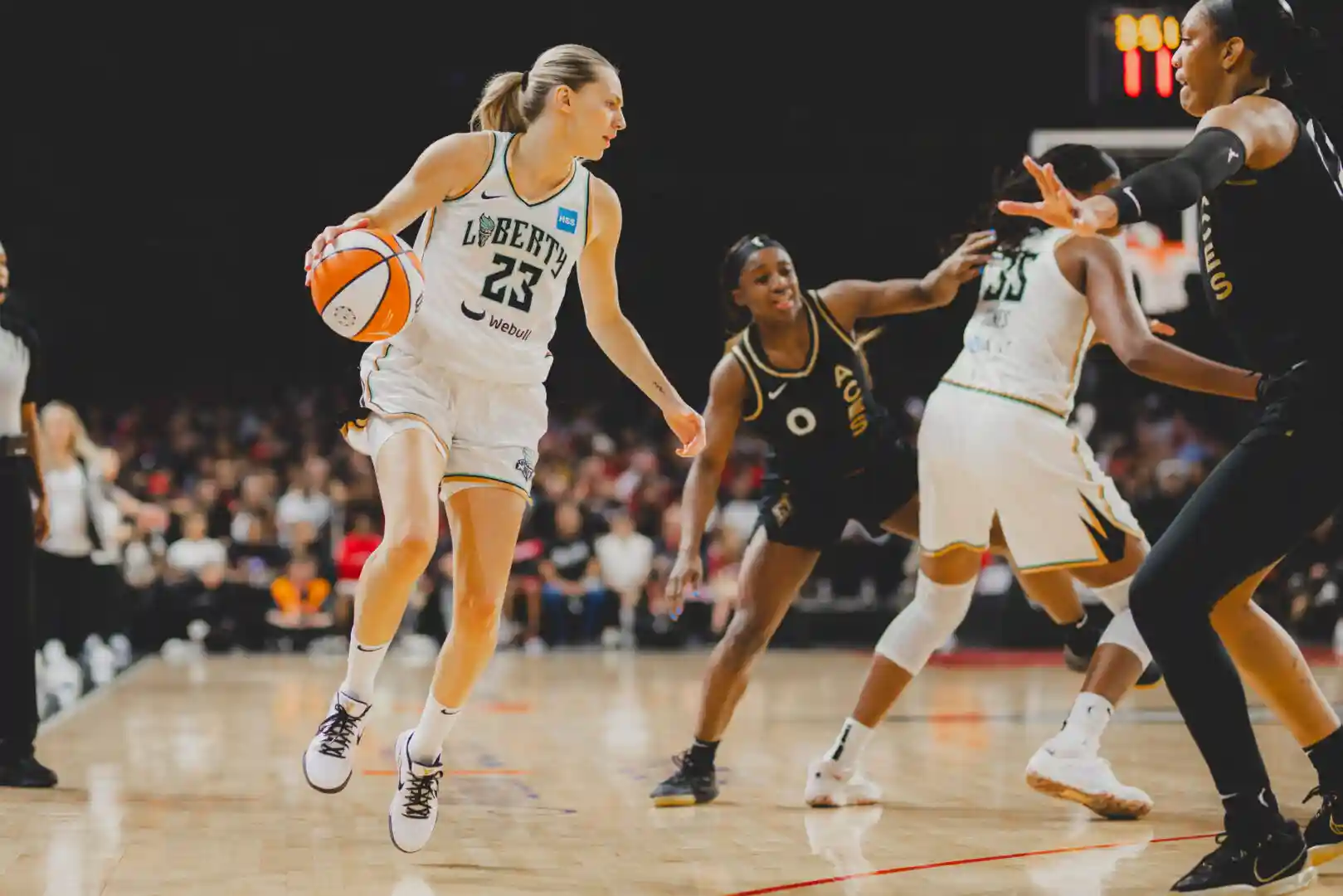 In twenty minutes, Johannès scored an early 14 first half points. The guard shot the ball effectively, 5-6 (83 percent) from the field, and 4-5 (80 percent) from downtown. Nicknamed the "Wizard," Johannès provided a spark off the Liberty bench, especially with Courtney Vandersloot struggling. On several instances, No. 23 utilized screens, hitting contested three pointers off one leg. In a Rythm, Johannès was able to create her own shot, again hitting off balance. Similar to the Commissioners Cup, the guard was ready and poised for transition three-pointers. In four regular season games against the Aces, Johannès averaged 6 points on 56.3 percent field goal, and 50 percent three-point shooting. In New York's Commissioners Cup Victory, Johannès scored 17 points on 5-7 three-point shooting.
"Apparently, Johannès really likes to play against us, " said Hammon post-game. "She hits tough ones. Like I'm just a huge fan, other than when she's playing us."
"Marine came out as Marine," said Liberty coach Brondello. " She's had some good games against this team, and she was making shots. " Johannès was limited to zero second half points, in which Brondello credits their defense and rotation.
WNBA Finals Schedule
Game 2: Wed, Oct 11: New York Liberty @ Las Vegas Aces, 9 p.m. EDT, ESPN
Game 3: Sun, Oct 15: Las Vegas Aces @ New York Liberty, 3 p.m. EDT, ABC
Game 4 *: Wed, Oct 18: Las Vegas Aces @ New York Liberty, 8 p.m. EDT, ESPN
Game 5 *: Fri, Oct 20: New York Liberty @ Las Vegas Aces, 9 p.m. EDT, ESPN
The Las Vegas Aces will matchup against the New York Liberty on Wednesday for game two of the WNBA Finals. Best of five games, the Aces will look to stay undefeated in the postseason. For New York, they've never lost two consecutive games, and will look to even up the series.
Stay tuned for more WNBA and betting related articles. Click here
Sara Jane Gamelli is a full-time Sportswriter at BallisLife, and Sports Content Creator on Twitch and TikTok. She has a focus on the NBA, WNBA, NCAA Basketball, and the NFL. Sara Jane currently resides in Connecticut/NYC area with her Cat and Dog. SJ has her undergraduate degree from the University of Connecticut in Economics, with a minor in business administration.
Tweets by BallislifeBets