The New York Liberty held their team player exit interviews on Friday morning. Liberty GM Jonathan Kolb stated Breanna Stewart will not be an unrestricted free agent, and will be "cored." Jonquel Jones mentioned she is "trending towards" returning to the Liberty.
Breanna Stewart WILL be back with the New York Liberty next season.

Their odds to win it all: +200 pic.twitter.com/jl2EmxLAVe

— Ballislife Bets (@BallislifeBets) October 20, 2023
Jonathan Kolb: Stewart will be "100 percent cored"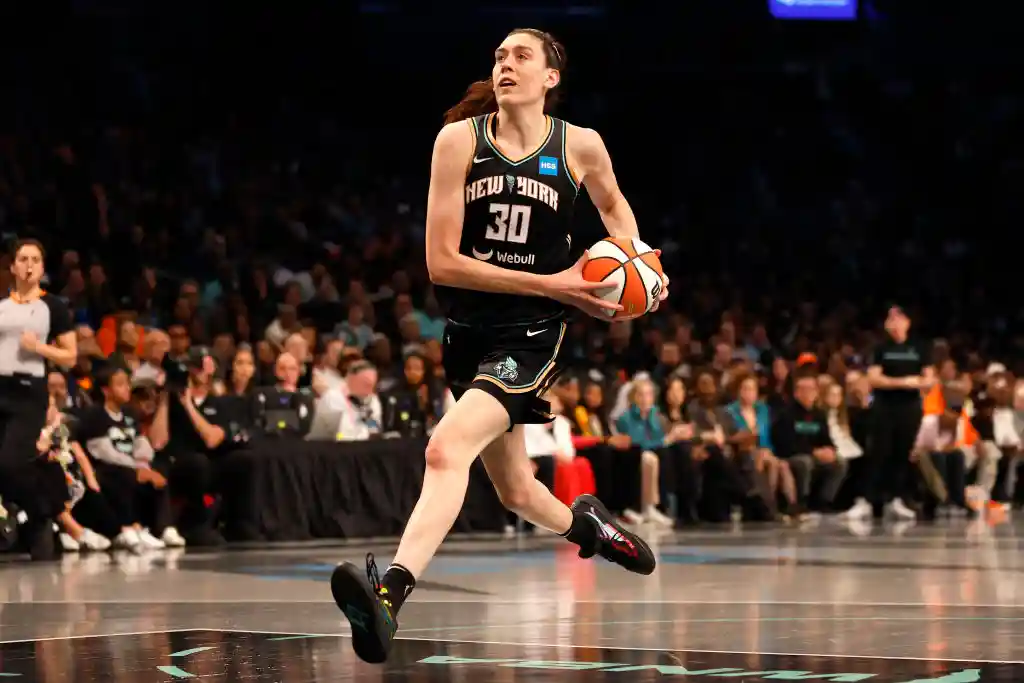 If there's anyone that knows the CBA extensively, it's New York Liberty GM Jonathan Kolb. On Wednesday night, Stewart dressed for game four of the Finals, with her future unknown with New York. Rest assured Liberty fans, Kolb expressed Breanna Stewart will be "100 percent cored and will not be an unrestricted free agent."
Stewart signed a one-year $175,00 deal with the New York Liberty in free agency this past February. Admittedly taking a pay cut, Breanna Stewart signed with the Liberty to "continue to be great," along with winning another championship. Falling just short of a title in the WNBA Finals against the Las Vegas Aces, the former Husky had a remarkable season.
"Win or lose, we are going to do it together, " said Stewart. "This time we lost, and hopefully next time we'll be back."
Breanna Stewart was a staple for the Liberty despite playoff struggles
Awarded her second career MVP, Breanna Stewart averaged 23 points, 9.3 rebounds, 3.8 assists and 1.5 steals. In her first season in the big apple, Stewart was named All-Defensive First Team, and AP Player of the Year. The first MVP in franchise history, Stewart had quite the list of accolades this season.
No. 30 was named WNBA Player of the month six times, and set the franchise record for the most 40-point games. Becoming the fastest player to reach 4,000 points, Breanna Stewart tied a franchise record for most double doubles in a season (20). She broke the record for the most 40 point, 10 rebound games in WNBA history (10). A true leader on and off the court, Stewart is incredibly special to the city of New York, and the Liberty franchise.
Stewart is optimistic for the future
"It's my first time being cored, so I'm not surprised. I'm excited for what we're doing here in New York and with the Liberty," Stewart told the press during her exit interview. "The way we finished things were overshadowed by disappointment and the loss. As a whole, it's been an extremely successful season. From you guys, to everybody involved in the Liberty, the fans, the outside general public--it's been amazing to be part of, and I'm looking forward to doing it for many years to come."
Stewart mentioned that she doesn't want to do this with any other group, and the team knew" they were going to go to war together."
Best of five games, New York conceded to the Las Vegas Aces in four games. Las Vegas won their second consecutive WNBA Championship on the Liberty's home court Wednesday night.
Breanna Stewart:
"What I love about this franchise is they want to make sure all the players have everything they need to be great. Our finance team, our PR team, our coaching staff is phenomenal.Everyone is holding themselves to a higher standard."#wnba

— Sara Jane Gamelli (@SaraJGamelli) October 20, 2023
As an unrestricted free agent (UFA), a player can enter negotiations with any team during the start of the WNBA free agency period. Unable to receive a qualifying offer, it was extremely vital for the Liberty to core Stewart, especially with the prioritization rule. "Coring a player" is similar to the franchise tag in the NFL. This essentially means the New York Liberty can retain Breanna Stewart on a max contract for up to one year, if she accepts. Applying for such will give New York negotiation rights this offseason.
Jonquel Jones is trending towards coming back to New York
👀Jonquel Jones with 19 points, 10 rebounds, and 2 blocks at the HALF. That marks her EIGHTH consecutive double-double!

Like if you had Jones OVER rebounds#sportsbetting #WNBATwitter

(via @wnba)pic.twitter.com/A4fPYFUOIU

— Ballislife Bets (@BallislifeBets) October 12, 2023
Unable to capture their first Championship in New York, the Liberty remain disappointed, yet optimistic for the future. Jonquel Jones, who's played under two core designations, is set to become an unrestricted free agent. Adding that "if she did stay, they would be able to grow and be successful." Jones stated "I'm definitely trending towards coming here."
Jones averaged 11.3 points and 8.4 rebounds in 40 games this season. No. 35 proved her consistency and her value over the playoffs, and specifically the back end of the season. Re-signing Jonquel would continue to give the Liberty one of the strongest front courts in the WNBA.
Adding that "roster changes will come" with the second unit, Kolb doesn't seem concerned about resigning both Jones and Stewart. "No I don't think that's a concern. We've done things the right way here. I think we've made this a place to play, and I think they're very proud to be members of the Liberty."
GM Jonathan Kolb firmly stated they are "not close to done, and look forward to improving this team in the offseason, and look forward to being back."
New York will keep it's core, at least for next year
New York will maintain a majority of their players for next season, including Betnijah Laney, Sabrina Ionescu, Courtney Vandersloot, Kayla Thornton, and now Stewart with the core.
"Being here in NYC and knowing that we have the majority of our core coming back, it's exciting , just to see where we're gonna go, how we'll grow our growth together, said Betnijah Laney.
With keeping the core around Breanna Stewart, the team is much more confident now that they have their finals experience down as a unit.
Stay tuned for more WNBA and betting related articles. Click here
Sara Jane Gamelli is a full-time Sportswriter at Ballislife, and Sports Content Creator on Twitch and TikTok. She has a focus on the NBA, WNBA, NCAA Basketball, and the NFL. Sara Jane currently resides in Connecticut/NYC area with her Cat and Dog. SJ has her undergraduate degree from the University of Connecticut in Economics, with a minor in business administration.