The Las Vegas Aces defeated the New York Liberty 70-69, and captured their second consecutive WNBA title. They are the first team to win back-to-back WNBA titles in 21 years.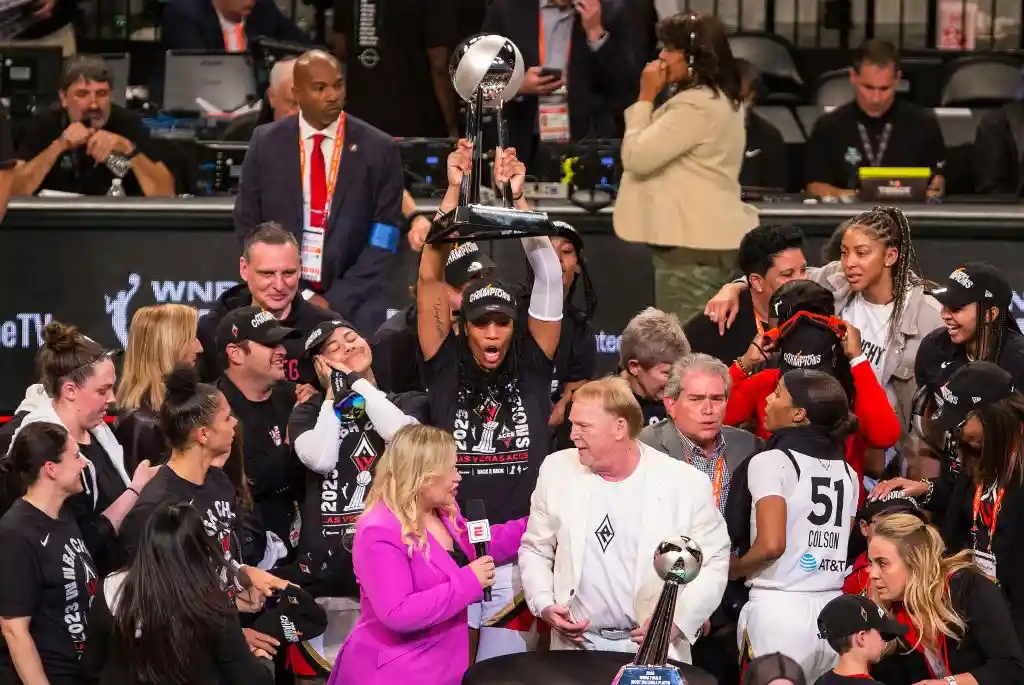 The Aces win their second consecutive WNBA Championship
Heartbreaking loss for the Liberty. Congrats to the Aces on winning the 2023 WNBA Championship pic.twitter.com/aoUaOBF20T

— Sara Jane Gamelli (@SaraJGamelli) October 19, 2023
Game four of the WNBA Finals was intense, disappointing, and exciting all at the same time. New York Liberty fans were left heartbroken, while the Las Vegas Aces celebrated their triumph on New York's home court. In a low scoring affair, the Aces defeated the Liberty 70-69, which was a dogfight up until the final seconds.
With a one point victory, the Las Vegas Aces stormed the middle of the court in front of 16,000 plus New York Liberty fans. Having been there before, the Aces finally captured their second straight WNBA Championship. Las Vegas seized another trophy in what was the most watched game four in WNBA history. They did so without Chelsea Gray, Candace Parker, and Kiah Stokes, all out with foot injuries.
Through a rollercoaster of a season, the aces stated they've experienced adversity all season long. If there's one constant, it's been A'ja Wilson's brilliant play and determination to win.
You can really tell the Aces and A'ja Wilson are a tight group for real. It shows in all aspects. #wnba #WNBAFinals pic.twitter.com/CWSrdsdlsT

— Sara Jane Gamelli (@SaraJGamelli) October 19, 2023
"We kept the main thing, the main thing, and we remained focused through everything," A'ja Wilson told the press. "We weathered the storms, I think that's what I'm very happy about. They hit us with a big punch, and we came back harder."
The Aces bench came out to play
Crowned Finals MVP, Wilson led the Aces with 24 points and 16 rebounds, 15 of which came during the second half. The Aces are the first team in 21 years to win back-to-back titles. They join the Houston Comets and the Los Angeles Sparks as the only teams to do so.
Up 39-30 at halftime, New York never truly found their rhythm on either side of the ball. With the Aces starting Alysha Clark and Cayla George, the Liberty couldn't capitalize on the the loss of Gray and Stokes. No disrespect to Clark and George, but Chelsea Gray is not replaceable. Although Gray was sidelined on the bench, she remained vocal on the bench in leading her team. Don't let the Aces bench fool you, they are poised with professionals that were willing and ready to play.
Becky Hammon #wnba #wnba pic.twitter.com/AHnExHkeP3

— Sara Jane Gamelli (@SaraJGamelli) October 19, 2023
"This is probably the tightest group I've ever been around," said Aces coach Becky Hammon. "They're a special group, I don't know what else you can throw at them. All we did is buckle down and keep playing."
The New York Liberty were "highly disappointed"
The Liberty's ball movement wasn't fluid, and their shots simply weren't falling. Looking disheveled, New York shot just 26-72 (36.1 percent) from the field, and 9-26 (34.6 percent) from long range. Sabrina Ionescu finished with 13 points, and Betnijah Laney 15. The Most Valuable Player, Breanna Stewart finished with just 10 points and 14 rebounds on 3-17 (17.6 percent) shooting. Her 38 percent effective field-goal percentage was the lowest of any 10 game-game stretch in her career.
Despite such a successful season, and a franchise best 32-8 finish, the Liberty fell short of their championship desires.
Having experienced both winning and losing in the finals, Liberty guard Courtney Vandersloot stated their level of disappointment was "very high."
"It's hard to answer these questions right now because we're so disappointed, and it's such an emotional time," Vandersloot continued. "We're proud that we had the opportunity to play for a championship. It didn't go out way tonight. This is what we came here to do, we're trying to build a championship team. We are going to use this as a learning experience, you can only get better from here."
Vandersloot finished with a team high 19 points, 6 assists, and 7 rebounds on 50 % three-point shooting. Having struggled with her shot throughout the playoffs, Vandersloot very much kept the Liberty in the game tonight.
The New York Liberty's downfall has been losing leads in the third quarter, which is exactly what happened in game four. Las Vegas outscored New York 23-13, and held them to 25 percent shooting. Cayla George, an unlikely hero, made two key three pointers on four attempts. With the task of guarding Jonquel Jones and Breanna Stewart, George finished +1, 11 points, 3 steals, and four rebounds.
By the end of the third, the Aces were shooting 50 percent from the field, and 40 percent from three. A'ja Wilson made several shots over Jonquel Jones, who finished with just 6 points and 11 rebounds, in 33 minutes played.
It was a dogfight until the end
THE FINAL SECONDS THAT CROWNED THE @LVACES BACK-TO-BACK CHAMPS 👑 pic.twitter.com/YhlV9rCzYb

— WNBA (@WNBA) October 19, 2023
Tied 64-64, the crowd remained intense and involved at the Barclay's Center. Down 70-64 with 1:12 to go, the Aces could taste another Championship victory. In a matter of seconds, guard Courtney Vandersloot made the most important three-pointer of the season, followed by steal and a Sabrina Ionescu made shot over Sydney Colson. Down 70-69 with 41.7 seconds remaining, Jonquel Jones had a momental block on A'ja Wilson, in which Courtney Vandersloot grabbed the unlikely defensive rebound.
At that moment, New York took a timeout with 8.8 seconds to go. With the season on the line, the Liberty had to score on the final posession. Alysha Clark on Stewart, the ball was passed to Betnijah Laney, guarded by Kelsey Plum, and onto Courtney Vandersloot. Less than 2 seconds left, Vandersloot badly missed a mid range shot which concluded the game. In a building that was once filled with an enormous amount of energy, it felt so lifeless.
Tune in to the #WNBAFinals Game 4 Post Game Presser ⬇ https://t.co/3rhTYWDP7o

— WNBA (@WNBA) October 19, 2023
New York Liberty coach Sandy Brondello expressed her faith in putting the ball in the hands of Breanna Stewart. "I put the ball in the hands of the MVP because we trusted. It just didn't work out today. I'd still do it again, I still make that, that's the right call."
Alysha Clark, now a 3x WNBA Championship, dedicated the win to her late father. She had the game winning defensive stop against Stewart.
"He's been with me all season," Clark told Holly Rowe. "He's been by sixth man and I know he would be so happy right now. This is for him, this entire season, I showed up everyday because I know he loved watching me play."
Clark finished with 10 points, and 8 rebounds, on 4-7 shooting. Guards Kelsey Plum and Jackie Young combined for 23 points, 12 assists, and 10 rebounds. The New York Liberty are still in search of their first WNBA Championship in franchise history.
Stay tuned for more WNBA and betting related articles. Click here
Sara Jane Gamelli is a full-time Sportswriter at Ballislife, and Sports Content Creator on Twitch and TikTok. She has a focus on the NBA, WNBA, NCAA Basketball, and the NFL. Sara Jane currently resides in Connecticut/NYC area with her Cat and Dog. SJ has her undergraduate degree from the University of Connecticut in Economics, with a minor in business administration.