What's scarier than "Game 7 LeBron" or "NBA Finals LeBron?"
How about "Young CGI LeBron" from Nike's new "Tattoo" ad for the NBA Finals?
"Always Believe" is the title card that appears after the spot reveals the person wanting a tattoo that says "Chosen 1" is a young LeBron James in his St. Vince-St. Mary's hoodie. It's a cool concept but the CGI face — reminiscent of the emotionless motion-captured faces from Robert Zemeckis' The Polar Express and historic flop Mars Needs Mom — either made people laugh or creeped them out like Superman's CGI mouth in the awful Justice League movie.
Before we get to the best and funniest reactions to the ad that takes place in 2002, I want to clear up something about the music. The song heard in the first half is "My Block" by Scarface. The second song is Willie Hutch's "I Choose You," not the 2009 UGK classic "International Player's Anthem," which samples "I Choose You."
And the reason why LeBron got the tattoo in 2002 was because Sports Illustrated put him (as a High School junior) on the cover with the headline "The Chosen One – High School junior LeBron James would be an NBA lottery pick right now."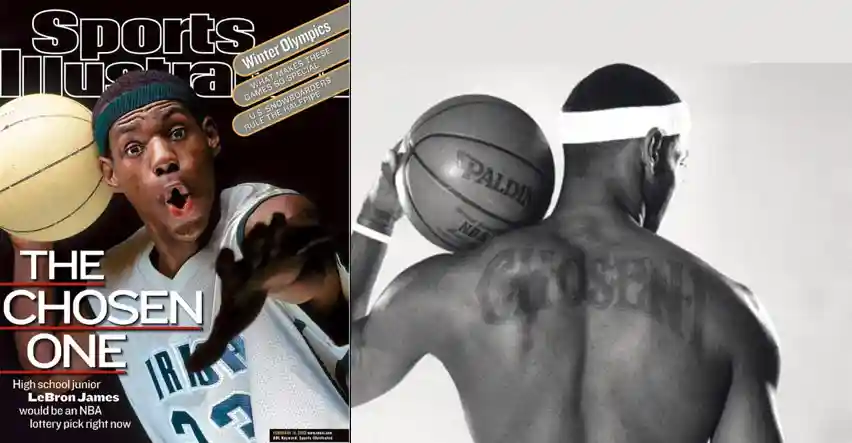 So here's the best reactions, starting with Spun's hilarious parody with Kevin Durant.
I prefer the KD version by @Spun
pic.twitter.com/s1WjKNq5ZS

— David Astramskas (@redapples) May 31, 2018
Cool concept but this shit is scary as hell lol ? pic.twitter.com/DuG6WU2T3y

— Nick Smith NBA (@nicksmith71218) May 31, 2018
— miko (@MeaksB) May 30, 2018
Except the CGI looks worse than 2K??

— Satchel Price (@SatchelPrice) May 30, 2018
https://twitter.com/JoeyGold24k/status/1001975859094474752
Didn't know there was a LeBron sex doll on the market

— choudhuryo2 (@choudhuryo2) May 30, 2018
CGI Young Lebron looks like Gecko Mondo wtf

— Wash your hands, fam (@prophecypro) May 30, 2018
"I was startled when they showed his face. What in the Joan Rivers plastic surgery was that?" – Jay Hampton, YouTube
https://twitter.com/babysquid22/status/1002070179696795648