The Grind Session has released its schedule for the 2019-20 season and, as usual, it is absolutely loaded with talent from across the country.
The events this season include DeAndre Ayton's Duel in the Desert in Glendale (AZ), the Physicians Urgent Care Lighthouse Thanksgiving Classic in Corinth (MS), the CFSB Marshall County Hoopfest in Benton (KY) and Memphis vs. The World in Eads (TN).
The marquee players at DeAndre Ayton's Duel in the Desert include Top 3 nationally-ranked senior Jalen Green, Texas Tech-bound shooting guard Nimari Burnett, Illinois-commit Coleman Hawkins of Prolific Prep, top-ranked point guard Daishen Nix of Trinity International, four-star wings MarJon Beauchamp and Arthur Kaluma of Dream City Christian and four-star point guard Frankie Collins of Arizona Compass Prep among other highly-regarded prospects.
At the Lighthouse Thanksgiving Classic, fans can see the likes of New Mexico-bound three-star center Bayron Matos (Hamilton Heights Christian Academy), four-star wing Matthew Alexander-Moncrieffe (Orangeville Prep), four-star junior point guard Daeshun Ruffin (Callaway) and five-star junior point guard Kennedy Chandler (Briarcrest Christian).
Some of the featured players at the Marshall County Hoopfest include above-mentioned Green, Nix, Alexander-Moncrieffe, along with four-star point guard Zion Harmon of Marshall County and three-star point guard Posh Alexander of Our Saviour Lutheran.
Be sure to check out The Grind Session Top 9 ranking and complete schedules of the tournaments and events below.
The Grind Top 9
Preseason Rankings
*New rankings will be released every Monday starting Nov. 18
1. Prolific Prep (CA)
2. Dream City Christian (AZ)
3. Arizona Compass (AZ)
4. West Oaks (FL)
5. Our Saviour Lutheran (NY)
6. Word of God Christian (NC)
7. Core4 Academy (GA)
8. Orangeville Prep (CAN)
9. Trinity International (NV)
TOURNAMENT SCHEDULES
DeAndre Ayton's Duel in the Desert
Glendale, AZ | Dream City Christian School
Nov. 21-23
*team listed on top will wear white
Schedule subject to change
All times mountain standard (MST)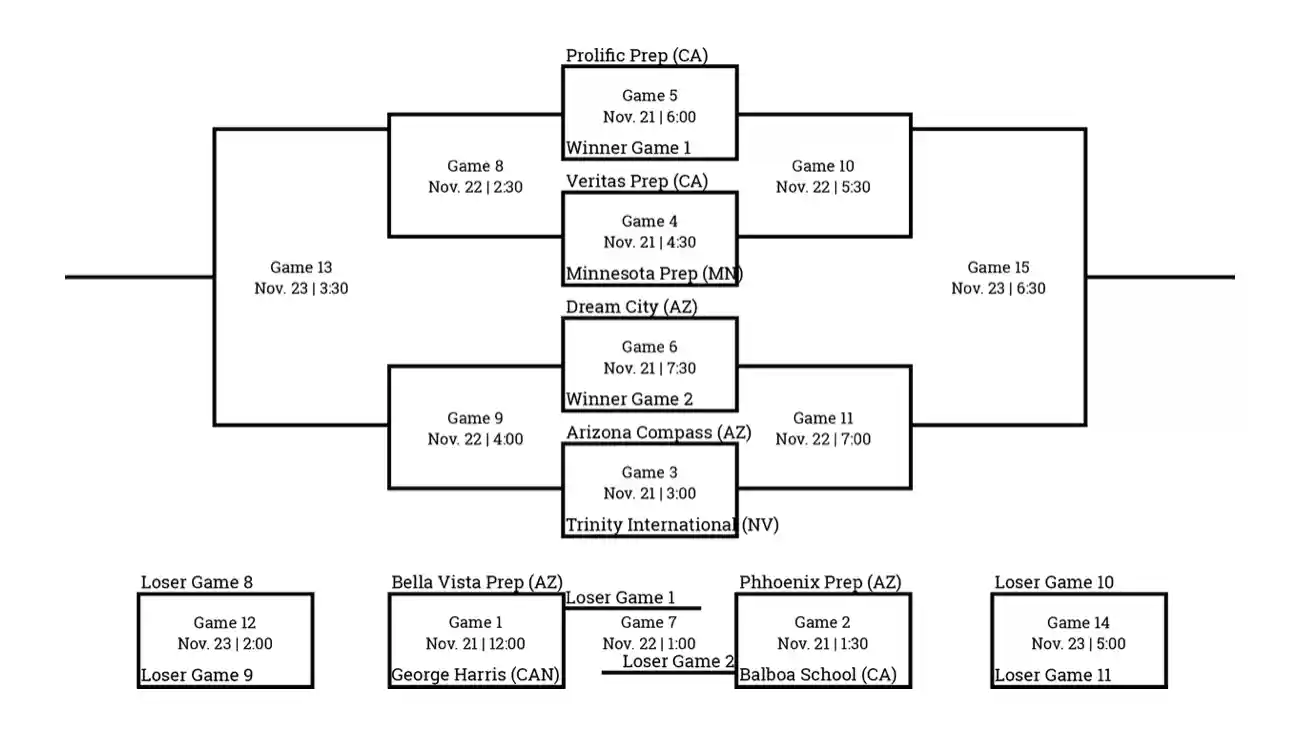 Thursday, Nov. 21
12:00 Bella Vista Prep (AZ) v George Harris Prep (CAN) G1
1:30 Phhoenix Prep (AZ) v Balboa School (CA) G2
3:00 Arizona Compass (AZ) v Trinity International (NV) G3
4:30 Veritas Prep (CA) v Minnesota Prep (MN) G4
6:00 Prolific Prep (CA) v Winner of G1 G5
7:30 Dream City Christian (AZ) v Winner of G2 G6
Friday, Nov. 22
1:00 Loser G1 v Loser G2 9th Place
2:30 Loser G5 v Loser G4 G8
4:00 Loser G6 v Loser G3 G9
5:30 Winner G5 v Winner G4 G10
7:00 Winner G6 v Winner G3 G11
Saturday, Nov. 23
2:00 Loser G8 v Loser G9 7th Place
3:30 Winner G8 v Winner G9 5th Place
5:00 Loser G10 v Loser G11 3rd Place
6:30 Winner G10 v Winner G11 1st Place
Physicians Urgent Care Lighthouse Thanksgiving Classic
Corinth, MS | Corinth High School
Nov. 29-30, 2019
*team listed first will wear white
Schedule subject to change
All times central (CT)
Friday, Nov. 29
9:00am Kossuth (MS) v Waterloo (AL)
10:30am Alcorn Central (MS) v East Webster (MS)
12:00 West Oaks (FL) v Carolina Basketball Academy (NC)
1:30 Hamilton Heights Christian (TN) v Orangeville Prep (CAN)
3:00 Center Hill (MS) v The Webb School (Bell Buckle) (TN)
4:30 North Panola (MS) v LeFlore (AL)
6:00 Grace Baptist (MS) v Houston (TN)
7:30 Callaway (MS) v Briarcrest Christian (TN)
9:00 Corinth (MS) v Lindsay Lane Christian (AL)
Saturday, Nov. 30
9:00am Sparkman (AL) v Yazoo County (MS)
10:30am Biggersville (MS) v McNairy Central (TN)
12:00 Lindsay Lane Christian (AL) v New Site (MS)
1:30 Prep Consolation Game
3:00 Prep Championship Game
4:30 The Webb School (Bell Buckle) (TN) v Holly Springs (MS)
6:00 Wooddale (TN) v Callaway (MS)
7:30 Olive Branch (MS) v Ramsay (AL)
9:00 Corinth (MS) v East Limestone (AL)
CFSB Marshall County Hoopfest
Benton, KY | Marshall County High School
Dec. 5-8, 2019
*team listed first will wear white
Schedule subject to change
All times central (CT)
Thursday, Dec. 5
4:00 Graves County (KY) v Massac County (IL)
5:30 Graves County (KY) v Massac County (IL) girls
7:00 Marshall County (KY) v Russellville (KY) girls
8:30 Lausanne Collegiate (TN) v Callaway (MS)
Friday, Dec. 6
4:00 Trinity International (NV) v Central Pointe Christian (FL)
5:30 Dream City Christian (AZ) v Orangeville Prep (CAN)
7:00 Marshall County (KY) v Madisonville-North Hopkins (KY)
8:30 Prolific Prep (CA) v Our Saviour Lutheran (NY)
10:00 John Hardin (KY) v University Heights (KY)
Saturday, Dec. 7
9:00am Aspire Academy (KY) v Tennessee Prep (TN)
10:30am Callaway (MS) v Curie (IL)
12:00 Marshall County (KY) v Anna-Jonesboro (IL) girls
1:30 Madisonville-North Hopkins (KY) v McCracken County (KY)
Saturday, Dec. 7
4:00 Briarcrest Christian (TN) v Male (KY)
5:30 Our Saviour Lutheran (NY) v Dream City Christian (AZ)
7:00 Marshall County (KY) v Prodigy Prep (FL)
8:30 Orangeville Prep (CAN) v Prolific Prep (CA)
10:00 Central Pointe Christian (FL) v Arizona Compass (AZ)
Sunday, Dec. 8
1:30 Arizona Compass (AZ) v Aspire Academy (KY)
3:00 St. Louis Christian (MO) v Trinity International (NV)
4:30 Murray (KY) v Lyon County (KY)
6:00 Prodigy Prep (FL) v Tennessee Prep (TN)
Memphis vs. The World
Eads, TN | Briarcrest Christian School
Dec. 13-14
*team listed first will wear white
Schedule subject to change
All times central (CT)
Friday, Dec. 13
4:00 Core4 Academy (GA) v Veritas Prep (CA)
5:30 Surge Christian (FL) v Lausanne Collegiate (TN)
7:00 Briarcrest Christian (TN) v University Heights (KY)
8:30 Christian Brothers (TN) v St. Louis Christian (MO)
10:00 Tennessee Prep (TN) v Minnesota Prep (MN)
Saturday, Dec. 14
2:30 St. Louis Christian (MO) v Surge Christian (FL)
4:00 Murray (KY) v Christian Brothers (TN)
5:30 Veritas Prep (CA) v Tennessee Prep (TN)
7:00 Briarcrest Christian (TN) v Marshall County (KY)
8:30 Minnesota Prep (MN) v Core4 Academy (GA)