Prior to NBA Media Day, the Boston Celtics and Milwaukee Bucks made blockbuster trades, each acquiring much needed pieces for their backcourts. The Milwaukee Bucks acquire 7x All-Star Damian Lillard from Portland, and the Boston Celtics land defensive specialist Jrue Holiday.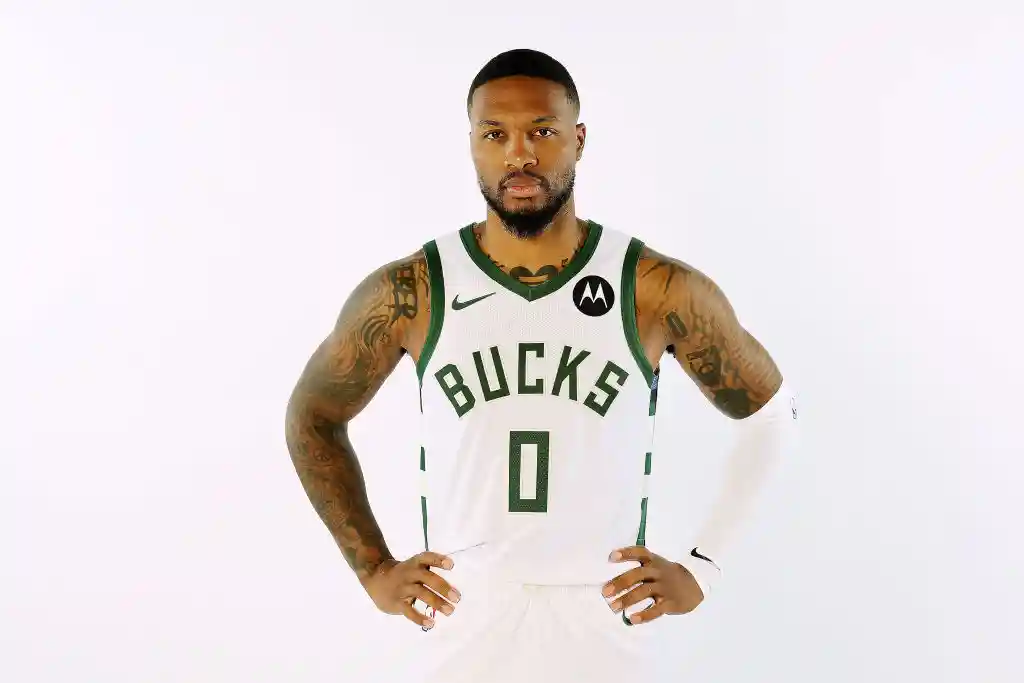 Damian Lillard spent his entire career with Portland
The saga between Damian Lillard and the Portland Trailblazers finally came to an end this week. In July, Lillard, 33, had requested a trade from Portland, an organization he spent eleven seasons with. Throughout his tenure, Lillard led the Trail Blazers to the playoffs eight times, resulting in zero NBA Championships. In several playoffs runs, Portland made it to the Western Conference Semifinals three times and had one appearance in the Western Conference Finals against Golden State.
Loyal to Portland, Lillard had a career average of 25.5 points, 1 steal, 6.7 assists, and 4.2 rebounds. No. 0 is Portland's all-time leader in Points (19,376), Offensive Win Shares (86.8), Three-Point Field Goals (2,387), Three-Point Field Goal Attempts (6,410), Free-Throw Attempts (4,946), Free-Throws (4,427), and Player Efficiency Rating (22.5).
Lillard failed to win a Championship in Portland
After finishing 33-49, the Trail Blazers finished near last in the Western Conference. Since the hire of head coach Chauncey Billips, Portland hasn't made a trip to the playoffs since the 2020-2021 season. After a disappointing finish, the franchise earned the third overall pick in the NBA Draft Lottery. Despite Lillard vocalizing his preference to play with other stars on numerous occasions, the Trail Blazers opted to retain the third pick. With a crowded backcourt, consisting of Lillard, Anfernee Simons, and Shaedon Sharpe, the organization drafted guard Scoot Henderson, from G-League Ignite. It was apparent Henderson was selected as the heir to Damian Lillard.
No. 0 gave Portland and General Manager Joe Cronin every opportunity to improve and build a championship roster. Besides Henderson, Portland reached a contract with Jerami Grant for $160 Million over five years. Less than ten days later, Lillard requested a trade. In his time in Portland, Lillard was a 7x NBA All-Star, the 2012-2013 Rookie of the Year, and was named a member of the NBA 75th Anniversary team. Last season, the point guard averaged a career-high in points per game (32.2).
Lillard to the Heat?
In an initial call regarding Damian Lillard, the Blazers asked the Heat for Jimmy Butler or Bam Adebayo, sources tell @ShamsCharania and @sam_amick.

Miami believed Portland had little to no interest in engaging in a deal with them.

More: https://t.co/SebivnL1IP pic.twitter.com/NFjpO4hsJ7

— The Athletic (@TheAthletic) September 28, 2023
Damien Lillard had one destination in mind, and that was the Miami Heat. While that was his preference, Cronin made it known he would only trade Lillard for the right package, which included pursuing a "star level return." Regardless of his wishes, the Miami Heat and Milwaukee Bucks couldn't strike a deal. In fact, Lillard was on the brink of facing discipline after his agent warned several NBA teams about the star's preferable landing place. According to Shams Charania of the Athletic, Miami was inclined to make an offer this summer.
"For their part, league sources say the Heat were prepared in July and August to offer up to three first-round draft picks — with Tyler Herro going to a third team — and multiple second-rounders and swaps along with expiring contracts and 2022 first-round pick Nikola Jović. But the Blazers were disinterested, with each side developing a level of contentiousness. (Shams Charania, the Athletic).
As the months went on, trade talks became more and more stagnant. At one point, Lillard considered a return back home. Per reports, Joe Cronin had every intention of moving Dame [Lillard]. Though we will never know the true story behind the negotiations, Damian Lillard made one aspect clear, his relationship with the Trail Blazers front office had tarnished. Once he was traded, No. 0 put out a bold statement via X:
"The casuals won't be addressed, but the Trail Blazers fans and city of Portland that I love truly will be... and they will be addressed truthfully. Stay tuned. Excited for my next chapter! " @Bucks
Milwaukee trades for Lillard
Milwaukee... IT'S DAME TIME! ⏱️#FearTheDeer pic.twitter.com/xPR2uL6Q4n

— Milwaukee Bucks (@Bucks) September 28, 2023
With less than a week before the start of training camp, many wondered the status of Damian Lillard and the Portland Trail Blazers. With several rumors that swirled for months, the Bucks were the "secret" team to land the star in the East. On Wednesday, Damian Lillard was shipped to Milwaukee as part of a three-team trade with the Phoenix Suns and Portland Trail Blazers. In return, Portland received Deandre Ayton and Toumani Camara from the Suns, Jrue Holiday from the Bucks, and a 2029 first-round pick from Milwaukee. Additionally, they will receive two first-round pick swaps with the Bucks in 2028 and 2030.
Phoenix received Grayson Allen from Milwaukee, along with Keon Johnson, Nassir Little, and Jusuf Nurkic, all from the Blazers. Lillard now joins one of the best players in the league, Giannis Antetokounmpo who both welcome championship expectations. The guard joins an organization, who most recently won an NBA Championship in 2021.
Milwaukee welcomes Lillard with open arms
Welcome to the 4️⃣1️⃣4️⃣#FearTheDeer pic.twitter.com/2lqAhA6u2J

— Milwaukee Bucks (@Bucks) October 1, 2023
On Monday, thousands of Bucks fans gathered outside the stadium for Lillards welcome rally. "It's Dame Time, Milwaukee!" was seen on billboards no less than three days after the trade news. The newest Bucks member was seen with his two children, sporting a green sports outfit.
Monday was Media Day, and Lillard expressed his thoughts on the trade, and becoming the newest addition in Milwaukee. He stated things are "new" with transition, and it "has been a great experience."
"The way that my family and I were embraced when we got here, to feel wanted, and to feel desired, and to feel something fresh and new-- it's definitely been a boost of energy and focus, and my excitement going into this season, " said Lillard.
Lillard expressed his excitement over the pairing with the 2x MVP Giannis Antetokounmpo. The Bucks have arguably the greatest duo since the Oscar Robertson and Kareem Abdul-Jabbar days.
"I don't think its a secret how much I want to win," Lillard said in his presser. "That's how I got here today. They want to win equally as bad as I do. I couldn't be more excited, I couldn't be more thankful for this opportunity to be a part of this organization. "
Lillard mentioned the hospitality the Bucks showed his family was great, and the welcoming was something he "really appreciated." Lillard stated his arrival in Milwaukee has been chill, and could "tell it was a family environment right away." He mentioned being embraced made him feel wanted, and his family is getting "comfortable."
Bucks, Celtics are equally viewed as potential Champions
The Milwaukee Bucks became the immediate favorites to win the NBA title after the trade at +450. Then, there was a another twist in the story. The Portland Trail Blazers immediately flipped Jrue Holiday and struck a deal with the Boston Celtics. In a shocking move, the Celtics acquired Holiday in exchange for Robert Williams III, Malcom Brogdon, and two future first-round picks. The Boston Celtics and Milwaukee Bucks are now equally favored at +400 odds to win a title. Prior to the acquisitions, Boston were the heavy favorites in the Eastern Conference.
The impact of Lillard on the Bucks Franchise
Milwaukee Bucks acquire seven-time All-Star, seven-time All-NBA selection and NBA 75th Anniversary Team member Damian Lillard.

📰: https://t.co/UW5WDDCq0H pic.twitter.com/0DXHxd0E3q

— Milwaukee Bucks (@Bucks) September 28, 2023
The Milwaukee Bucks are two years removed from an NBA Championship, and were always considered a favorable team in the East. The addition of Lillard ascends them into a superteam, and immediately gives both sides a chance to win. After the elimination against Miami last season, Milwaukee finally found their missing chest piece. The pairing of the two super stars creates the opportunity to be one of the best pick and roll duos in the league.
"I'm a pick and roll player, I've played a lot of pick and roll in my career. When I think about playing with him [Giannis], I've just tried to figure out, how do you defend it," said Lillard. He pointed out that he's "excited" to play with Giannis, and "never had an opportunity like this before."
Besides Giannis, No. 0 joins a talented core, which consists of Khris Middletown, Brook Lopez, Malik Beasley, and Bobby Portis. "When I looked at the roster, it was very easy to make sense of what my job is going to be," said Lillard on Media Day.
Although there is substantial amount of talent on the floor, the point guard knows chemistry has to be established alongside the hype. Always the underdog throughout his career, Lillard admits he's done more "underachieving rather than overachieving." He's excited for this opportunity, and "at my age and this stage in my career, I think it came at the right time," said Dame. Despite the fact Giannis and Lillard look great on paper, he admits "the work has to get done."
Lillard implied his defense has improved over the years, and coming into a "defensive minded team," makes it that much easier.
Jrue Holiday bolsters the Celtics backcourt
The Holiday season came early this year ☘️

Welcome to Boston, @Jrue_Holiday11 pic.twitter.com/yxbR1cWmnA

— Boston Celtics (@celtics) October 1, 2023
Celtics executive Brad Stevens learned from the best, Danny Ainge. Once Jrue Holiday was traded from Milwaukee, several reports indicated the Blazers would move on from the guard. It's been a whirlwind of an offseason for Boston, who traded Marcus Smart in the exchange for Kristaps Porzingis. With Derrick White set as the teams starting point guard, questions lingered around Malcom Brogdon, and his relationship with the organization. Due to injury concerns, Boston was unable to trade Brogdon over the summer.
Holiday joins the Celtics organization as a 2x NBA All-Star, 2x NBA All-Defensive First Team, and an NBA champion. On Celtics Media Day, Brad Steven expressed the Celtics are trying to win a championship, and talked about paying a "real price" for pristine players.
Jaylen Brown describes Holiday as "as assassin," and will replace the defensive intensity that the C's lost with Marcus Smart. Known for his defensive prowess, Holiday will join White in a ferocious backcourt. Although Boston is thin at the front court, the addition of Jrue is vital to a potential championship run. No 4. joins a championship caliber team as a player who averaged almost eight assists last season, number's the Celtics haven't seen since the Rajon Rondo Days. Holiday joins a loaded roster, which includes Jayson Tatum, Jaylen Brown, Kristaps Porzingis, Al Horford, and Derrick White.
Defeated by the Miami Heat in game seven of the Eastern Conference Finals, the Celtics made a much needed upgrade at the point guard position.
Both Milwaukee and Boston are the clear favorites in the East, after making individuals moves to improve their chances of winning the title. Unable to get over the hump, both teams feel their acquired players will help reach their championship goals.
Stay tuned for more NBA related articles. Click here
Sara Jane Gamelli is a full-time Sportswriter at Ballislife, and a Sports Content Creator on Twitch and TikTok. She has a focus on the NBA, WNBA, NCAA Basketball, and the NFL. Sara Jane currently resides in Connecticut with her Cat and Dog. SJ has her undergraduate degree from the University of Connecticut in Economics, with a minor in business administration.
Tweets by BallislifeBets