The apple doesn't fall far from the tree. In recent years, we have seen many former and current NBA players' sons establish themselves in their own right. Bronny James, now at USC, obviously is going to be the most notable name, but there are a number of other players whose fathers you may have forgotten played in the league. Jaren Jackson Jr. (Jaren), Devin Booker (Melvin), Jabari Smith Jr. (Jabari), and Cole Anthony (Greg) are just a few names who were elite high school prospects with NBA fathers who ultimately made it to the league themselves.
While it's quite early, Erick Dampier Jr. could be the next on that list.

Already standing every bit of 6-foot-9 and just beginning eighth grade, the younger Dampier has been donned the top player in the class of 2028 by many scouting services. For those who don't remember, his father (Erick Dampier Sr.) was the No. 6 pick in the legendary 1996 NBA Draft, went to the NBA Finals twice, and made nearly $100 million in his career. With such gargantuan size and such a strong lineage, the pressure can be a bit much for a middle schooler.
"There's pressure all the time," Dampier Jr. told Ballislife at the MSHTV Camp in Indianapolis. "Everyone expects me to play good every single game because my dad was in the NBA."
With the combination of size, skill, and lineage that Erick brings to the table, it's tough to imagine him playing against middle schoolers. In fact, that is why the Dampier family has decided to let the intriguing big man play varsity basketball as an eighth grader this upcoming season.
"I'm going to be playing varsity this year for Madison-Ridgeland Academy," Dampier quietly announced at the MSHTV Camp. "I think I will be able to help the team with my finishing, my shot blocking, and my rebounding."
Having gotten an extensive look at the Alabama Fusion big man in Indianapolis at MSHTV, we agree. At every bit of 6-foot-9 with a 7'0 plus wingspan, the eighth grader already possesses ideal size for a big man in today's game. Having made huge strides in the past year with his perimeter game, potential has been shown as a shooter when his feet are set, in addition to the powerful presence that he maintains with his back to the basket.
Defensively, the youngster blends his physical prowess with the ability to contain on the perimeter in drop coverage when guarding the perimeter. He will be an immediate impact player as a positional rebounder and shot blocking presence at the high school level in Madison, Miss. The humble Dampier is fully aware that there is still a long road ahead, though.
"I am still in middle school and I haven't made it anywhere yet, but my name has definitely gotten a lot bigger than it was two years ago," the soft spoken big man admitted. "It's been kind of crazy. I never thought that I would be here three years ago."
That it certainly has been, but the Dampier family has been very adamant about taking the process slowly. Sure, there have already been viral videos and number one rankings. Colleges have already been putting scholarship offers on the table, too. The family has been keeping all that away from Erick Jr. and are letting him remain a kid for as long as possible, as we saw at MSHTV where he posed for countless photos with his peers and played the game with a youthful sense of joy.
"The camp is going great so far," Dampier said of his time playing against many of the nation's elite 2028 prospects at MSHTV. "I've met a lot of people I've never met before and talked to people I've never met"
While there has been considerable success against his peers, the entire Dampier family knows that while they have a talented youngster under their roof, there are still a number of variables left in the equation before the ultimate goal is achieved. With dad going through the full gauntlet or roles in the league as both a lottery pick and then an enforcer in the paint for the Mavs in the Finals, priceless knowledge is right there under his roof. Toss in an incredibly supportive mother who is just as motivational in a different way and you see why the cards are in his favor to reach his potential.
"I just hope to make it to the NBA," Dampier Jr. said. I want to have a successful career, and just live the life I've always dreamed to have."
Erick Dampier Jr. and his Madison-Ridgeland Academy (Jackson, Miss.) teammates open their 2023-2024 high school season on November 16.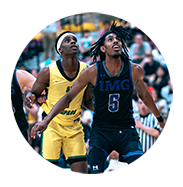 Want more on this article?
Ask a question or start a conversation in the BALLISLIFE Forum!
Click Here!