See Picks 5-9! | See Picks 1-4!
With the 2020 NBA Draft date of Nov. 18 swiftly approaching, we wanted to take a deeper dive into this year's crop of talent. The winner among the losers on NBA Draft Lottery night was the Minnesota Timberwolves. The team with the third-worst regular season record was awarded the first overall selection.
The Golden State Warriors, who are looking to get healthy and return to their winning ways, will pick second, the Charlotte Hornets third, with the Chicago Bulls and Cleveland Cavaliers rounding out the first five selections.
This will be one of the most unique NBA Drafts on record due to the COVID-19 pandemic. Not only is the draft delayed by five months, NBA front offices will be making picks with far less real-time evaluation because of the cancellations of many conference tournaments and last season's NCAA Tournament. Another interesting aspect of this draft is NBA scouts and front office personnel will not be able to evaluate prospects in a live draft combine setting, but rather a virtual one taking place at regional sites.
In this piece, myself and Ronnie Flores do our best to predict which players the lottery teams will select based on fit and team needs. Check out our selections in a three-part series, beginning with picks No.'s 10-14 below.
14. Boston Celtics (from Memphis)
Ronnie's Pick: Precious Achiuwa | PF | 6-9 | 225 |Memphis | Freshman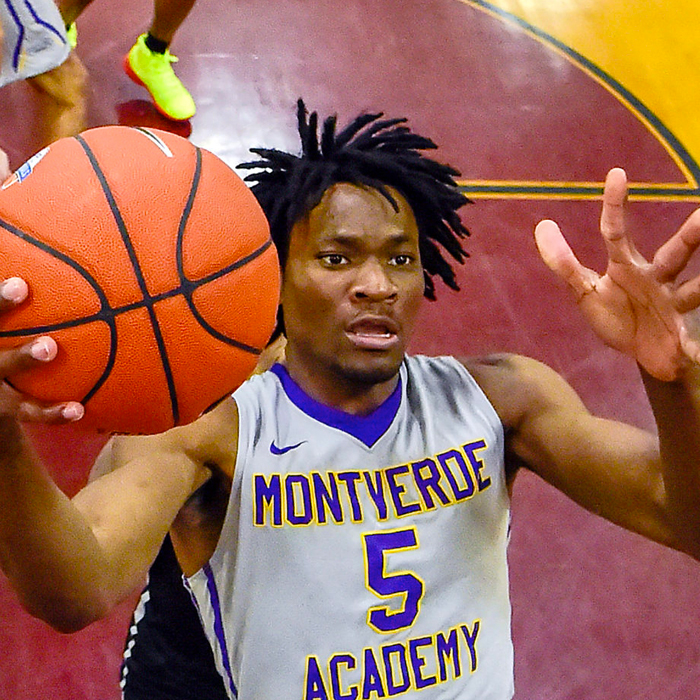 6'9" - SF - 2019
Why: The Celtics have done a good job in the draft and on are the cusp of being the best team in the East, so whoever they bring in would be fighting to become a rotation player. Achiuwa has a chance to do that because he brings energy to both ends of the floor and is a hellacious rebounder. The brass will be taking a long look at North Carolina's Cole Anthony, but the Celtics don't need perimeter scoring more than they need front court depth. Achiuwa fits the bill.
Devin's Pick: Jalen Smith | PF | 6-10 | 225 | Maryland | Sophomore
Why: I can see Boston going in multiple directions with this pick, because when you look at the Celtics roster, there's not a specific area of need they need to fill. With Kemba Walker and Marcus Smart occupying the guard positions along with Jayson Tatum, Jaylen Brown and Gordon Hayward on the wing, if Boston keeps this pick I can seeing them adding some more front court depth as current starter Daniel Theis is fills more of a glue-guy type of role. Smith, if available would be a nice choice here of proven production at a high college level with plenty of tools to build on at the NBA level. Smith was a double-double machine for the Terrapins during his sophomore season, averaging 15.5 points and 10.5 rebounds per game, and his 2.4 blocked shots per game were good for second in the Big Ten Conference. Smith shot 36.8 percent on just under three attempts per game from the college three point line, which makes me think he could be a potential two-way impact guy as a rim protector and versatile scoring option at the five, which is very reminiscent of Indiana Pacers center Myles Turner.
13. New Orleans Pelicans
Ronnie's Pick: Saddiq Bey | SF | 6-8 |215 | Villanova |Sophomore
Why: The Pelicans have some terrific offensive pieces and could shore up their defensive prowess, and Bey foots the bill. If he earns minutes on the floor because of his defense (which would be a tremendous value at this spot), he is a good enough spot-up shooter to keep defenses honest and compliment Brandon Ingram and Zion Williamson.
Devin's Pick: Saddiq Bey | SF | 6-8 | 216 | Villanova | Sophomore
Why: This will be another interesting pick come draft night as the Pelicans have a host of young talent on its roster to go along with the veteran leadership of Jrue Holiday and J.J. Redick. New Orleans has nine players aged 24 years or younger and we didn't get to see the full extent of what the youth movement looked like due to Zion Williamson missing time due to injury and the stoppage of the season due to the COVID-19 pandemic. Looking strictly at roster need, three-point shooting is always of value, especially when your best long distance shooter (Redick) is heading toward his 36th birthday. I think Bey fits in nicely here because of his size, length, athleticism to go along with his 45.1 percent three-point shooting clip as a sophomore at Villanova.
12. Sacramento Kings
Ronnie's Pick: Patrick Williams | PF | 6-8 | 225 | Florida State | Freshman
Why: The Kings' front office is in transition and after some draft gaffes in recent years, they want to get this pick right. This isn't a particularly loaded draft, but Williams has the potential to stick because of his frame, foot speed and long-term defensive ability. There are some terrific wing defenders in this draft, and the Kings can't afford to swing and miss badly. Williams didn't produce at a high level offensively in his lone college season, but the Kings need a shot in the arm not someone jacking up shots.
Devin's Pick: Aaron Nesmith | SG/SF | 6-6 | 215 | Vanderbilt | Sophomore
Why: For me, this is a best available pick type of situation for the Kings. The point guard spot is locked up with De'Aaron Fox, Buddy Hield and Bogdan Bogdanovic (if he re-signs) will see the majority of the time at shooting guard, while Harrison Barnes, Marvin Bagley III and Richaun Holmes will continue to see the minutes in the front court and Sacramento needs a reliable piece that can come in and help right away. The best available guy at No. 12 could be Nesmith out of Vanderbilt. The 6-foot-6 wing brings versatility on the offensive end as evidenced by his above 50-percent shooting clip from both two and three-point range to go along with his 82.5 percent success rate from the free throw line. Nesmith played only 14 games last season due to injury, and while that's a small sample size to draw from, his scoring feel on the perimeter and has some defensive versatility upside with his frame.
11. San Antonio Spurs
Ronnie's Pick: Aaron Nesmith | SG/SF | 6-6 | 215 | Vanderbilt | Sophomore
Why: The Spurs will take a long look at Florida State's Patrick Williams and can only hope Isaac Okoro (Auburn) falls this far. He likely won't, so Nesmith is a terrific value pick because he can really shoot the deep range shot and complement the talented backcourt players the Spurs already have. It will be enticing to pick up a defensive-oriented forward, but passing up an offensive talent the likes of Nesmith will be too difficult to pass up.
Devin's Pick: Patrick Williams | PF | 6-8 | 225 | Florida State | Freshman
Why: This is the first time in a long time (23 years to be exact) that the Spurs will draft in the lottery, so San Antonio will have to rediscover this uncharted territory. As most know, this franchise has a rich history in drafting an unknown international player, stashing him, and bringing him over at the perfect time to help them on a championship run. Could that happen again this year? Sure, but for the purposes of this "mock lottery" let's pick a player for Pop & Co. The reason I go with Williams here is because San Antonio could benefit from adding some athleticism and energy to its front court. The one-and-done forward out of Florida State fits that bill quite well with his explosive leaping ability, mobility in transition and ability to finish with through and above contact in the paint. Williams didn't put up eye popping numbers during his only college season, averaging 9.2 points and four rebounds in 22.5 minutes per game and needs some work to refine his all-around offensive skill set. Where better to do that than with the Spurs who happen to have one of the best power forward's the world has seen on its coaching staff.
10. Phoenix Suns
Ronnie's Pick: Killian Hayes | PG | 6-5 | 215 | France | PRO
Why: The Suns ended the season on an upswing and hope to keep the positive momentum going with a home run at this spot in the draft. The Suns will likely look to the backcourt with someone who can play on the ball and be effective off it. Tyrese Maxey (Kentucky) will get a look at this range, but Hayes has terrific upside and there won't be tons of pressure for him to perform right away. If Hayes can learn the NBA game from Ricky Rubio and be a complement to Devin Booker, this would be a terrific spot for him.
Devin's Pick: Killian Hayes | PG | 6-5 | 215 | France | PRO
Why: The Suns need to show they are committed to building a long-term backcourt around superstar guard Devin Booker in addition to providing a true point guard who can operate out of ball screen action with stud power forward De'Andre Ayton. Hayes might be the perfect successor to Ricky Rubio at the point guard position in Phoenix. The 18 year-old lefty plays with a high basketball IQ, great vision and decision-making out of the pick and role, and knows how to use angles and changes of speeds to get into the paint. Just imagine a high ball screen with Hayes and Ayton with Booker spotting up on the wing. That's tough to guard. Hayes does need to get better as a three-point shooter to keep defenses honest in those ball screen situations.