Click Here to see picks 10-14! | Click Here to see picks 1-4
With the 2020 NBA Draft date of Nov. 18 swiftly approaching, we wanted to take a deeper dive into this year's crop of talent. The winner among the losers on NBA Draft Lottery night was the Minnesota Timberwolves. The team with the third-worst regular season record was awarded the first overall selection.
The Golden State Warriors, who are looking to get healthy and return to their winning ways, will pick second, the Charlotte Hornets third, with the Chicago Bulls and Cleveland Cavaliers rounding out the first five selections.
This will be one of the most unique NBA Drafts on record due to the COVID-19 pandemic. Not only is the draft delayed by five months, NBA front offices will be making picks with far less real-time evaluation because of the cancellations of many conference tournaments and last season's NCAA Tournament. Another interesting aspect of this draft is NBA scouts and front office personnel will not be able to evaluate prospects in a live draft combine setting, but rather a virtual one taking place at regional sites.
In this piece, myself and Ronnie Flores do our best to predict which players the lottery teams will select based on fit and team needs. Check out our selections for picks 5-9!
9. Washington Wizards
Ronnie's Pick: Devin Vassell | Guard | 6-6 | 180 | Florida State | So.
Why: With the Wizards pushing for the playoffs next season (whenever that may be), they value a rotation-level player who is more steady than high-risk, high-reward. Vassell's combination of size and skill should fit in for a team that doesn't necessarily need the pick at this spot to produce big offensive numbers. He can help this team on both ends and is a young player that doesn't need to pound the ball to be effective. His shooting is actually better than one might believe and is he can learn to create his own shot and still be efficient, he would be a hell of a get at this spot for a franchise looking to take the next step towards a run at the Eastern Conference title.
Devin's Pick: Devin Vassell | Guard | 6-6 | 180 | Florida State | So.
Why: Like Ronnie said, Washington is a borderline playoff team in the Eastern Conference when fully healthy and adding Vassell to go alongside Bradley Beal and a (hopefully) healthy John Wall is the most viable option at this No. 9 pick. Vassell has good size on the wing, shot the college three-ball at a 41.5 percent clip on 3.5 attempts per game, and brings some two-way perimeter versatility to a team that needs a young, hungry on-ball defender and transition scoring threat. The Wizards have plenty of young pieces in the front court with Rui Hachimura, Davis Bertans and Thomas Bryant, and Vassell is a guy who could come in and immediately address a need on that Washington roster.
8. New York Knicks
Ronnie's Pick: Tyrese Haliburton | PG | 6-5 | 175 | Iowa State | So.
Why: Oh boy, oh boy, the Knicks, are in a tough spot, but it seems like that's the case in every draft since New York won the rights to Patrick Ewing in the first NBA Draft Lottery back in 1985. Knicks' fans have been tormented ever since, and after being leapfrogged by Charlotte in this draft, New York fans will definitely find something to complain about about whomever the franchise selects. The Knicks need a point guard (not to mention the best player available) and Haliburton foots the bill and New York should be fortunate if he drops to this spot because of his length, shooting (42 percent 3-point) and ability to not dominate the ball in order to facilitate. Haliburton also brings value should the Knicks explore to move up in the draft (for a chance at Obi Toppin or Melo Ball) or pick for someone else.
Devin's Pick: Tyrese Haliburton | PG | 6-5 | 175 | Iowa State | So.
Why: The point guard position continues to be a spot of need for the Knicks, and much to their chagrin, the NBA Lottery balls did not bounce in their favor. Much of the pre-lottery speculation had the most polarizing player in this year's draft, LaMelo Ball, tabbed to resurrect one of the most storied and biggest market teams in the league, but the Knicks didn't get into that top three conversation. Could New York swing a trade with a team currently among the top three? Sure, but it would cost them quite a few of their youthful talent. If the Knicks stay in this current draft position, I see them taking Haliburton because of his reliability at the point guard spot. Haliburton has great size and feel for the position, was among the best in college basketball in assist-to-turnover ratio as a freshman and sophomore, and provides a pass-first mentality to a team loaded with guys looking to score.
7. Detroit Pistons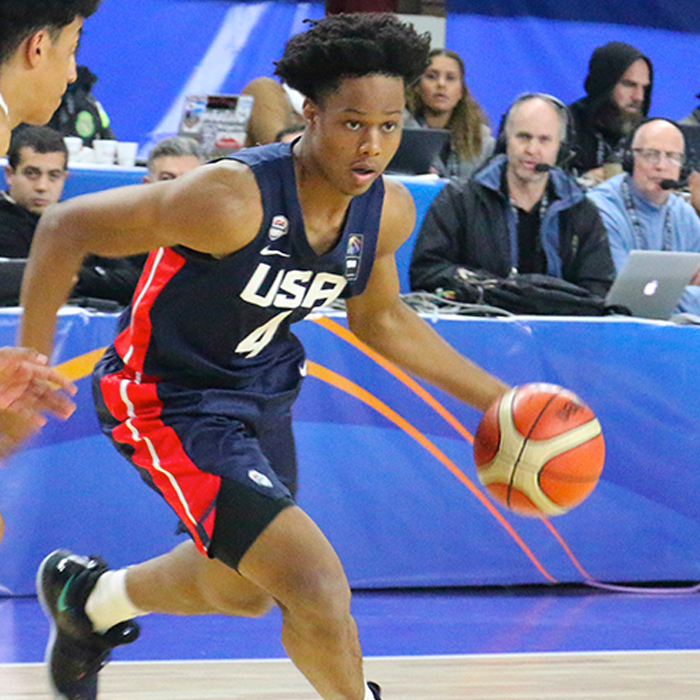 6'5" - SG - 2019
Ronnie's Pick: Isaac Okoro | SF | 6-6 | 225 | Auburn | Fr.
Why: If he's still on the board, there is no question the Hawks at No. 6 will take a long look at Okoro, a homegrown prospect who starred at McEachern High School in nearby Powder Springs. Question marks surrounding Okoro's ability to consistently make the NBA 3-pointer and his offensive polish will make some teams pause (including the Hawks, who need percentage shooters), but the Pistons need a jolt of energy and talent and would be a terrific fit. He is a lockdown defender if there ever was one in this draft and what he does translates and is dependable. The Pistons may not get star value at this spot, but a player who brings good value for new GM Troy Weaver.
Devin's Pick: Isaac Okoro | SF | 6-6 | 225 | Auburn | Fr.
Why: Okoro wasn't the most decorated member of the 2019 high school class, but shot up the draft boards during his freshman season at Auburn because of his combination of size, athleticism and defensive versatility. The Pistons have an interesting roster mix with veteran forwards Blake Griffin and Andre Drummond anchoring the front court and sharpshooting guard Luke Kennard the team's most effective perimeter scorer. Okoro could come in and add a wing and transition slasher and scorer who can defend multiple positions on the perimeter. The biggest question mark surrounding Okoro's game is his three-point shooting ability. He shot 28.6 percent from deep during his freshman season and will need to improve that to live up to the billing of a No. 7 draft pick.
6. Atlanta Hawks
Ronnie's Pick: Deni Avdija | SF/PF | 6-9 | 210 | Israel | PRO
Why: The Hawks will try to build a contending team around young centerpiece Trae Young, and this Israeli League standout will foot the bill with his play-making ability. The Hawks are actually not one of the better outside shooting teams in the league, so there may be some concern about Avdija's ability in that department, but his overall skill set will alleviate those concerns. For his size Avdija has terrific skills on the ball, pushing it off the glass and creating for others off the dribble, and is a terrific passer. He's also has plenty of experience and won in a quality pro league and in a draft that doesn't have overwhelming, sure-fire lottery picks, this proven 19-year old will be in high demand and the Hawks will be fortunate if he falls to this spot.
Devin's Pick: Onyeka Okongwu | PF | 6-9 | 245 | USC | Fr.
Why: We all know who the Hawks are building around and it's Trae Young, one of the most dynamic young players in the league. When you examine Atlanta's roster closely, the biggest area of need that stands out to me is front court depth behind or alongside John Collins and Okongwu would fit in seamlessly here. Many outside (and some inside) the Southern California high school basketball scene didn't see Big O as a one-and-done guy, but the three-time California state high school champion is a mix of a modern and throwback type of big who produces on both ends of the floor. Offensively, Okongwu is great in the pick and roll because of his ability to catch and finish lob passes and serve as a face-up shooter when picking and popping. There might not be a better, more instinctual defender and rebounder in this draft class than Okongwu. I've been watching him since the ninth grade at Chino Hills and his highest value has always been as a shot blocker and contester around the basket who understands body control and how to stay vertical on contest. I think Okongwu would compliment the Hawks current roster makeup and style of play very nicely.
5. Cleveland Cavaliers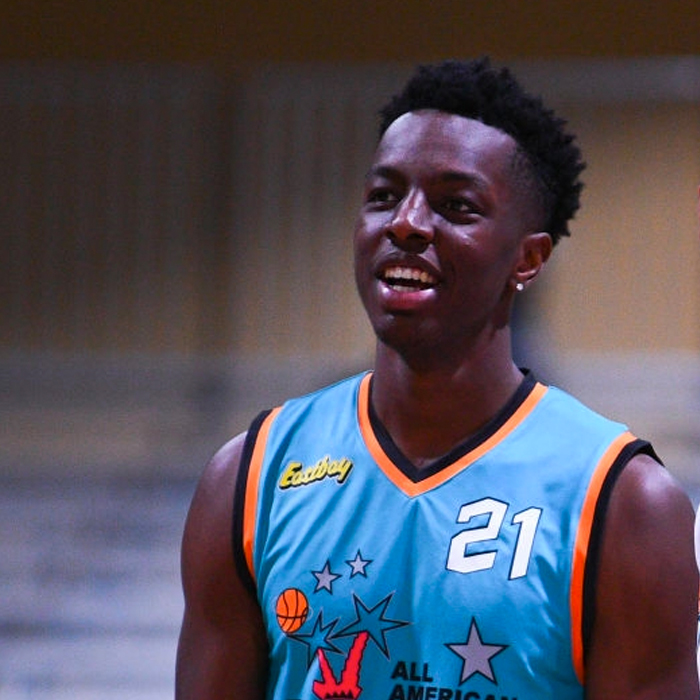 6'8" - C - 2019
Ronnie's Pick: Onyeka Okongwu | PF | 6-9 | 245 | USC | Fr.
Why: The Cavs may have fallen further in the draft than they hoped for, but they could still wind up with one of the best value picks and defensive players in this draft. Had the Cavs remained in the top 3, they should have still given this Southern Cal big man a serious look. He's that good and his production in his lone college season was of zero surprise to us having watched him since the 9th grade on Chino Hills (Calif.) FAB 50 national title team. The Cavs have plenty of offense in its backcourt and need to shore up their interior defense if they plan to become a serious East contender with its current core. With his ability, production, and high character, the only question is who will be drafted higher between he or his good friend and former high school teammate LaMelo Ball.
Devin's Pick: Deni Avdija | SF/PF | 6-9 | 210 | Israel | PRO
Why: The Cavs are another team who had high hopes to be picking among the top three, but fell a bit to the five spot where they could still get a good value pick. Cleveland is looking to build around the talented guard duo of Collin Sexton and Darius Garland and Avdija could fill the need of a versatile wing forward who can rebound, push the break, and alleviate some ball handling and shot creating duties for Sexton and Garland. Diving into Avdija's stats is tough because of his limited action on Maccabi Tel Aviv's top squad, but when watching film you can see he has great ball skills and feel off the wing, can attack the basket and finish above the rim and can create for himself and others in both transition and half-court settings. Avdija does need to improve his three-point shooting, but I think he fits in nicely with Cleveland's current backcourt and provides another layer of offensive versatility to the Cavs roster.