UPDATE: On November 20th of 2016, the NBA finally uploaded footage from this game.
---
UPDATE: On August 19th of 2015, LamarMatic uploaded some game footage I've been waiting 22 years to see again. He also did a nice breakdown about the blocks (block-by-block) and showed how a few of Shaq's "15" were goaltending and a few others were fouls or just non-blocks. Regardless if he really had 10, 15 or any number in between, Shaq was great on this night, especially considering he put up those numbers in just 36 minutes with a cold!
---
ORIGINAL POST: I don't know why or how, but I have four VHS tapes of just early to mid-90s Orlando Magic footage of Shaq but NO footage from his great and forgotten performance on November 20th of 1993. Even more mind-boggling is the fact there's over 889,000 videos of Shaq on Youtube and NO footage of him destroying the Nets during his second season in the league with 24 points, 28 rebounds (yes, 28) and 15 blocks (YES, 15!)…in three quarters…with a cold!
"I guess I played OK," said O'Neal after the game. "The change in weather bothers me. It's hard to play in one city where it's 40 degrees and the next where it's 80. I knew I had a few blocks, but I didn't realize I had 15. But if we had lost, it wouldn't have meant anything."
He knew he had a "few."
Whatever Shaq.
The 15 blocks are a franchise record and tied for second with Manute Bol for most in NBA history. The 28 rebounds were a franchise record until 2013 when Nikola Vucevic broke it (in OT) with 29.
What many youngsters who only know Shaq from his Lakers and "lazy" twilight years don't know, is Shaq was one of the premier shot blockers and rebounders in the league. He was actually second — only to Dennis "nothing else to do but rebound" Rodman — in the league in total rebounds for four of his first five years and was second in blocks per game during his rookie season. Due to constant foul trouble during his rookie campaign and the Magic's desire for him to score more, O'Neal had to chill on defense a little so he could stay on the court and score more. The result of this change was Shaq went from ninth to second in scoring in his second season and led the NBA in scoring during his third season. Since this was all before social media, youtube, and championships in LA with Kobe, it's all but forgotten — but not as forgotten as the most impressive triple-double of the past two decades.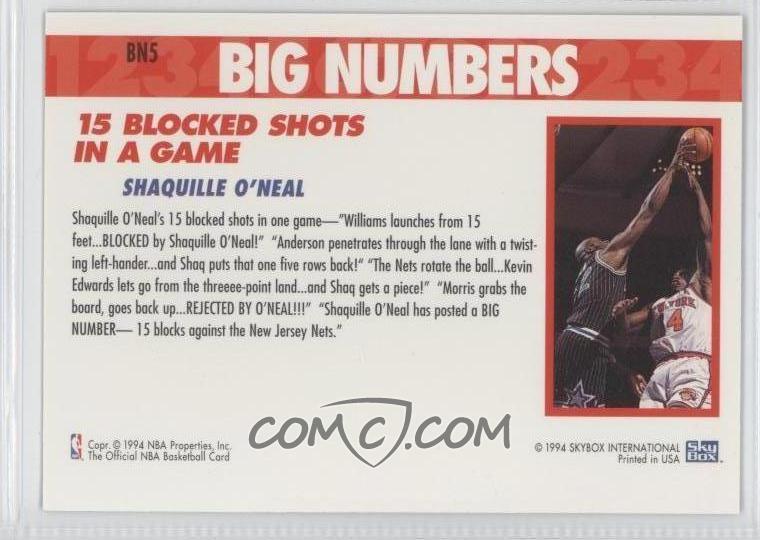 SHAQ VS THE NETS
Shaq, born in Newark, New Jersey, always had a history of memorable games and moments against the Nets. During his first meeting with them, he scored 29 but the memorable moment came courtesy of Derrick Coleman, who scored 30 and threw down the only "poster dunk" ever on Shaq. After the game, Shaq vowed to never get posterized again and to make the Nets pay.
And he did make them pay. Shaq's next visit to New Jersey resulted in a broken backboard — the second of Shaq's rookie season.
Then the next time Shaq came back to his hometown, he put up the monster triple-double, which we have NO FOOTAGE OF! As for Derrick Coleman, who dunked on Shaq the year before, he came down on his right ankle in the 3rd quarter and left the game with a season-low 8 points and 8 boards. If that wasn't enough to frustrate the late great Coach Chuck Daly, who's been watching his Nets players go down like flies over the past few games, he thought the officials were padding Shaq's stats.
"We did a decent job on (Shaq). I think it's very hard on the officials because some of the things he does, a lot of his blocks are close to being goaltending," said Daly after the loss.
That might be true but Shaq's three blocks on Armon Gilliam in the 4th were clean; Thankfully for Gilliam, we have no footage or pics to prove it.
MORE DOMINANCE OVER THE NETS
Shaq's dominance over the Nets didn't end in Orlando. In 1998, Shaq scored 50 on the franchise and in 2002, Shaq helped the Lakers sweep the Nets in the NBA Finals. Yes, we do have footage to prove that, including a near monster triple-double of 40, 12 and 8 in Game 2 of the Finals.